Traditions passed down, memories made at the fair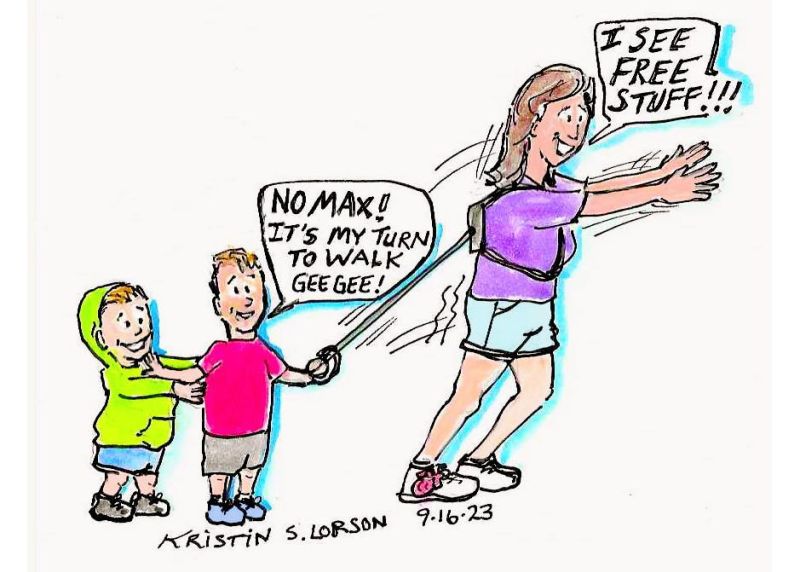 By the time you read this the dust will be settling from this year's edition of the Wayne County Fair. Over the course of the next few weeks I will continue to clear that same dust from my sinuses, and I may even shed a muddy tear or two in winking away another season's worth of fond memories. The next few months may be spent sweating off an overdose of donuts, kettle corn and ice cream but I offer no excuses and certainly no apologies. In truth, I'd be ashamed if I didn't indulge in at least a little bit of wanton gluttony over the run of the event.
This year marked a generational shift for our family as grandsons James and Max made their big debut at the fair. Clocking in at 3 1/2 and 1 1/2 years respectively, the boys gave us the chance to view everything through new eyes. It's funny how big everyone seems if you're looking up from knee level — at least that's what the boys thought. Therefore, I ended up walking the entire fairgrounds with a kid on my hip and for that reason I feel almost certain I will never be the same. We pushed a stroller along as well, but it quickly became nothing more than a shopping cart to be filled with squishy toys, yard sticks, ball-point pens and key chains.
One freebie, a tube of lip balm from Wayne College, brought back the fond memory of a day, years ago, when I was working a shift at that same booth. Our instructions had been explicit: "One tube to a customer." A note stuck on the front of the bowl said as much. Nevertheless, when a tiny, gray-haired and cherub-faced woman hobbled up to the counter and graciously thanked me for the tube I handed her she followed by asking if she could "please have one for her grandchild as well." I acquiesced and handed her another.
"Oh, I'm sorry, sweetie," she smiled. "I forgot to mention I have 14 grandchildren."
Such is the spirit of the fair — adult trick-or-treating at its finest!
Back in the present day, the boys delighted in the simple things I have always enjoyed most about the fair; watching roosters strut, bunnies pant and pigs sleep. They also marveled over the giant, bob-tailed behinds in the Draft Horse barn. I think I was four or five years old before I realized those butts had heads on the other end!
The boys also got to witness an act of intense bravery when their mother — a former Humvee driving, M-16 wielding, thrower of grenades — faced down her greatest irrational fear and walked courageously through her personal "Valley of the Shadow of Death" — otherwise known as the Miniature Horse Barn.
One of my own fears manifested when we briefly lost a member of our entourage amid the teaming throng. Left momentarily unsupervised my wife, Kristin, wandered off in search of maple sugar candies while the well-behaved among us fawned over the elementary school art projects. We found "Grandma Gee Gee" 10 minutes later, eye-balling the elephant ears in the center of the midway.
All's well that ends well, such was the same for the 174th edition of the Wayne County Fair.
Kristin and John would love to hear from you. Write: Drawing Laughter, P.O. Box 170, Fredericksburg, OH 44627 or email John at jlorson@alonovus.com.