East Holmes schools ready to venture into the uncertain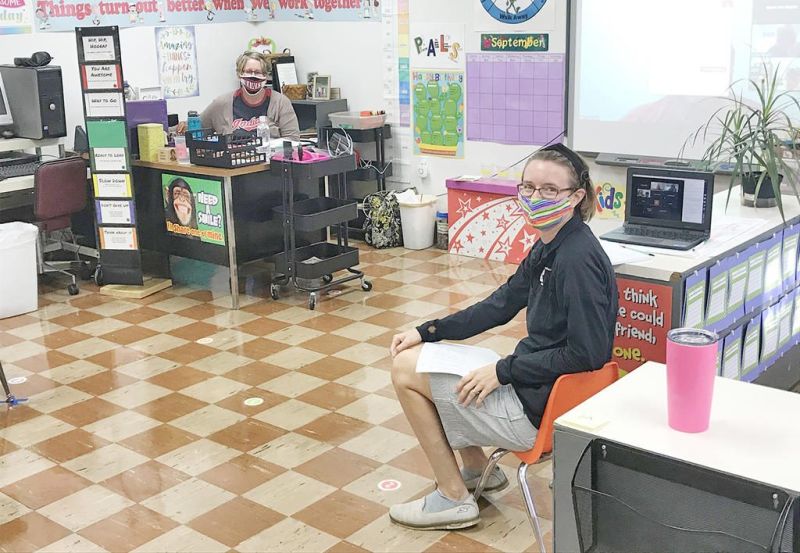 East Holmes School District is ready for the new school year to begin, at least it is as ready as it can be under the circumstances.
With COVID-19 regulations and mandates raining down on schools all over the United States, there is more than just a little mystery as to exactly what the 2020-21 school year will look like.
East Holmes superintendent Erik Beun said all the district can do is prepare to the best of its ability, unite as a community and then take things one day at a time.
"We've spent a lot of time as a leadership team working very closely with the Holmes County Health Department," Beun said of this summer's activities in preparing for anything and everything. "Our goal was to make sure we fully understand how to set up school in the best way possible."
Beun said the district utilized information from the local health department, what the Ohio Department of education was passing along and mandates from the governor's office in determining the best way to proceed with the task of educating the districts youngsters while maintaining as safe of a venue as possible at each of its schools in the district.
"We took in as much information as we could, processed it and developed a restart guide, but you can make the best-laid plans, but things change so fast you always have to be prepared for any possible outcome because of how quickly things can change," Beun said.
Those changes hinge on how well the district participates and accepts the many changes and mandates that were put in place. That includes both staff and students wearing masks, school rooms creating ample space between students in the classroom, busing issues, students who opt for online learning, lunch-time alterations, athletics, and numerous other issues the district must deal with.
Beun said having the public be adherent to all of these challenges and showing grace and a willingness to work with the district are paramount.
Beun said the face-covering issue is at the top of the list in terms of students and families showing understanding as to how to best combat COVID-19. He said dealing with mask issues is something all school districts will face, noting the wearing of masks and when they will be necessary is perhaps the most challenging aspect schools are facing.
"The governor instituted a face-covering order for all students k-12, and we will certainly adhere to that," Beun said. "The mandate doesn't necessarily mean that a kid is going to have to be in a mask 24/7 at school. There may be times when they're outside, eating or maintaining distance or even during designed mask breaks throughout the day where we feel we can make it as safe as possible. Is it challenging? Yes, but we have heard a lot of feedback from the community, and our advisory boards have processed through this, and we are trying to communicate to everybody that as a public entity, we have to follow the governor's order. At the same time, we want the public to know exactly what that is going to look like."
Beun said while DeWine has talked at length about the risks of COVID-19 moving forward, he also has made it known he understands the importance of having kids in school, noting the academic, social aspect and maturing of youth also are important factors that need to be considered while creating a safe haven at school.
"We are hopeful that people will take the short-term inconvenience and not make a short-term decision for what we believe people really appreciate long-term about our school district," Beun said. "This is something we can do in the here and now that will benefit us long-term. Whether you agree with wearing a mask or not, we are not going to allow that to be the thing that divides us as a community and a school district."
If a student or faculty member should test positive for COVID-19, Beun said the Holmes County Health Department will take the lead in issuing mandates and leading the district in the contact tracing process.
Beun said the possibilities of implementing a quarantine period for those who would have come in close contact with someone who tested positive is a possibility. What that quarantine period looks like and how far-reaching it is are still anyone's guess.
"There are still so many variables that every day in the classroom and every building is not going to be the same," Beun said. "There are so many things that factor into it. There are unknowns and unpredictables, but I am confident that in working with the health department, we can determine the issue and make the proper decisions appropriately."
Beun said that might include quarantining individuals, a classroom or at worse case, closing a school building for the quarantine period.
"Those are all possibilities," Beun said. "We are preparing plans for every possible outcome. It's a matter of taking guidance and doing the best we can to interpret and make the best professional decisions we can make. Fortunately, we have felt a lot of community support about reopening our schools."
In order to create an opportunity for staff members to work through the process, East Holmes will be on a two-hour early release through its first week, allowing the staff to congregate and discuss what worked and what didn't work and how they can best proceed.
While it won't be easy and there are many unanswered questions, Beun said through staff and community unity and a willingness to adhere to the rules, the district should be ready to proceed into the new school year with optimistic caution.