Hall of Fame field trip encourages local fifth-graders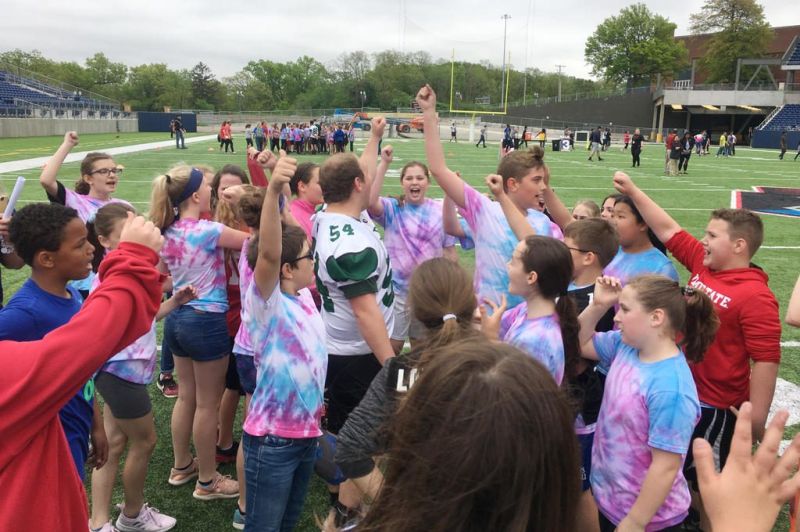 The game of football may not be for every kid, but every kid can certainly gain some valuable insight into life and the value of work ethic at the Pro Football Hall of Fame.
Killbuck and Clark elementary schools took their fifth-graders to visit the Hall of Fame facilities on Thursday, May 16 while the following day Millersburg Elementary fifth-graders made the tour to visit the NFL's iconic facility.
There the students first engaged in the NFL's Play60 Get Fit program that encourages youngsters to be active for at least 60 minutes every day.
"It was a great experience for the kids," Millersburg Elementary teacher John Gilley said. "They put us on the football field and had college players running us through the drills. The kids really got a lot of physical activity, and they had a ton of fun, although I think some of them were glad that was over because they were really winded."
That was followed by lunch and a complete tour of the Football Hall of Fame.
The trip through the building included viewing of A Game for Life Theater, where they watched a 3-D chat with some of the NFL's greatest players, and a viewing of the Super Bowl Theater, a state-of-the-art rotating theater.
"We had a holographic movie featuring Joe Namath that looked like you could actually reach out and touch him," Gilley said. "I like how they related the game of football to everyday life."
The Pro Football Hall of Fame began its award-winning Field Trip Program in 1984. Since then hundreds of thousands of students have visited the facility to enjoy a day that focuses on interdisciplinary programs that are directly connected to Core/National Standards of Education. Not only do the programs align with standards, but each program aims to inspire young people to strive to achieve greatness in their lives.
Participating students are encouraged to use critical-thinking skills as they tour the museum, providing students with an opportunity to have a meaningful and educational museum experience.
Killbuck Elementary has gone on the field trip for years, and teacher Mary Smith said the interactive trip is great on so many levels.
"They bring in coaches and football players from Ohio colleges who volunteer their time, and they go out on the Hall of Fame field and run them through all kinds of football drills," Smith said. "But at each station they talk about various themes of the Hall of Fame, like dedication, commitment, hard work and all of the things we try to promote as teachers every day in the classroom."
Smith said one of the unique aspects of the field trip is that while football is what most people envision when taking a trip there, the core of what is promoted throughout the day is more about becoming a better student and developing character traits that will help the students become more productive in their lives at whatever they attempt, whether in school, athletics or at home.
Smith said teacher Charlotte Baird and Bob Hunter were instrumental in starting the field trip many years ago, and it has become an annual favorite ever since.
"It's all about promoting commitment and teaching the kids about dedicating themselves to their schoolwork and to listening to teachers and at home," Smith said. "They ask the kids who inspires them to make the right choices, and holographic images of Hall of Fame greats like Walter Peyton talk about how they worked hard to overcome some really big obstacles in their lives to achieve greatness. These players talk about choices and challenges they went through that kids can really relate to. It is very inspirational for the kids because it comes from these professional athletes who have been so successful in their careers and have overcome some of the things kids today face."
She added that the interaction with the coaches and collegiate players also was something the kids can connect with because they are so encouraging in everything they say during the field trip.
At one point the staff there worked with the kids on an end-zone celebration in which one youngster was a bowling ball and the other students were bowling pins. The student rolled along the ground and knocked down his "teammates" as part of the celebration.
Smith said seeing so many volunteers investing in the hundreds of thousands of children coming through the tour each year is wonderful to see.
"That's people taking time to invest in the future of our kids, and that is something special to experience," Smith said.
Whether kids enjoy the game of football or not, the experience at the Pro Football Hall of Fame is one students have embraced.