Hiland hits all the right notes at districts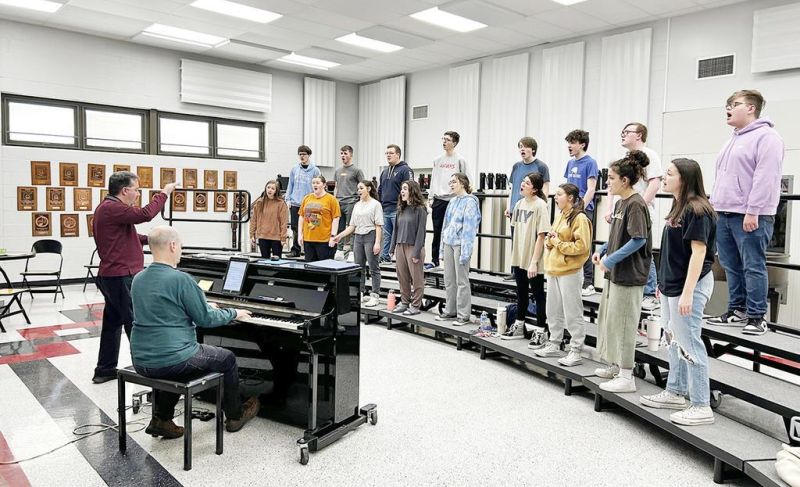 Music filled the air, and awards were the result for the Holmes choral groups that participated in the annual district Ohio Music Education Association competition recently.
The members of the Hiland High School choral program put their talents to the test recently and came away with some terrific results, putting their abilities up against a variety of other participating schools at the OMEA function.
The Hiland singers had a successful day at OMEA District Large Group Adjudicated Events on Saturday, March 11 at Granville High School. Both Varsity Singers (Class A) and Bel Canto (Class C) performed a set of three contrasting choral selections for three OMEA adjudicators and sight-read an original choral composition on solfege for an additional OMEA adjudicator.
"Both choirs performed at such a high level, and I could not be prouder of each student and their hard work and investment," said Alexander Looney, Hiland choral director. "Special thanks to our incredible accompanist and assistant Brent Schloneger for his amazing contributions to our choral program. An additional thanks to Dr. Britt Cooper from Walsh University for his phenomenal work with the choirs this past Tuesday."
In performing at such a high level, both the Varsity Singers and Bel Canto received superior ratings — the highest possible ratings — and qualified for OMEA State at Jackson High School on Friday, April 21.
"This is a huge accomplishment for our students, and we are excited to have two choirs from Hiland High School performing at the state level again this year," Looney said.
The two groups will now prepare for an even bigger challenge as they work toward their OMEA State performances.
Their schedule aside from the daily practice routine at the high school will include an intense time of practice on Tuesday, April 18, where they will unite for an OMEA State rehearsal, the Bel Canto group practicing from 3-4 p.m. while the Varsity Singers will practice from 4-5 p.m. That practice will usher in their time to shine at the competition on Friday, April 21 during the annual OMEA State event at Jackson High School, with the evening performance times yet to be announced.
Both choirs will travel via Pioneer Trails bus and eat dinner at a restaurant in Belden Village following the state performances as a celebration.