Hiland seniors enjoy inaugural Hiland Service Day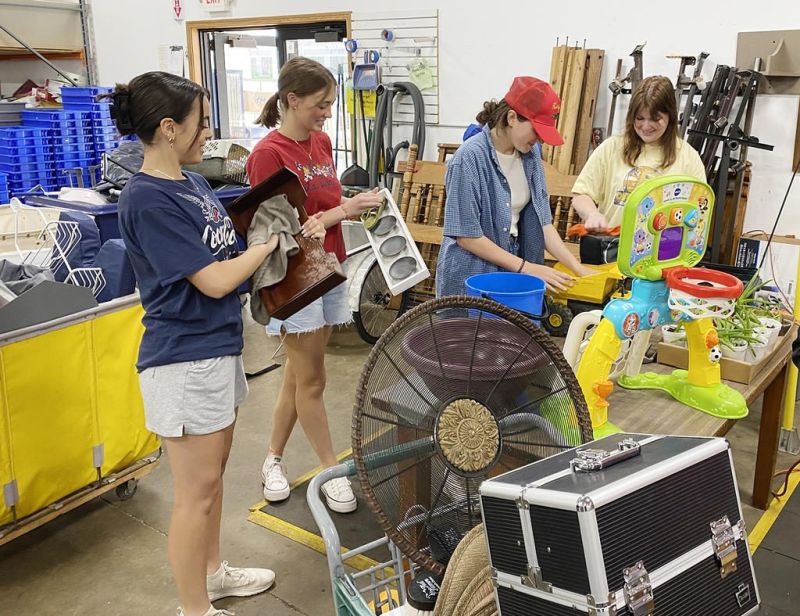 Skip day has always been a kind of rite of passage for seniors everywhere who take a day late in their final year of school and blow it off to go have fun.
On Friday, May 12, Hiland High School seniors blew off skip day for a much more meaningful moment in their lives.
The Hiland student leadership team and the Hiland administration decided to create an opportunity for the seniors to enjoy a day off that included volunteering at several different nonprofit organizations in the area.
The unofficial skip day evolved into the official Senior Service Day, with the seniors volunteering in the morning, which left them free to enjoy the rest of the day doing whatever they wanted with friends.
"One of my goals was to eliminate the senior skip day, and our student leadership team had a meeting and brought to us the idea of having a day of service within the community," Hiland Vice Principal Mark Schlabach said. "This was really student-driven, and we were excited about the way the kids really took to it and ran with it. It had a really neat vibe to it, and people there at each place were able to talk to the kids about everything that they do as a nonprofit organization."
Much to his surprise, outside of two seniors who were attending a family wedding, the class saw 100% participation, and Schlabach said that alone speaks volumes as to what type of caring students make up this group of seniors.
The seniors went to four different nonprofit organizations including 58:12 Global, Mission Thrift Store, Save & Serve Thrift Store and the Holmes Center for the Arts.
Leah Weaver, Kristen Miller and Nikki Hostetler were hard at work cleaning items that came in for the day to Save & Serve Thrift Store in Millersburg.
"We were allowed to choose where we wanted to go, so we chose to go (to Save & Serve) because we wanted to do something together as friends," Kristen Miller said. "This is a way for us to give back to the community as a way of saying thanks for the support you've shown us in helping raise us the past many years."
Back in the clothing section at Save & Serve, Kathryn Coblentz and Riley Shaw were sorting through clothes and getting them hung on racks while Brynne Coil, Ella Sommers and Kylie Lapp were sorting through items in the warehouse behind the facility.
"It's a fun way to spend the morning with friends and do something valuable for the community as well," Shaw said.
A small congregation of Hiland senior boys gathered at Holmes Center for the Arts, where they did plenty of muscle work in cleaning up the area surrounding the center and created a large burn pile of trash from the center's lower floor, where construction work continues to move forward around the new theater.
"I was so impressed with the way these young men were so eager to get started and how they dug right in," said LoriMae Reynolds, building and events manager. "I got here at a quarter-to-eight, and they were all standing here waiting. I think that shows you the culture of the community and the way we are willing to work hard and serve others. Their attitude was fantastic, and we loved having them here."
"When we contacted the center for the arts, they were so excited because they had a job to do that they felt was going to take them a long time to work through," Schlabach said. "I love the way our guys just dove right in and got to work."
Schlabach said the reports he received from the seniors were positive and uplifting, and he said the students had a great time helping others.
He said the idea of working together for a common cause that aids others is an important message to share with the students and that this shows that when there is something that needs to get done, the young people are willing and able to exhibit the same type of giving that is seen throughout Holmes County.
Schlabach said it also was an eye-opening experience for the students to get a chance to see how much work is invested into some of the area's nonprofit organizations.
"Some of these organizations require a huge process with volunteers, and it takes many people to make these places operate smoothly," Schlabach said.
Now that the inaugural year of Senior Service Day at Hiland is complete and the results are encouraging, Schlabach said they'd like to see the program grow and evolve, hoping to include juniors in next year's event.
"The whole idea that the student leadership group had was to include the entire school, so as we grow this program and get more kids involved, hopefully we can help out more places like that," Schlabach said.
While skip day can be exciting, it certainly can't hold a candle next to the importance and value of a day serving the community.