Hiland students collect scholarships at annual dinner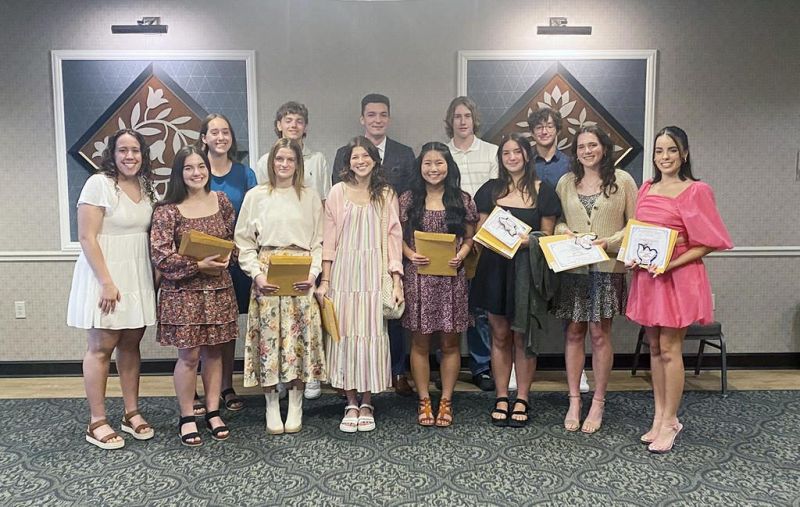 A smaller class of Hiland High School students moving into higher education as their next phase of life gathered at Carlisle Village Inn at Walnut Creek for the school's 35th annual Hiland High School Honors & Scholarship Banquet hosted by the Hiland Academic Booster Club.
Because the number of students attending an institution of higher learning dipped drastically this year, with many Hiland seniors opting to jump right into the workforce, the athletic booster club was able to give each student at least two scholarships, a rarity in the history of the scholarship program.
"We know what an incredible blessing this is for the seniors to receive this type of financial backing from the community, and although the numbers were down, we didn't want to lose any of that financial backing, so we decided to give to the kids," said Chris Gertz, booster club president.
Gertz said every year seniors are fortunate to see and experience this kind of giving throughout a community that enjoys supporting the academic effort of its young adults who go on to attend higher education institutions.
"We see this every year," Gertz said. "It's in our academics, our athletics and everything in which our students are involved. We have a giving community."
Derek Kaufman walked up to the podium to present the inaugural Larry Kaufman Memorial Scholarship, presented in honor of his father Larry Kaufman. In doing so, Kaufman explained the very essence of these scholarships and what they mean to the community and each senior.
With the banquet falling on the 16th anniversary of Kaufman's passing, his son delivered a speech that summed up the family's reason for giving while at the same time highlighting the entire community's willingness to give.
After talking about seeing his father in his dreams, one being so close they hugged, Kaufman said he was reminded he was here for a purpose.
"My favorite quote reads, 'Be the things you love most about the people who are gone.' This was the inspiration for tonight's scholarship," Kaufman said of his father. "One thing I remember about Dad was he would do anything as long as it was for the kids. Growing up, I never really understood its importance, but having my own kids, it put everything in perspective. It's allowed me to step back and realize what I want to do with my life and what is important. It's the next generation helping the kids."
Kaufman said his dad would find it humorous an academic scholarship is being awarded in his honor when he was a D-average student, but to his dad, the most important thing was not grades but rather being a good person.
"My goal is to honor my dad and the morals he put in me," Kaufman said. "And the main thing is to put others first."
In presenting the scholarship to Kathryn Coblentz, he encouraged her and everyone else to take a look at the people they admire and to look at the people admired the most and try to be like them.
Hiland High and Middle School Principal Tyler Renner has had the fortune of being able to see this group of seniors progress through their final year, and he said it is a special group that is poised to go on to great things.
"What they've already accomplished and where they are going is incredible," Renner said. "I'm very excited for them and their future, and the community support they have behind them is phenomenal. These kids have a great start to their college careers, and we are blessed with the way this community invests in its young people."
He said he wishes he could invest more of the time during the banquet to recognize the important role these local businesses play in providing for these students.
In addition to the individual awards presented by faculty members or local business representatives, there were several community scholarships presented including the Aultcare Leadership Award, which went to Abigail Miller; two P.M. Graham Family Scholarship honors, which went to Kristen Miller and Wilson; and the nine students who received scholarships from the Holmes County Education Foundation, which came to a total of $15,000 and extended the total amount of scholarship gifts from the HCEF to more than $11.5 million.
Two of the awards for the evening that are perhaps the most prestigious are the Valedictorian and Salutatorian. The Salutatorian Award went to Coblentz while the Valedictorian Award was presented to Hannah Schrock.
The two will now present speeches as part of the Hiland High School graduation ceremony.
This year saw a battle to garner the top two academic spots for seniors.
Renner said there were five seniors in a tight battle for the two roles, and he said of the five, "It's an incredible group of young people, and they aren't just smart kids; they are quality individuals. I hope they come back to the area because these are the type of people who will improve our community in the future."
Included in the seniors being presented with scholarships were Will Schlabach, Kathryn Coblentz, Kenrick Wilson, Brynne Coil, Itzelle Guzman, Kate Kaufman, Abigail Miller, Braden Kaufman, Kylie Lapp, Kristen Miller, Grace Schlabach, Luke Mast and Riley Shaw.