Music unites 2 different cultures as Akron East visits Hiland High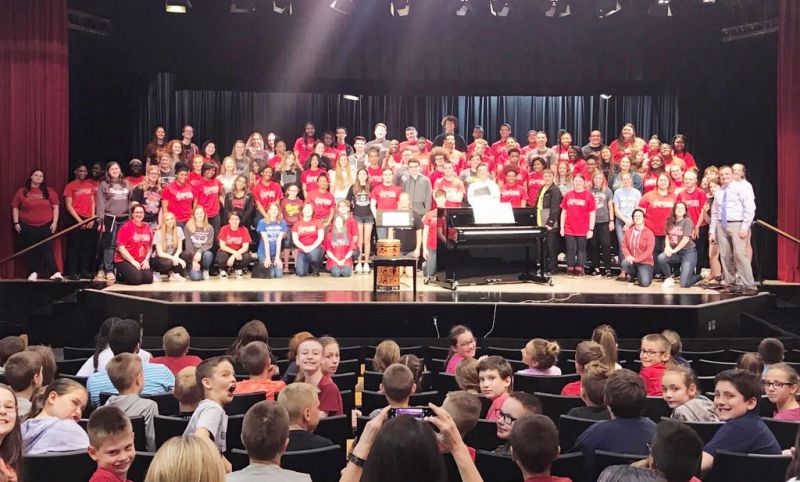 While Amish Country and the city life in Akron may be two very separate lifestyles, the two united as one in song and voice when the choir from Akron East High School traveled south to perform with the choir from Hiland High School on Tuesday, May 7.
It was a day of music as the two choirs found common ground very quickly.
"It was neat to see the way both schools came together," said Megan Meyer, Akron East's choir director, who just happened to be a 1997 graduate of Hiland High School. "The vocabulary and gestures are the same, so this goes to show that kids can grow up in two very different worlds yet music has the ability to bring everybody together."
Meyer said her kids didn't quite know what to expect, although they did talk about how Hiland would not have Amish youth like they had studied on the Amish culture.
One of the goals for Meyer was to introduce her class to a new and different culture. She said taking them out of their comfort zone and having them perform numbers that were in collaboration with another school that is much smaller and very different demographically would be good for them.
Akron East performed two numbers including "Music's Echo" and the Akron East alma mater, "Loyalty." Hiland performed two pieces and their alma mater before the two groups combined to sing "There Is Sweet Music Here" and the Kenyan song, "Jambo."
Having grown up in Amish Country, Meyer, formerly a Kauffman, said she talked at length about the community and what the kids should expect to see. The bus ride down to Berlin alone provided plenty of opportunities for them to experience Amish Country.
"It's a very different way of growing up than what our Akron East kids are used to," Meyer said.
She said most of their concert performances take place at school, so this trip was a way to expand their horizons. She also said the style of music they sang and heard was different, so that was good for the students.
"I love the way music has the ability to overcome boundaries and bring people together," Meyer said. "I thought the interaction between the two schools was really neat to see as the day progressed."
For the Hiland choir, the rush was on to quickly learn the new songs, and they had little time to do so. With very little time for the high school choir members to learn the music, they took one day to sight read and then learn the music to join the Akron East group for an impromptu concert. Fortunately the group has had success over the years with sight reading in competition, so they were more than ready to tackle the task at hand.
"What a great opportunity and a wonderful collaboration between two separate and very distinct school districts," Hiland choir director Alex Looney said. "Music has a way of bringing people together, and watching these kids come together and sing as one voice really shows how music is a universal language. It was really awesome to see the students intermix with each other and create one massive choir having never sung together. What a neat opportunity."
Looney said he also felt it was important to have younger fourth-grade students in the district come to watch the event because it opened their eyes to some of the things the choir does and it whets their appetite to want to be a part of it moving forward.
"Everything we promote, everything we hope to accomplish at the high school level begins in the elementary schools," Looney said. "Developing those foundational skills and that passion all starts at the lower grades and keeps growing."
The concert was preceded by a lunch prepared by the Hiland Music Booster Club and was followed by some team-building games out on the soccer field where members of both choirs cut loose and had some fun. From there Akron East loaded up the busses and made a trip to Hershberger Farm & Bakery, which had donated 150 fry pies to the Akron East choir for lunch.
Debborah Knox is one of the Akron East choir members, and she said they enjoyed the chance to experience music in a very unique way during their visit.
Knox said their history teacher showed them pictures of Amish Country and the Amish community, and she said that was so different that it made her a little hesitant to venture into Amish Country. Once there she said she was glad she came.
"It's a lot different than our school because it is so small and they don't have football and wrestling, which is so big at our school. But their choir sounded really good. We don't do a lot of collaborations with other schools, so this was a different experience. I was shocked at how quickly they sight read. They learn really fast."
Meyer said the hope is that eventually Hiland will bring its choir to Akron East for a day of music and fun.