New Phila family knew Buckeye House was 'the one'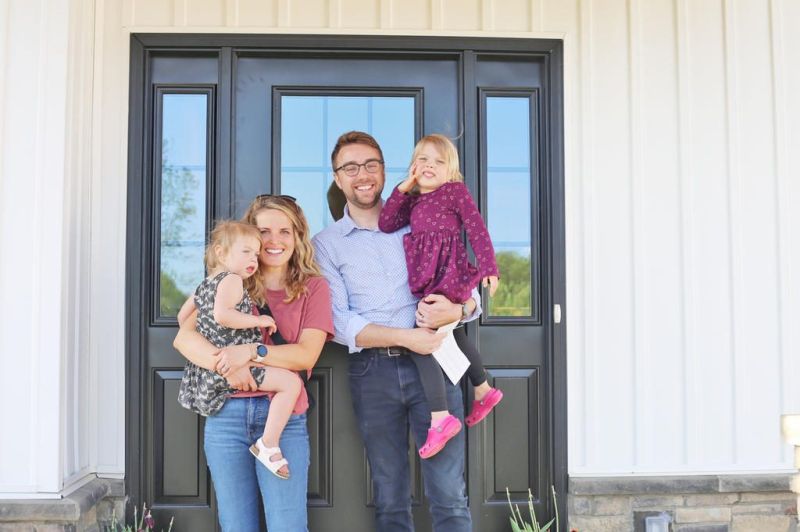 The most recent Buckeye Career Center student-built Buckeye House sold at public auction on May 9. The single-family home located at 2039 Brookside Drive in New Philadelphia sold for $365,000 to Chris and Jessie Pipes of New Philadelphia.
The BCC Board of Education accepted the high bid later that evening at the board of education meeting. The Pipes, along with their two daughters Addie and Harper, will close on the home in June.
The family toured the home during an open house as they were interested in moving to the University Drive neighborhood. Jessie Pipes said she knew the house was "the one" when she stepped onto the back patio.
"We just felt this wave of peace over us, and it felt like home. We could imagine our kids here," she said. "For us, that was really important, giving a place that we could settle our girls in and give them roots."
It also was that moment that solidified Chris Pipes' decision to attend the auction for a shot at the house. "I turned around at the open house and saw tears in my wife's eyes, and I knew we were going to have to bid for it," he said.
Construction of this Buckeye House began in August 2021 and concluded at the beginning of April 2023. The custom-built ranch home features three bedrooms, two bathrooms, custom-built cabinets, LVT wood flooring, and a brick and tile fireplace. The bedrooms include walk-in closets, and the master bath features a tiled walk-in shower. Covered front and back porches complete the modern, open-concept home.
Buckeye students in construction technology, energy operations, masonry, landscaping, HVAC-R and electrical systems technology had a role in building the house.
After accepting the bid, BCC Board of Education member Francis Picchetti commended the BCC students and staff who worked to produce the product.
"The board of education appreciates what they do and their professionalism. The community sees that, and we are so proud of them," Picchetti said.
The auction was conducted by Steve Cronebaugh with Cronebaugh Auctions and Barnett Realtors. The home was staged for viewing by Andreas Furniture, and appliances were supplied by Weaver Appliance.