Professor is Gilbert Harris Award recipient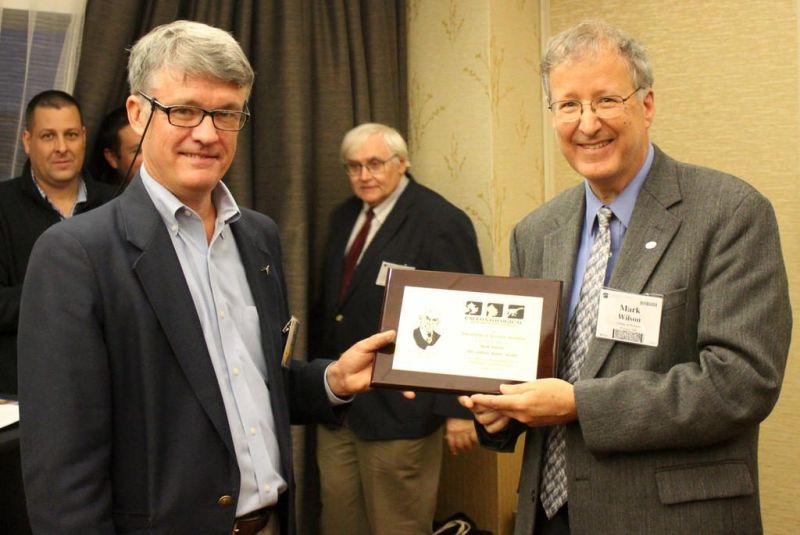 Mark Wilson ('78), a faculty member at the College of Wooster since 1981 and currently the Lewis M. and Marian Senter Nixon Professor of Natural Sciences, accepted the Gilbert Harris Award, presented by the Paleontological Research Institution, at the recent Geological Society of America annual meeting in Indianapolis.
Since 1993 the PRI has selected a Gilbert Harris Award recipient for career excellence in systematic paleontology. The awardee is a scientist who through research in the centrality of systematics in paleontology has made a significant contribution.
"I am deeply honored by this award and thank the PRI for its generosity. I want to especially thank my important mentors Paul Taylor at the Natural History Museum in London and Bill Ausich at the Ohio State University, and my colleagues at Wooster have also been particularly encouraging and supportive of this work. I am humbled and very fortunate to have such friends," Wilson said.
In the citation read by Warren D. Allmon, director of the PRI, Wilson is described as "an outstanding scholar who has contributed a substantial body of paleobiological research including a considerable amount of systematic paleontology, and he is a model for a liberal arts college science educator."
An international scientist with published research on various aspects of paleontology from the Bahamas, China, Cyprus, Estonia, Israel, Jordan, Morocco, Oman, Poland, Russia and the United States, Wilson is recognized for his work on the topics of global sea level, organisms that dwell on and in hardgrounds, predation, and biotic interactions in the fossil record, among others.
Allmon said a significant portion of his work has been on "poorly loved fossils," and "working with these challenging groups" has been "critical for a comprehensive understanding of the full biodiversity and paleoecology of ancient marine paleocommunities, especially hardground paleocommunities."
Wilson started down this career path when on a class field trip as a student at Wooster in 1977. Fellow student Mary Beidler found a small trilobite, an extinct marine arthropod, in Lower Carboniferous shale. Wilson proceeded to discover that the trilobite was a new species and gave it the scientific name Brachymetopus nodosus in his first publication.
Wilson is a fellow of the Paleontological Society and the GSA and has published over 120 papers, many including Wooster students as co-authors.
Wooster has been Wilson's home for his entire academic career, where he has served as a mentor to hundreds of students, chaired the department of geology (now earth sciences) on and off for over 15 years, and served on a number of campus committees.
"We are so delighted that Mark was selected to receive this wonderful award, which honors his decades of extraordinary work in paleontology around the world. Mark is a superb scientist whose creativity and research acumen have led him to publish over a hundred research papers, many with student co-authors. No wonder the Paleontological Research Institution selected him for this award, as he is at the top of his field among both colleges and universities. Wooster is so incredibly fortunate to have Mark here, teaching and doing research with our students," said Sarah Bolton, president of Wooster.