Students learn skills with simulated emergency calls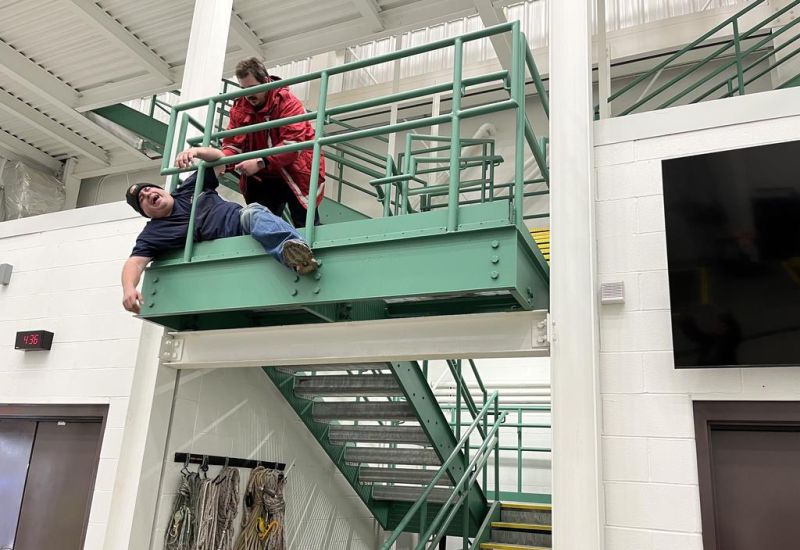 Students in the EMT program at Buckeye Career Center participated in EMS Goes Live, an eight-hour day filled with one simulated emergency after another. The event, which was held Feb. 11, is designed to give students hands-on experience outside the classroom before they encounter emergency situations in the real world.
Dana Miller, a paramedic/firefighter instructor at BCC and organizer for the program, explained how the day works. "Students get a call just like they would in real life. They go to their ambulances and respond to the scene, where they will take care of the injured on-scene and then transport them to the appropriate emergency room."
The four mock ERs represented Union, Mercy, Aultman and Akron General hospitals. Students had to decide which one to send their patients to by knowing what level of care each offers. Each ER was manned by nursing students from Kent State and physicians who volunteered their time.
Smith Ambulance, Stark Summit Ambulance, Mineral-Sandy Ambulance District, Baltic Fire and Rescue, Erie Valley Fire and Rescue, Regional EMS, Tri County Ambulance and EMT Ambulance, and Sugarcreek Fire Department participated. One ambulance driver, Marcy Friend, was a Buckeye student just last year.
Throughout the day students encountered a shooting, a car accident with injuries, an unresponsive 6-month-old, a chest-pain patient, someone who fell out of a tree stand and a final mass casualty scene.
BCC offers both basic and advanced EMT courses for adults and high school seniors. Matt Seward, a firefighter and advanced EMT with the Bolivar Fire Department is the lead instructor for the advanced EMT course.
"A lot of other schools offer skills days, but they usually do it in a classroom where students read a scenario and walk through it," Seward said. "As far as I know, we're the only school that goes to the extent we do to make it as real as we possibly can."
Male chest-pain call
A call came in for a three-student squad for a male with chest pain. They piled into the ambulance, and once on the scene, they started working. Squad leader Brett Putnam took the man's medical history, asked the appropriate questions and determined he should be sent to Mercy Hospital in Canton due to the need for a heart catheter lab.
After loading the man into the ambulance for the trip, Putnam called in his report, mimicking what he would do in real life.
"We have a 54-year-old male diabetic with chest pain. He had a heart attack seven years ago. His blood pressure is 108/74. Respirations are 18, and oxygen saturation is 98%. He has a blood sugar of 138," Putnam said. "He is alert and oriented, and we are transmitting a 12-lead (EKG report) to you. We'll be there in about 15 minutes.
"I enjoy making somebody's day go from bad to better. I learned how to somewhat run a call on my own today, instead of shadowing other people."
The students were assisted by Charissa Cunningham, an advanced EMT with Smith Ambulance. Cunningham and two other advanced EMTs — J.D. Hall from Bowerston Fire Department and Nathan Shrock from East Holmes Fire and Rescue — evaluated the squad's performance.
Becky Amistadi is the clinical coordinator for the EMT courses. "We're hoping the students learn to take that breath before they jump in and think about what they need to do. They haven't worked as teams, and they need to do that, and they need to communicate well. They need to be able to keep their cool and manage the patients because that's what it comes down to."
Mass casualties
The last call of the day was for a partial building collapse with mass casualties. Students had to triage patients based on the severity of their injuries while maneuvering through a chaotic scene where an injured man screamed the entire time.
Seward said the exercise is designed to teach students how to ignore distractions and focus on the most seriously injured first.
More than 60 volunteers played the role of injured patients, drove ambulances and worked as dispatchers. The dispatchers were from the county sheriff's office, which operates the area's 911 center.