Students represent Claymont's dog program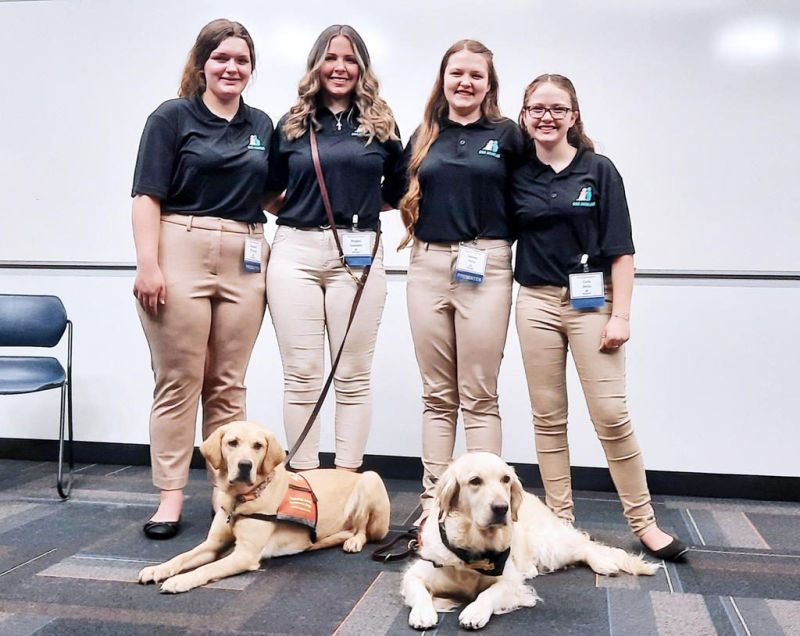 Claymont High School students — senior Savania Whitten, junior Gemma Dotts, sophomore Maggie Lesiecki and freshman Cora Dotts — represented Claymont's facility dog program on Saturday, April 22 at the 2023 Stark State Student Symposium Spotlighting Student Success.
The symposium is a half-day annual event that highlights the academic excellence of students from Stark State College and local community high schools.
These students, all members of the canine handling team, under the supervision of teachers Heather Dotts and Jane Lesiecki, presented a 50-minute program titled The Impact of Facility Dogs on Student Learning and Leadership: A Student's Perspective. The student team highlighted four areas: the role of a facility dog in schools, their program's benefits on student learning and leadership, the neuroscience supporting the positive effect the dogs have on student well-being, and the impact their Peers Uplifting Peers program has on the lives of others.
The information they provided showcased how facility dog programs can be a safe and beneficial addition to the school environment.