Students signed CDA training letters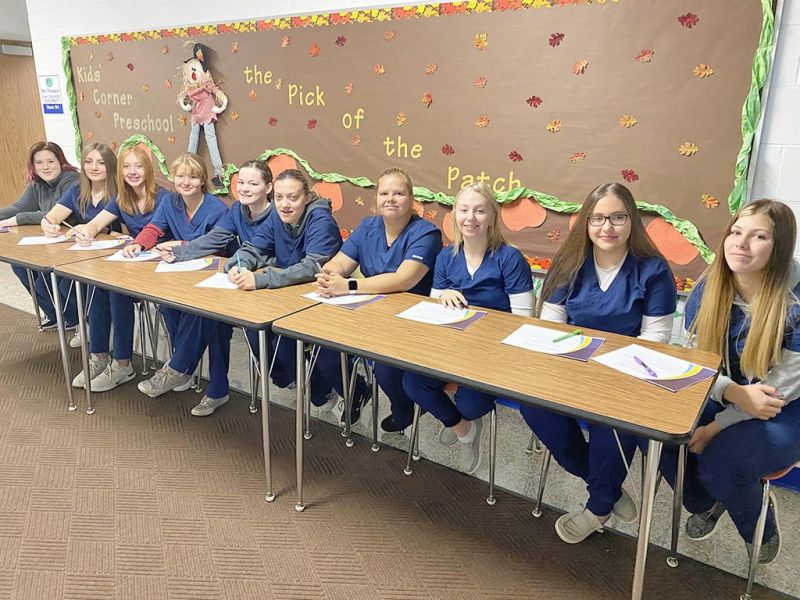 A number of Buckeye Career Center early childhood education students participated in Ohio's first statewide Health and Human Services Signing Day on Oct. 2, making the commitment to complete Child Development Associate training this academic year.
The professional-development training helps students complete the requirements for the nationally recognized CDA credential, a pathway to career advancement in various early childhood education settings.
Buckeye Career Center students who signed CDA training letters of intent include senior Cheyenne Finton of New Philadelphia and juniors Jazlyn Brown of Dover, Chloe Bryant of Malvern, Morgan Burrell of Strasburg, Sarah Collier of Carrollton, Jaymeelynn Crouser of Carrollton, Mackinzee Dunlap of Indian Valley, Haylee Myers of Conotton Valley, Alexandria Sica of Garaway, Emily Sinnett of Garaway, Lillian Beitzel of Strasburg and Kaylee Hilton of Strasburg.
CDA training prepares students to become qualified early education teachers for children birth through age 5. It ensures they graduate high school job-ready with the skills and competencies early childhood employers want.
High school students enrolled in the BCC early childhood education program, which includes the CDA training, complete 120 hours of child development education coursework covering eight content areas. They also can earn college credits toward higher education degrees.
"We are excited that these students have made a commitment to completing the Child Development Associate training at Buckeye Career Center. This is a great first step towards a career in early childhood education," said Bobi Thompson, BCC early childhood education instructor.
Students are getting a jump-start in this profession. Along the way they'll experience hands-on training. People with the CDA qualification have numerous career opportunities including teacher's aide, assistant teacher, lead teacher, floating teacher, substitute teacher and administrative roles.
"This type of training also opens the door for paraprofessionals and nannies," Thompson said.
Visit www.buckeyecareercenter.org/EarlyChildhoodEducation.aspx or call 330-339-2288.