Tusky Valley speech team to send 16 to state tournament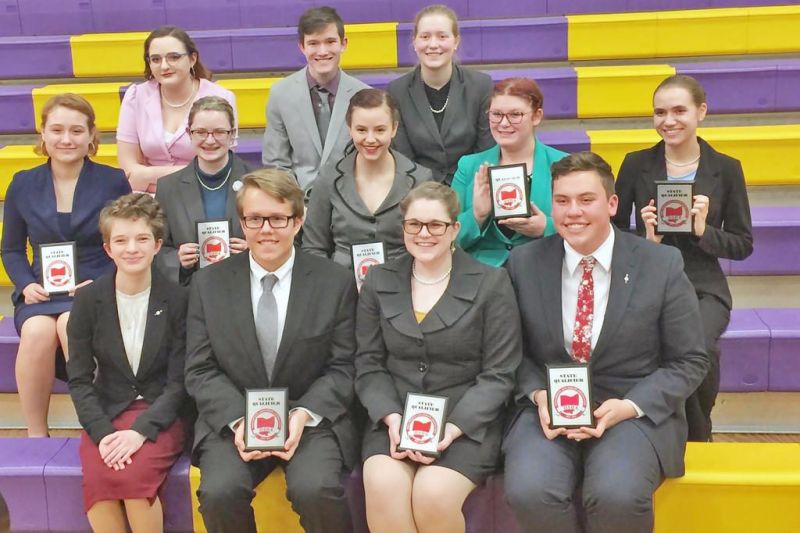 The Canton District of the National Speech and Debate Association held its district competition on Saturday, Feb. 1 at Jackson Middle School to determine which students will advance to the state tournament in March.
The speech and debate tournament drew competitors from 12 area schools. Students competed in a number of categories including Informative, Humor, Drama, Original and Extemporaneous, in which a student has about 30 minutes to prepare a five- to seven-minute speech on a current-events topic they've just been given.
Tusky Valley had four students who prequalified during the speech season for the state tournament and did not have to compete on Saturday. Those who did not prequalify vied Saturday for open spots in their categories.
Tusky Valley students who are moving on to the state level are Brooklyn Fockler, Ellie Dorsey and Anna Cox in Informative; Brianna Swinford and Justin Pirolozzi in Humor; Storm Waldron in Drama; Laura Wallace in Original Oratory; Olivia Burgess in Declamation; and Ally Watson, Griffin McConaha and Zoe McConaha in Student Congress.
Those who qualified as alternates in their categories are Elizabeth Angione in International Extemporaneous, Griffin McConaha in Informative and Zoe McConaha in Program of Oral Interpretation (formerly Prose/Poetry).
Jared Six of Fairless High School also prequalified in Drama. There is no speech team at Fairless, so Jared comes to Tusky Valley for coaching under Carrie Spina, although he competes on behalf of Fairless.
"We all love Jared and feel he's a part of our team," Spina said.
In its brief eight-year history, the Tusky Valley speech team has fielded a state champion, a state runner-up and two national qualifiers. Spina's son Drake made the national finals and placed sixth in the nation two years ago.
Tusky Valley is one of only two schools in Tuscarawas County that has a speech team, which Spina finds somewhat surprising considering everything students gain from the experience.
"Speech gives students confidence, helps them develop critical-thinking skills, shows them how to face rejection and grow from the experience, teaches them professionalism, and helps them find their voice in this world," Spina said. "It has changed all our lives for the better."
Spina points to the fact Tusky Valley students have gotten jobs out of high school due to the exposure with local employers they gained. One student also received a full scholarship to college based on his speech record.
Spina shares coaching duties with assistant coaches Lindsay Fockler, Cierra Spina (Carrie Spina's daughter and a state speech qualifier when in high school) and Drake Spina.
"I love finding talents in our students that they may not have realized they had and teaching them how to use those talents," Carrie Spina said. "Showing kids that they can use their gifts in a competitive atmosphere is amazing. When I was in high school, speech really changed my life, and coaching is a way of giving back to the speech community."
Those who would like to see the state-qualifying speeches will get their chance when the team holds its annual Speech Showcase and Dinner on Saturday, April 4. The showcase will begin at 7 p.m. in the Tusky Valley auditorium with a rigatoni dinner being served before the program at 6 p.m. in the cafeteria. Tickets are $10 and include the program and the dinner.
Showcase-only tickets can be purchased for $7. All tickets will be sold at the door the night of the event. The Speech Showcase is just one way the team raises funds to pay for attending competitions.