Wooster-Wayne DAR holds annual awards ceremony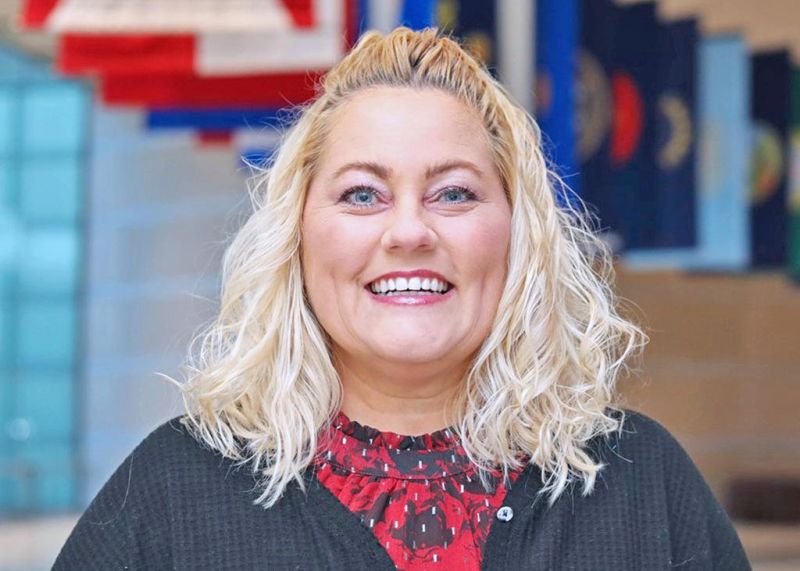 The Wooster-Wayne chapter of the Daughters of the American Revolution recently held its award ceremony at Parkview Christian Church in Wooster. An Outstanding Teacher of American History and DAR Good Citizens from area high schools were recognized. Honorees were invited to receive their awards in person, and their families and school personnel also were welcomed.
Kimberly Huffman was chosen as the 2022-23 Outstanding Teacher of American History. Since 2000 she has been instructing American government, personal finance and political science at the Wayne County Schools Career Center. She is the school's student leadership advisor and coordinator for Constitution Day and Veterans Day and also serves as an adjunct professor teaching political science at Stark State College.
Huffman has received many awards and recognitions, the most important being the James Madison Memorial Fellowship, which paid for her graduate program and required a concentration on the U.S. Constitution. Most recently, she received the National Council of Social Studies 2022 Secondary Teacher of the Year and the Ohio Sons of the American Revolution Dr. Tom & Betty Lawrence American History Teacher Award.
Huffman serves on the National Constitution Center Teacher Advisory Council, iCivics Network Team and the National Council of Social Studies Board of Governors. She was recently appointed as a National Constitution Center curriculum fellow and is an advocate of civics.
The DAR provides each high school the opportunity to recognize one of their graduating seniors as a DAR Good Citizen. They must demonstrate the qualities of good citizenship: dependability, service, leadership and patriotism.
These individuals are members of the National Honor Society, are involved in their church and community, and participate in extracurricular activities at school. Most have already earned college credits and have part-time jobs. They do all of this while maintaining an exemplary GPA. Once chosen by their school, the students have the option to compete for a scholarship by submitting additional paperwork and completing an essay.
The chapter's DAR Good Citizen scholarship winner is Kendrick Wilson, a senior at Hiland High School and the son of Jon and Lynne Wilson. Wilson is currently enrolled in Kent State University's Bachelor of Science Biology program, which is part of the premed track. Upon completion he plans to enroll in medical school to become a practicing physician. His goal is to practice medicine in underserved rural areas while also inspiring future generations of students to serve others through the medical profession.
The DAR Good Citizens from other schools include the following:
—Isabelle Hostetler is a senior at Waynedale High School in Apple Creek. The daughter of Jake and Brenda Hostetler, she will attend the University of Akron for nursing with a goal to become a nurse at Akron Children's Hospital.
—Kirsten Swain is a senior at the Wayne County Schools Career Center in the exercise science and sports medicine program. She is the daughter of Ed and Shannon Swain, and Triway is her home school. She plans to attend college with the goal of obtaining a position with a professional team in the NBA, NFL or a collegiate team.
—Drew Totten is a senior at Orrville High School and the daughter of James and Jaime Totten. She plans to attend Ohio University, majoring in accounting and business analytics, and would like to work in a private accounting firm or as a business analyst in a larger city.
—Paige Walter is a senior at Northwestern High School and the daughter of Matthew and Jennifer Walter. She plans to attend the Ohio State University, pursuing a major in environment, economy, development and sustainability. Her goal is to become an environmental economist.
—Nathan Zuercher is a senior at Kingsway Christian School and the son of Marvin and Glenda Zuercher. He lives in the Smithville school district. He plans to play college football and pursue a degree in business. While he is unsure of what the future holds for him, he is excited about where God will lead him.
Following the presentation of awards, visitors were congratulated by chapter members.
The DAR is a women's service organization dedicated to community service, preserving history, educating children, patriotism, and honoring and supporting those who serve the nation. Any woman age 18 or older, regardless of race, religion or ethnic background, who can prove lineal descent from a patriot of the American Revolution is eligible to join. If you would like information on the DAR or the Wooster-Wayne chapter, email Robbin Christman at woowaydar@gmail.com.