Years of hard work pay off for local veterinary students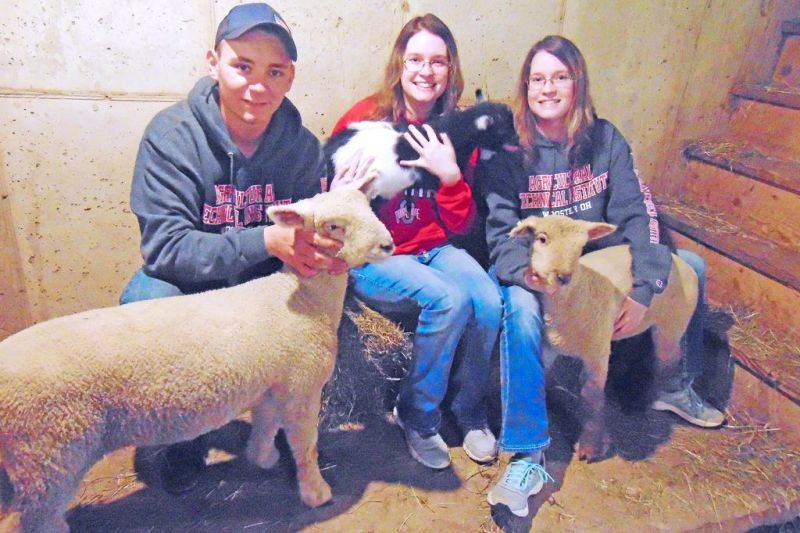 John Gilson and twin sisters Courtney and Madison Baker grew up in the Wayne-Holmes area, but their paths didn't cross until they attended orientation at the Ohio State University Agricultural Technical Institute in Wooster.
With the same career paths in mind, they took many of the same courses and graduated together, first from ATI, then on May 3 from OSU main campus, all the while forming a deep friendship.
This fall they will see their dreams fulfilled as they enter the Ohio State University College of Veterinary Medicine as part of the Class of 2024.
For Gilson of Wooster and the Bakers of Big Prairie, it is the culmination of years of hard work just to meet the requirements needed to apply to the veterinary college. Their applications were among 1,956 considered for 600 interview slots. The college each year admits 162 students.
Gilson and Courtney Baker both said they've wanted to be veterinarians since they were young. Gilson grew up on a sheep farm and "always had a million questions for the veterinarians who visited," he said.
Courtney Baker said her interest stems from accompanying her mom Teresa to veterinary clinics with stray animals her mom brought home. She would get them proper veterinary care, then find them adoptive homes, her daughter said.
Human medicine was Madison Baker's first area of interest, she said, but she changed course after researching the many career opportunities available in veterinary medicine.
The Baker sisters and Gilson each earned associate degrees in biochemical science with a speciality in veterinary medicine from ATI. All three transitioned to OSU main campus, where each graduated with a Bachelor of Animal Science with a speciality in bioscience.
Gilson and Courtney Baker, who are dating, were the first to get the news of their acceptance into the College of Veterinary Medicine on Feb. 15 while they were at the Baker home. "Her phone buzzed, then my phone buzzed," Gilson said of the moment the notification came through.
Madison Baker said she heard the two of them "bounding up the stairs as loud as they could possibly be." In their excitement they asked her to check her phone. However, her news was not as celebratory. She'd been placed on a waiting list and wouldn't get the final nod of acceptance until April 17.
"That was definitely a little bit stressful," Madison Baker said. "We'd thought about 'what if one of us doesn't get in or two of us don't get in?' We had agreed we'd still want to reapply, but it would be a bummer not to be in the same class."
Now that they can all celebrate together, they look forward to what's ahead.
"We're all really excited to experience veterinary school together," Madison Baker said. As is recommended by the college, "we will be able to study as a group and have that support system in place."
Applicants to OSU College of Veterinary Medicine are evaluated on academic achievement, as well as their motivation and commitment to the profession, character, communication and interpersonal skills, leadership ability, exposure to animals, and knowledge of the profession.
In addition to raising purebred Southdown sheep on his family farm, Gilson has worked as a maintenance and repair technician on the beef cattle farm of Kevin Ungerer of Wooster and assisted Dr. Richard Mairs of Mairs Veterinary Clinic in Wooster and veterinarians at Country Road Veterinary Services in Apple Creek.
"I love understanding how things work," Gilson said. "What causes an animal to get sick? How do we treat it? How do we prevent it?"
He has volunteered with Mountain Vision Ministries, Moreland United Methodist Youth Group, and 4-H and FFA programs.
After job shadowing at Wolf Creek Veterinary Services in Millersburg, Courtney and Madison Baker became kennel assistants, helping walk the dogs at the clinic. Their work earned them jobs as veterinary assistants, which allowed them to help with animal exams.
Their work in the funding department at PRC-Saltillo in Wooster helped the sisters gain valuable customer service and communication skills, Madison Baker said. PRC-Saltillo is a company offering products and services that help people with speech and language impairments communicate.
At ATI the Baker twins started a Pre-Veterinary Club, which provides students with lab activities and the chance to connect with professionals in their field. The Bakers did volunteer work at the Holmes County Humane Society.
The Bakers and Gilson also worked as research assistants in the Food Animal Health Research Center at the Ohio Agricultural Research and Development Center.
Now they start a new challenge as veterinary medicine students. "We are all in the same boat," Madison Baker said, "and will be navigating it together."