66th AAUW/Kiwanis Book Sale is Sept. 26-30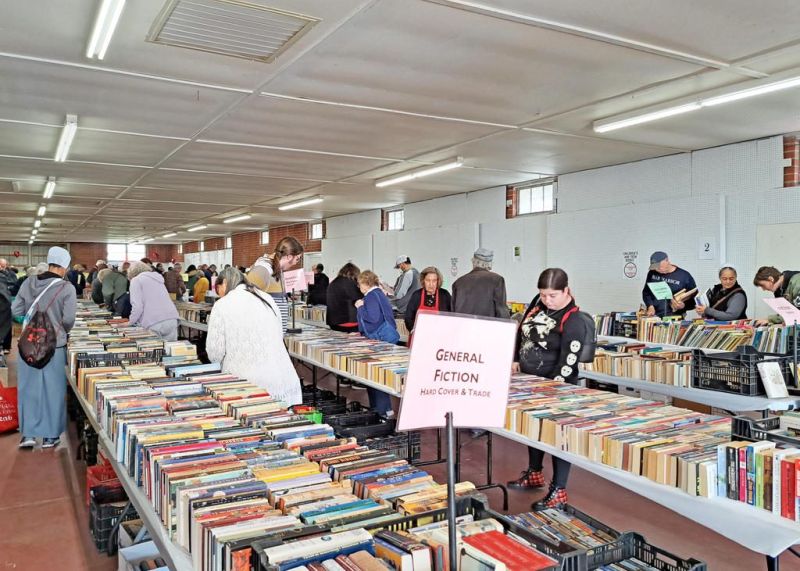 Fall in Wooster brings a special treat for book lovers — the 66th annual used book sale sponsored by the AAUW, Wooster chapter and the Kiwanis Club of Wooster.
This sale, held at Buss Hall at the Wayne County Fairgrounds, begins on Tuesday, Sept. 26 from 4-8 p.m — the "early bird sale" opportunity, with a $10 admission fee. It continues, with free admission, on Sept.27-29 from 9 a.m.-8 p.m. all three days, with everything half-price on Friday. The final sale day, Saturday, Sept. 30, is "Bag Day" from 9 a.m.-2 p.m., when $5 buys a full bag of books.
The annual sale is one of the largest in Ohio, with more than 45,000 books on offer. The wide selection of fiction books includes mysteries, inspirational, romance, science fiction, thrillers, and popular fiction. Informational books cover topics as varied as crafts, cookbooks, history, science, and sports. There is always a large vintage/collectible section, which this year has a special chemistry collection. Children and teens have their own area, with books ranging from picture books for the youngest through the newest teen titles. Prices for the majority of the books in the sale range from $1 to $6, with most costing only $1 or $2.
Proceeds from the sale benefit youth projects in our community and provide scholarships for local women whose education has been interrupted.
For more information about this year's AAUW/Kiwanis Used Book Sale, go to woosterkiwanis.org/booksale.