Community Convo: Meet Leslie McKelley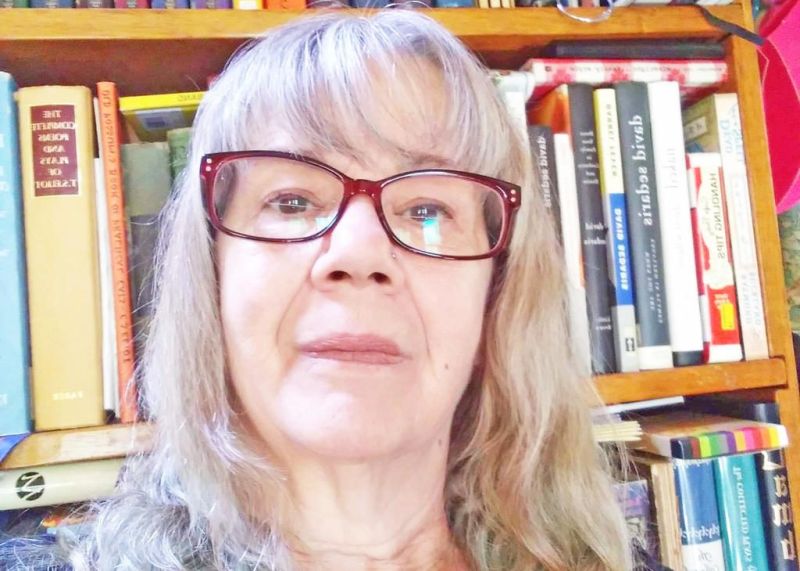 Our locale is vast, and tucked away in the rolling hills and villages are pockets of residents and friends we've never heard from. There are houses and businesses we pass by without ever stepping foot through the door or extending a hand in welcome. Who are they? What are they thinking about?
Each week we will travel to a new doorstep. Today, we go to a home perched on a steep ridge in the west end of the county to meet the woman who lives there.
Say hello to Leslie McKelley, who lives on French Ridge near Glenmont in a solid panel yurt. A bookseller by trade, McKelley has lots of interests and hobbies, and some would say vices. She says she's a cautionary tale rather than a good example as far as vices go. She has a compulsion to collect fleeces, yarn and beads. Throw Batik fabrics into the mix, along with baby doll heads and random found objects that make her smile. She does a bit of weaving, wet felting, quilting, beading, knitting, hot sauce making, bread baking and needle felting. (Yes, she says stabbing things can be therapeutic, especially inanimate things.)
Reading is breathing to her, and she said a book or six per week is needed for a balanced life.
Let's get to know Leslie:
What is your favorite or least favorite thing about living in rural Ohio?
I love walking on land that my grandmother, mother, children and grandchildren have also walked on. The downside is travelling farther to the grocery shop, and also a lack of cultural diversity.
Which one of your personality traits has been the most useful and why?
Humor. I mean it probably stems from untreated trauma, but you work with what you have.
If you could ask for advice from one historical figure, who would it be and why?
Narrowing it to one is hard. Morgaine Le Fey, who was a wise woman and healer. There would be much to learn at her hand.
Name a book you love and how it relates to 2020.
It would have to be "The Handmaid's Tale" by Margaret Atwood. A quote from the book that resonates with me is "better never means better for everyone. It always means worse, for some."
If you were given 1,000 acres of land, what would you do with it?
I would first reread "A Thousand Acres" by Jane Smiley, then donate 995 acres to the county or state for a park. The stress of owning that much would make my head hurt, but I would ask for naming rights.