HCGHD program helps seniors be aware of falls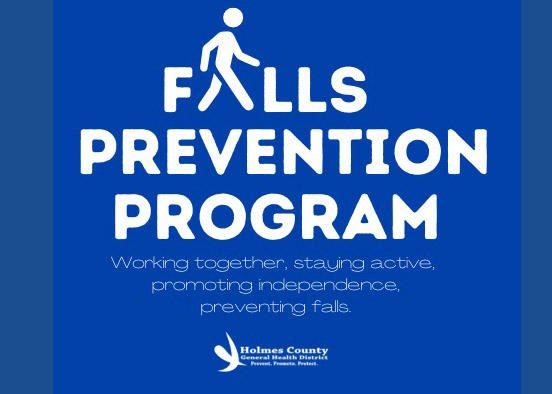 In 2013 the Holmes County General Health District saw a need for programs geared toward the 65 and over population living in Holmes County. This need came from local emergency department data showing falls in the 65 and over population who live in Holmes County saw a higher rate of emergency room visits and hospital stays than any other type of injury. This data follows the national trend that falls in the 65 and over population have reached epidemic proportions, and to make a difference locally, action needed to be taken.
In 2014 the Ohio Department of Health's Violence and Injury Prevention Section received a block grant from the Centers for Disease Control and Prevention to establish injury-prevention programs within Ohio encompassing three injury-prevention areas: drug overdose, child injury and older adult falls. The HCGHD applied for the older adult falls grant and was awarded this five-year grant in 2014 and again in 2019.
The Injury Prevention Program of the HCGHD has provided evidence-based falls-prevention programs and falls education to aid in falls-prevention efforts to the 65 and over population living in Holmes County. These evidence-based programs and services are organized by the injury prevention coordinator/health educator of the HCGHD with guidance from Standing Against Falls Coalition stakeholders and partners including target population community members.
The SAF Coalition mission statement is to reduce the risk of falls through partnerships, education and policy. The vision statement is older Ohioans living in Holmes County will have fewer falls and fall-related injuries, maximizing their independence and quality of life. Priority issues have been compiled through assessments, surveys and data of Holmes County.
The following strategic planning priorities support the mission and vision of the SAF Coalition and contribute to providing high-quality falls-prevention services to Holmes County citizens 65 and over:
—Stopping Elderly Accidents, Deaths and Injuries Falls Risk Assessments with referrals from healthcare providers.
—Home safety with home assessments.
—Evidence-based balance and mobility classes (Matter of Balance, Stepping On, Tai Chi for Arthritis, Geri-Fit).
—Medication review and management.
—Social marketing campaign on positive ageism and falls are not a normal part of aging.
—Network of falls prevention advocates.
An injury-prevention survey was created in 2014 and designed by the HCGHD and SAF Coalition to gather information about the health, health practices and falls awareness of adults 65 and over living in Holmes County. The information is kept confidential and is used only to evaluate health programs and to plan future action to improve the health of adults 65 and over who live in Holmes County.
The 2014 survey was done in person at the Darb Snyder Senior Center and served as the baseline for needs in the community. Future surveys were reviewed and updated with added questions in 2016 and 2019. During these years surveys were sent via postal mail to a total of 800 randomly selected Holmes County residents who use the Homestead Exemption tax.
Data findings from the 2019 injury-prevention survey showed 70% of mail respondents did not know about the Injury Prevention Program of the HCGHD and 30% of mail respondents did not know about the programs/services offered through the Injury Prevention Program. This misunderstanding between injury prevention and falls prevention has delayed the growth and involvement in the injury-prevention programs of the HCGHD, which in turn has affected the reduction of falls within the 65 and over population.
Holmes County hospital data has shown an increase of fall-related emergency department visits from 2014-20, despite efforts of the Injury Prevention Program and the services the program offers through the HCGHD.
The ED data is as follows: 2014, 177 ED visits; 2015, 178 ED visits; 2016, 247 ED visits; 2017, 249 ED visits; 2018, 257 ED visits; 2019, 314 ED visits; and 2020, 278 ED visits.
This data shows an increase in ED visits during a six-year time span with fall-related deaths increasing from one in 2017 to three in 2020.
The 2020 falls data showed a decrease, which could be due to the pandemic and individuals not wanting to go to the emergency department or physician.
Based on data findings from the 2019 survey and the local emergency department, it has been decided to rename the Injury Prevention Program to the Falls Prevention Program. The name change will hopefully help increase involvement in evidence-based programs, as well as make Holmes County citizens more aware of falls, falls prevention and the falls-prevention services the HCGHD offers. The new logo and statement reflects this belief: "Working Together, Staying Active, Promoting Independence and Preventing Falls."
If you would like further information on the Falls Prevention Program and the services that are offered at no charge, call Kerry at the HCGHD at 330-674-5035 ext. 251.