Hoping to find new provider for Hair for Hope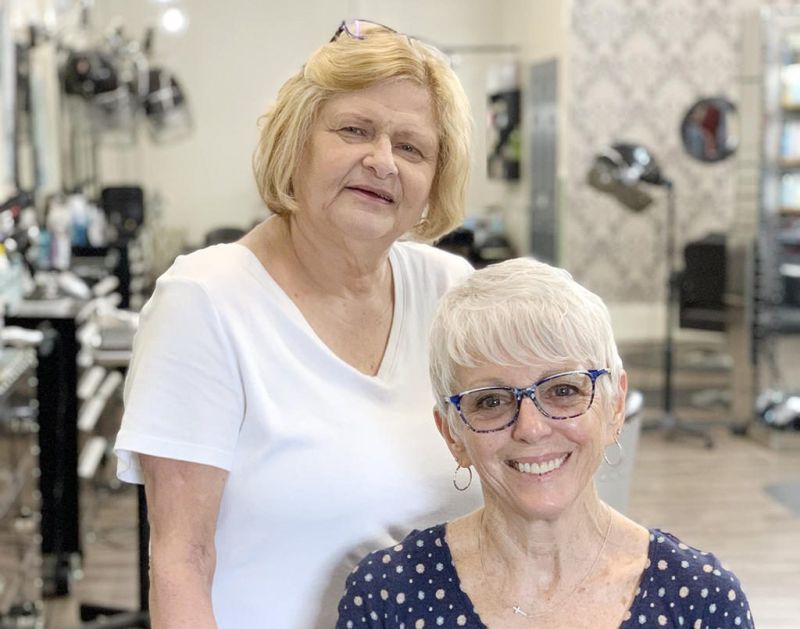 For Dawn Gamertsfelder and Deb Stadler, hair is more than something to gussy up to go out for a night on the town or curl and comb to look good at work.
For the two former hairdressers, hair presents courage, strength, self-confidence and hope.
When the two started the nonprofit organization, Hair for Hope of Holmes County, 15 years ago, they ushered in nearly two decades of providing cancer patients with wigs that provided more than just hair.
What they offered was hope, along with the idea that people didn't have to walk through their trial with cancer by themselves.
Recently, the two women decided to move on to new stages in their lives, and in doing so, they have decided Hair for Hope is something they will have to let go, preparing to dissolve the organization.
However, they struggled with the idea of dissolving the organization they had created 15 years earlier, an organization that helped hundreds of cancer patients. Thus, they are currently seeking someone or perhaps a hair salon to take over their mission to help cancer patients by providing wigs.
"Even though neither of us are hair stylists any more, we continued to provide wigs through Hair for Hope," said Stadler, who has worked at Pomerene Hospital the past eight-plus years. "We did a lot of house calls and kept the organization going. It has been our passion, and we have felt blessed to help others who are struggling with hair loss due to cancer."
Both women had experienced the agony of the journey through cancer and had good reason to invest in helping others, having gone through the pain with family members.
While Stadler's mother passed away in 2007 from non-Hodgkin's lymphoma, the two women started Hair for Hope of Holmes County in 2009 when Gamertsfelder's mother-in-law, Janice, was in the midst of her battle with cancer and was losing her hair. She received a wig from a salon in Coshocton County.
The two hair stylists recognized a need and saw the role they could play in bringing hope to those losing hair through the rigors of cancer treatments. They decided anyone in Holmes County who needed a wig would get one through Hair for Hope.
"We felt we needed to do this for the people of Holmes County," Stadler said.
The organization blossomed thanks to the generosity of the Holmes County community.
Hair for Hope provided hundreds of wigs, which they purchased for up to $75 each, and they usually fitted a patient for free, as well as provided the wig at no cost.
Over the years Gamertsfelder and Stadler have touched the lives of many in a very meaningful way. In that time they also have seen the generosity of the community, which helped through donations.
Wherever Hair for Hope went, they were welcomed, and each moment helping someone regain a sense of normalcy through a wig was a blessing.
Most of Hair for Hope's wigs were purchased through the Paula Young company. Stadler said in many cases they worked hard to recreate a hairstyle that was similar to the one the patient had before hair loss occurred. On the other hand, it gave patients a chance to explore their wild side if they preferred.
"When we met with someone, we wanted to see them before they started to lose their hair because we could match styles and colors," Stadler said. "We took classes on how to do that and talked to each person about what they wanted to see in a wig. We had some people who wanted to be as close to normal as possible. Then we had others who wanted to use the experience to try something new."
Stadler said they had one woman who always said she wanted long red hair, so they went that direction.
"She said if she was going to do this, she was going to have fun with it," Stadler said.
Both women agreed watching the way different people handled the journey through cancer and hair loss was personal to each and impacted their lives as they continued to bless people.
"It was wonderful, heartwarming and at the same time heartbreaking knowing what people were going through," Stadler said. "The people we've reached, from children to adults, has been inspiring, and we are really hoping someone can step in and take over because this is such an important mission. We would love to help them get started."
Stadler said while they recognize they played a small part in the ordeals cancer patients were facing, it was a meaningful step and helped each patient, and that's what made the experience so wonderful.
"It was something we were happy to do for the people but wished we didn't have to," Stadler said. "Our hope is that one day the need for this is all behind us because we have come so far in finding a cure. Hopefully, someday, we will beat cancer and all of this won't be necessary. But until then we would love for someone to pick up the mantle and carry it because it is important. We've touched many lives through the experience, and our biggest hope is that someone will recognize the blessing that comes from this and continue what we've started."
The two women have asked around at different salons but have yet to find anyone willing to take over Hair for Hope's efforts. Stadler said they understand it is extra work, but it is work that is well worth the effort.
Hair for Hope still has funds, which they are planning to disperse through American Cancer Society and St. Jude's as they work to dissolve the organization.
"We want to keep our funds in the cancer family, and we'd like to see it continue to help people from Holmes County," Stadler said.
If somebody feels led to pursue this venture, the two women would love to sit down and talk. Anyone interested can call Stadler at 330-231-2671 or email her at Debora.stadler@yahoo.com.