NEW group learns about toxicity in the workplace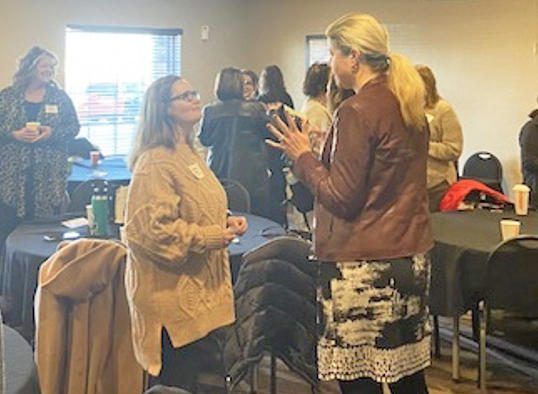 The Orrville Area Chamber of Commerce's Networking Empowers Women group welcomed Julie Kastner, vice president and manager of human resources and training at Wayne Savings Community Bank, who presented Navigating a Toxic Workplace.
The workshop started off with a networking activity to provide the women an opportunity to meet one another and learn more about other attendees on a professional level.
"The organization, policies and culture aren't toxic; it's the people," Kastner said. "There used to be a tolerance for toxicity, but we as employees have evolved and are moving away from this. We are pivoting away from this tolerance. The Me Too movement, COVID and laws have empowered women to evolve away from toxic behaviors and people. Our willingness to put up with stuff has never been lower."
Kastner said to navigate toxicity you must stratify, be informed and be true to yourself. She said there are three tiers to dealing with toxicity: hard no's, salvageable but will take work and gear-grinders/annoyances.
Examples of hard no's include things pertaining to discrimination, accommodations, pay discrepancies, legal matters and policy matters within an organization. What does one do when experiencing hard no's?
"Document, document, document," Kastner said.
She also said it's important to know your rights and laws. She encouraged anyone dealing with hard no's to work on an exit strategy.
The next tier is salvageable but will take work. Three major categories that affect this tier are management, policies and personalities.
Kastner said to create a business case for toxicity at this tier. A business case includes who, what, where, when, why, and how the problem negatively impacts you, your co-workers and the company. She also said it's important to identify the cost and damage to the company.
"Eighty-five percent of employees have a co-worker who annoys them," Kastner said. "This is an example of a gear-grinder. Remember, toxicity in the workplace is people driven, cumulative, and determined by others and our responses to the actions of others."
She ended the workshop by saying, "When possible and safe to do so, try to find common ground and solutions to problems and share ides constructively and positively."
The Orrville Area Chamber of Commerce Networking Empowers Women group is for members interested in networking with other women in leadership positions for personal and professional development. For more information on the next event, visit www.orrvillechamber.com.