New HOPE Line breaks down barrier to addiction treatment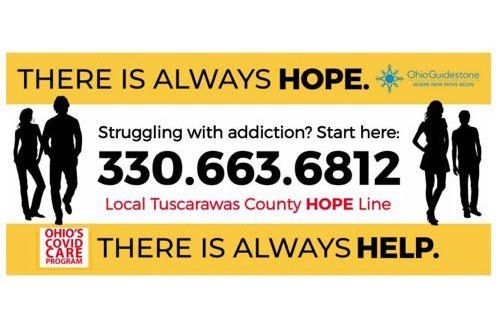 People trying to overcome addiction face a number of obstacles, as do family members. First, there is the social stigma still attached to addiction and the fear of others finding out. Then there are issues of insurance coverage and finances, as well as how to access treatment.
The ADAMHS Board and OhioGuidestone are seeking to remove those barriers with a new resource called the HOPE Line, which offers a direct point of entry to addiction-treatment services with just one phone call. The line will serve residents of both Tuscarawas and Carroll counties.
Individuals with addiction issues or family members can call the HOPE Line at 330-663-6812 with access every day of the week. The line will be staffed by access navigator Rachel Wentworth Monday through Friday from 8 a.m. to 5 p.m. and from 8 a.m. on Saturday to 10 p.m. on Sunday.
When the line is not staffed, callers may leave a message and receive a call-back within 24 hours. The line also is able to accept text messages.
"One thing we hear consistently from the community and providers is that people don't know where to start looking for help," said Nancy Bollon, director of the ADAMHS Board. "The HOPE Line is the answer to that problem."
Bollon said the ADAMHS Board worked with community partners on the Addiction Task Force and Mary Ann Otte, a board member who lost her son to the disease of addiction, in developing the new service.
"We didn't want to just offer an information line," Bollon said. "There are plenty of those out there."
Bollon and Wentworth said what's different about the HOPE Line is the direct connection it can provide to treatment and a goal of getting someone into treatment within 24 hours.
"We're not just passing on phone numbers," Bollon said. "Rachel will actually stay with the person on the line as she contacts treatment providers, finds out who accepts the person's insurance and schedules appointments."
Wentworth said, "I'm actually walking that caller from the phone line into treatment. We will help people identify what services are available for them and directly connect them. It's one number that puts people in touch with all of the resources available to them."
For family members whose loved one is not yet willing to obtain treatment, Wentworth said she can still offer help.
"We can direct the family member to all the resources available in their county for the addict as well as the family, including personal counseling and Al-Anon," Wentworth said.
The support doesn't end there, though. Haley McFarland, director of recovery services for OhioGuidestone, said follow-up phone calls are part of the service.
"Through the grant we are able to have a peer recovery supporter," McFarland said. "That is someone who is also in recovery, and Rachel can get them connected even before the person enters treatment."
McFarland said this contact is critical because when people reach out for treatment, there is a very narrow window during which they are open to the idea. "If something happens between the time they call and the time they enter treatment, they may no longer be interested."
Top-three addiction issues
Bollon said the most recent Quick Response Team grant data shows the top-three diagnoses in the area are alcohol, stimulant (usually methamphetamine) and opiate disorders across all ages except for 30-39 years old. For that age group, stimulant disorder is the number-one diagnosis, followed by opiates and then alcohol.
"Data from the QRT also shows that we've seen about 80 opiate overdoses since September of 2020," Bollon said. "While that's a decrease from our highest rate in the summer of 2020, it represents a return to our prepandemic high of around 20 overdoses each month."
The HOPE Line is being funded by a $46,410 grant from the Ohio Department of Mental Health and Addiction Services. The number to call for help with substance addiction is 330-663-6812.