Next CWRT program is The Dangerous Mrs. Greenhow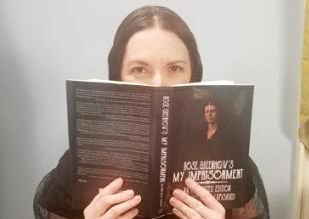 The Wayne County Civil War Round Table, which is free and open to the public at the Wooster Branch Library of the Wayne County Public Library, will hold its next program, The Dangerous Mrs. Greenhow: A First-Person Portrayal, on March 21 at 6:15 p.m.
First-person interpreter Emily Lapisardi will portray Confederate spy and diplomat Rose Greenhow in a portrayal drawn from primary sources including Greenhow's memoirs and correspondence, bringing her to life through her own words.
A native of Maryland, Greenhow was a prominent antebellum society hostess in Washington, D.C. However, by 1861 Greenhow developed a network of Confederate agents that provided intelligence to General P.G.T. Beauregard. She and her spy ring were credited by Jefferson Davis with ensuring the southern victory at the First Battle of Bull Run/Manassas.
Arrested by Allan Pinkerton on Aug. 23, 1861, she and her youngest daughter were imprisoned in their home and the Old Capitol Prison for more than nine months before being released to the south in June 1862. Although Greenhow had proclaimed she desired a public trial, this request was never granted because of concerns she would reveal her high-ranking sources.
The Confederate government dispatched Greenhow on a diplomatic/propaganda mission to Europe in the summer 1863, where she published her memoirs and was granted a private audience with Napoleon III. Greenhow drowned off the coast of Wilmington, North Carolina while attempting to run the blockade following her European sojourn and was buried with full military honors by the Confederacy.
Lapisardi is the editor of "Rose Greenhow's My Imprisonment: An Annotated Edition," which debuted as the highest-ranking new release in Amazon.com's U.S. Civil War Women's History category in spring 2021. She has presented first-person portrayals of historical figures in 14 states and the District of Columbia. Lapisardi is currently director of musical activities for the Catholic Chapel of the United States Military Academy in West Point, New York.
For questions call the library's reference department at 330-804-4666 or email ref-staff@wcpl.info.
The CWRT would like to thank its members, the Wayne County Public Library, R.W. Gasbarre & Assoc. Surveyors, Ed and Penny Gasbarre, Pallotta Ford, Wooster Glass, Mike and Donna Daugherty, John Ross, and John Spaziani for their sponsorship.