Nussbaum kicks off NEW roundtable series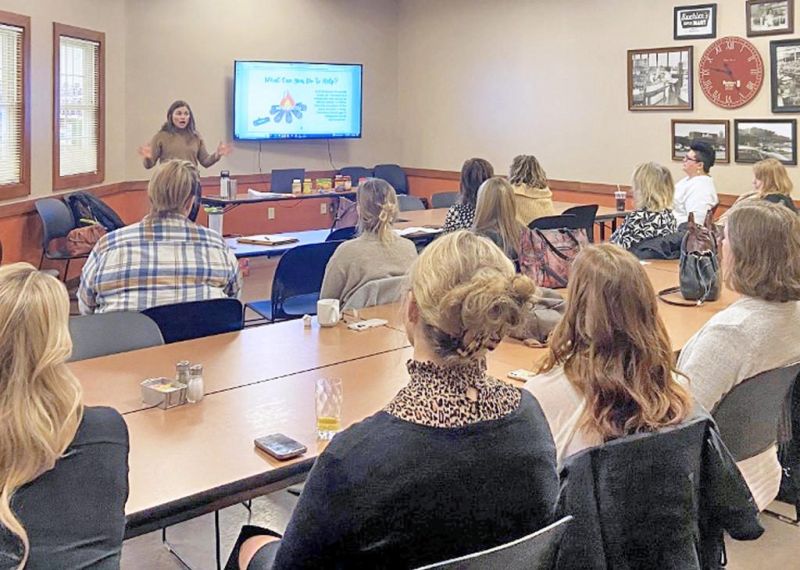 Jan. 12 was the first Networking Empowers Women roundtable of 2023. Lexi Nussbaum, general manager of Jarrett Fitness Facilities, presented on the top-five most common myths in a woman's health journey.
"Health, wellness, fitness and confidence empower women," Nussbaum said. "Increasing our knowledge and education helps us become better advocates for ourselves."
Nussbaum covered five myths in a woman's health journey: "The number of calories burned is accurate on smart watch and focusing on cardio in workouts is the only way to lose weight."
She said, "Your smart watch only knows your height, weight and age when metabolic health, sleep quality and hormonal health all play a role as well."
Participants were led through an exercise series where Nussbaum correlated everyday movement with strength-building exercises.
"You might not make it to the gym to squat or you may not even have the desire to go to the gym to squat, and that's OK," Nussbaum said. "But you're squatting every day — sitting to a chair, a toilet, your couch. It's all the same range of motion, and that's why it's important to practice."
Nussbaum touched on the points of performance for some basic movements that can be practiced in a short amount of time in any location.
"Being functionally capable keeps us independent as we age," she said. "Don't all of us want that for ourselves?"
Nussbaum said you want to be sure you're eating balanced meals with protein, fat and carbohydrates. "It's not about giving up what you love; it's making better choices and ensuring what you're eating is well balanced," she said. "For a well-balanced breakfast, you may consider eating avocado toast and a protein shake."
Nussbaum played the label game with attendees and taught them how to read labels. She said when looking at the fat, protein and carbohydrates on food labels, it will inform you what category the food falls into.
"If the fat is 4 grams, protein is 2 grams and carbohydrates is 18 grams, it's considered a carbohydrate," she said. "It's important to pay attention to what you're buying as labels can be misleading."
When looking at the ingredient list on labels, the ingredient listed first is what's most found in the recipe.
The presentation ended with Nussbaum and Power Pose Nutrition's philosophy on holiday dieting.
"There are 365 days in the year," Nussbaum said. "If you count all the holidays and even a day or two before or after, it's still less than 3% of the year. What you do in that 3% will not make or break your health journey. It's the 97% that counts. If you feel like you overdid it during the holidays, don't be too hard on yourself. Tomorrow's a new day, and you start fresh."
For more information email Nussbaum at nutrition@powerpose.com.