1 graduate, 1 big impact as Moorhead graduates from HCBDD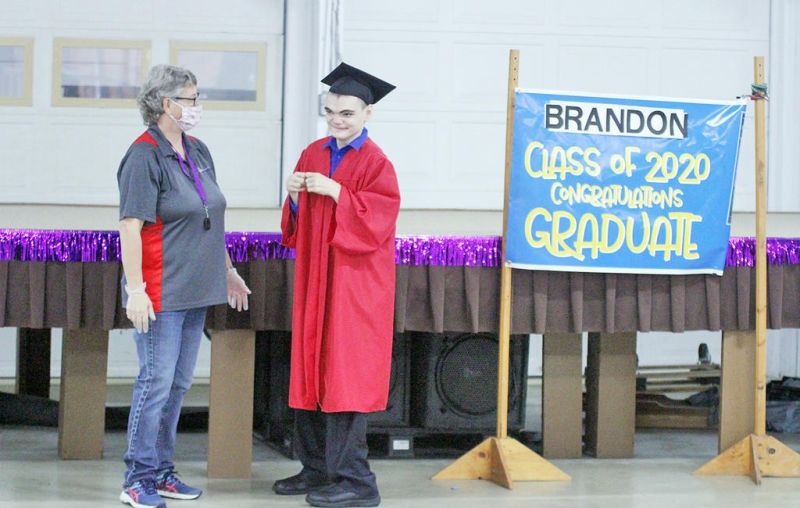 Ever since his preschool days at the Holmes County Board of Developmental Disabilities, Brandon Moorhead brought one thing to school: an enormous smile that brightened everyone's day.
On Friday, May 22 the BDD staff showed up for Moorhead's graduation ceremony.
While his graduating class consisted of just one person, that one person made an impact on those around him during nearly the past two decades.
Graduating classes at the training center are always on the small size, but according to BDD Superintendent Marianne Mader, it isn't the size of the class, but how each individual impacts those around them that makes saying goodbye at graduation so memorable and touching.
"They become part of your life, and we are all going to miss Brandon greatly," Mader said. "That smile, the way he brightened people's day, he is something special."
Mader said because the students are at the same facility for so many years and around the same group of teachers and staff, the relationships that are developed run deep.
"It is always amazing to see the way students and staff develop such meaningful relationships," Mader said.
Kim Miller has had Moorhead in the classroom for many years. She said Moorhead's smile and hugging skills made him a favorite for the entire staff.
"He is a friend to everyone and is always a big helper. No matter what anyone is doing, he wants to help," Miller said. "He is usually the first to volunteer."
Miller said getting to know not just Moorhead, but also his entire family is one of the benefits of going through school at the HCTC.
Staff member Merri Pycraft presented Moorhead during the graduation ceremony. Having worked with him for such a long time, she shared how his spirit and love have been a part of the center for so many years.
"Brandon has always been a very hard worker," Pycraft said. "He loves to be a helper. He would see things that are needed, and he would do things for his classmates, not just the staff."
Several other teachers then shared personal stories about their time with Moorhead including his creative dancing ability, time spent volunteering and doing activities, and stories about him doing fun and unique things around the campus.
However, many of the comments centered on Moorhead's willingness to help others in any situation, his work ethic, his desire to make people happy and that ever-present smile that seemed to be infectious.
Moorhead's parents, Dana and Donna Moorhead, brought their entire family to the graduation celebration, which included many of the staff speaking about Moorhead's impact on them, Moorhead walking up front to receive his diploma in full cap and gown, and a send-off that included the staff in their cars, honking their horns and applauding as Moorhead and his family passed by in the parking lot.
Donna Moorhead said the sense of family and the relationships that have been built over the past 18 years are something they will always remember.
"Brandon started here in preschool and early intervention, and his time here has been amazing," Donna Moorhead said. "People here have been great. I don't know what we would have done without them. This place has been a big part of Brandon's life and our lives, and we are grateful for everything he experienced here."
Donna Moorhead said her son will now attend the adult habilitation center at the HCTC, where he will attend three days a week, as well as go to Midwest two days a week.
To add to the Moorhead family celebration, Brandon's brother Andrew graduated from West Holmes High School the night before.
While the Holmes County BDD Class of 2020 may include just one member, that one person was able to make a gigantic impact on those around him. He set an example for all to follow, and his presence will be missed greatly by a staff that truly valued his presence.