2019 Prom Dress Fashion Show models experience a fun night on the runway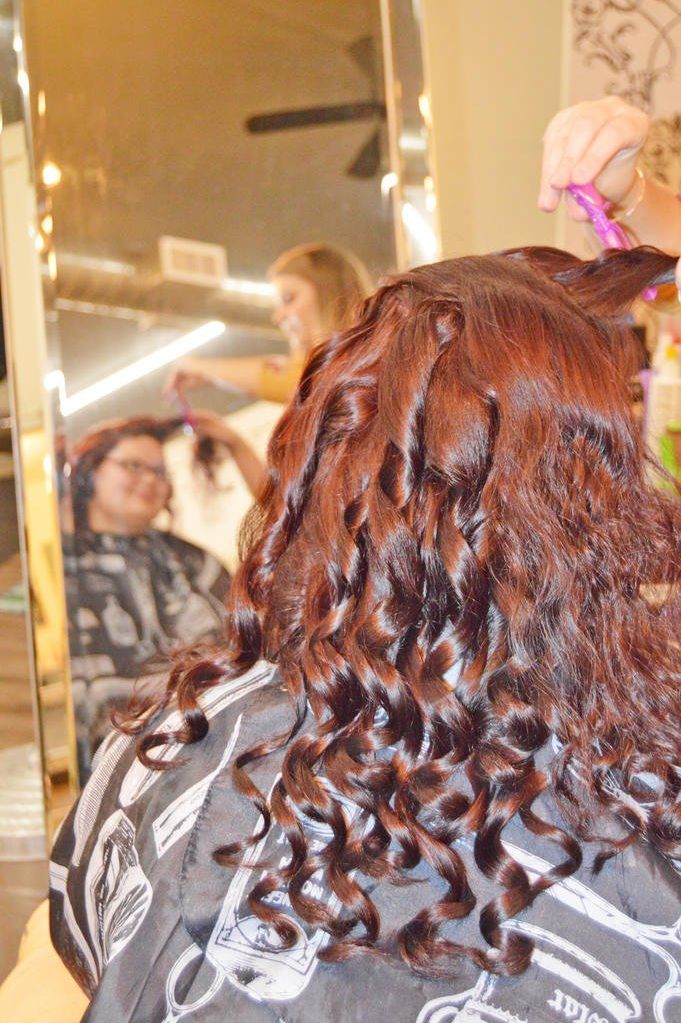 The giggles and laughter coming from the dressing rooms located at the back of H15 Ministries may not have been what one might experience when attending a fashion show in New York or Los Angeles, where top models parade in front of the big lights, but here in Holmes County, where area teenagers from East Holmes, West Holmes and Central Christian are the ones doing the modeling, it comes as par for the course.
A dozen young women experienced the joy of modeling as part of the annual Prom Dress Fashion Show at H15 Ministries on Tuesday, Jan. 29 in Millersburg.
Each of the models paraded down the runway, donning several dresses throughout the evening as they showcased gently used prom dresses that were available for purchase at a fraction of the cost of a new one.
The event took place on a frigid night that may have kept some people away, but Andy Schafer of H15 said that didn't stop everyone there from having an excellent time as the evening brought in $475 for H15 Ministries.
"The show itself was really a lot of fun, and the girls had an absolute blast all night," Schafer said. "The models loved changing into their dresses and walking the runway, and I think that while most of them were nervous to begin with, by the end they were all confident and having a lot of fun with it."
Schafer said the transformation from scared to confident was something to witness as the girls became more confident with each trip down the runway.
While it wasn't as heavily attended as they had hoped, Schafer said it was still a success for many other reasons including having more people get a chance to see the new H15 Ministries facility with phase one nearly complete.
He said the most joyous thing was the models themselves.
"If all we had was the models and what they experienced, that alone would be enough," Schafer said. "We had girls from eighth grade up to seniors and one who graduated. Their experience was worthwhile, and to hear them giggling and carrying on in the back while they were changing was really fun to listen to. They were just so excited and having such fun; it was kind of infectious."
Not only did the young women get to don fancy dresses and parade down the runway, they also were treated to a morning with Lux hair stylist Angelina Tennefoss, who volunteered her time to create hairdos for each of the girls.
Considering it was the first time to hold the event at H15 Ministries, Schafer said they are already thinking about ways to improve the event and build some momentum with it for the coming years. He said they plan on having music next year, perhaps lighting the runway and adding spotlights, and they are considering all kinds of ideas to usher in the "wow" factor.
This year's event was emceed by Rob Wilson and Sarah Miller. Miller actually wrote the descriptions for each dress, and Schafer said each description added to the way each dress was presented.
With many of the dresses donated by Save & Serve Thrift Shop as well as others donated to the cause, many of the dresses were paraded down the runway and were then available for purchase following the show.
Schafer said it is a nice way to save a lot of money should a family not want to purchase a brand-new dress. Through this event they can get one that looks new for far less expense.
Just as encouraging as the show is the fact that this event marks the first real event at the ministry, which is now almost ready to take flight.
"Just the fact that we are now able to have a public event like this in here is something special, considering what this place looked like two years ago," Schafer said.
For more information visit H15 on its Facebook page or on its new website at www.h15ministries.org.