29th annual Christmas Tour of Homes set for Dec. 10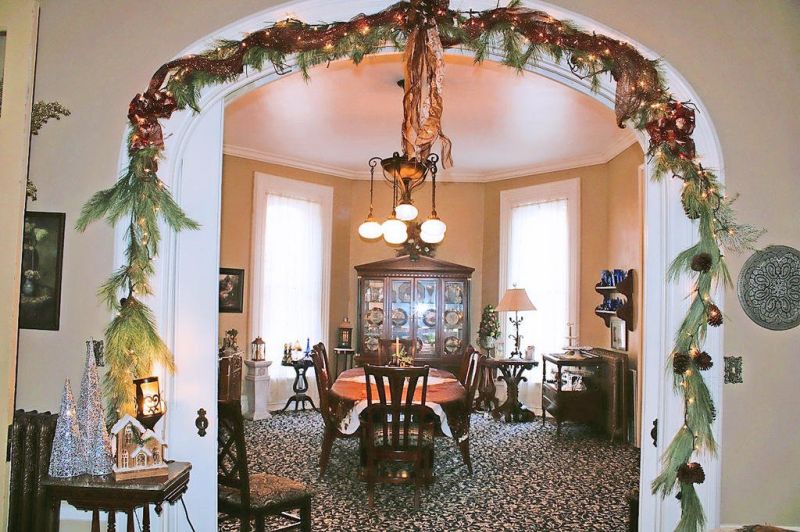 The 29th annual Christmas Tour of Homes will feature eight sites in the Dover and New Philadelphia area on Dec. 10 from noon to 5 p.m. The tour is sponsored by the Tuscarawas County Heritage Home Association.
One of the homes featured is Magnolia Manor at 467 E. High Ave. in New Philadelphia. The house is a turn-of-the-century Second Empire home built in 1876 by John and Mary Curry. The Curries moved here from Pennsylvania to be near their friends, the Scott family, who would live next door. They were both in the banking business. The home has a mansard roof, imported stone columns across the front porch and three stories of living space.
Due to a change in employment, Carlos and Marlena Allen moved to the home in 1998 from Ashland. The couple is originally from Zanesville. After living in ranch-style homes throughout her life, Marlena Allen was ready for a home with character. She told her realtor to not even show her a ranch home.
"I wanted it two story with some charm and character," Marlena Allen said.
After initially having no luck, the Allens got the call from their realtor that a home with charm was coming on the market, but they were warned it might be more home than they wanted.
The home was in livable condition, thanks to its previous owners, but with an older home, there is always more to do. Marlena Allen wasn't sure her husband, who wanted a turnkey home, would be interested.
"I waited to see what his reaction was going to be because I didn't think he'd ever go for anything like this. We didn't say too much about it. I liked it, but I wasn't going to get excited about it," Marlena Allen said.
A few days later, Carlos Allen asked his wife if she wanted to look at the house again. She wanted to ensure he was all in on the purchase.
"This home is like a ship. It's a 'her,' and you have to love her and want to care for her. And if you don't have that kind of mentality, you have no business having a home like this," Marlena Allen said.
After a brief negotiation, the couple purchased the home just a few days after the for-sale sign appeared in the yard.
"We were looking for a place like this, not as grand as this, but we still feel very, very blessed that it did come our way," Marlena Allen said.
The house is a plaqued Heritage Home.
She also feels blessed the house later provided a source of income when they needed it most after a job loss.
The couple began a Victorian bed and breakfast that also features The Magnolia Tea Room, private dining areas, specialty meeting rooms, and gifts and gift baskets.
Gift baskets can be made for all occasions but are becoming popular to send to grieving families in lieu of flowers. The baskets can be customized with a variety themes and items like teas, coffees, chocolates, cookies and a small keepsake.
The Magnolia Manor also hosts special events including an upcoming holiday tea on Dec. 2. The event will feature special guest Jerry Stoughton as "The Butler." Stoughton will speak on the history of period clothing featured on mannequins throughout the house.
All services and events at the home are available by reservation. In the tea room, many options are offered including a luncheon menu, dinner and buffets for up to 34 people. Afternoon teas can be booked and feature a soup and salad menu with finger sandwiches and more and unlimited hot and cold tea.
Tickets for the 2023 Tour of Homes will go on sale beginning Nov. 20 through the Tuscarawas Heritage Home Association website at www.tuschha.org. Tickets ordered through the PayPal website will be picked up at St. John's United Church of Christ, 409 N. Wooster Ave., Dover, on Dec. 10 from 11:45 a.m. to 2 p.m.
Tickets also will be available at Geib Funeral Homes in Dover and New Philadelphia, in Dennison at the First National Bank, and Pam's Posies at 732 Boulevard St. in Dover.
Tickets are available for $15 presale and $20 at the doors. Guests are asked to wear comfortable shoes that can be easily removed or use the shoe covers provided in the homes.
Though not on the tour, the J.E. Reeves Victorian Home & Carriage House Museum, decorated in holiday regalia, will be open from 1-5 p.m. on Dec. 10 for the discounted price of $3.
Other stops on the tour include the following:
—St. John's United Church of Christ, 409 N. Wooster Ave., Dover: In the early 1800s, German and Swiss immigrants found the fertile farmland of the Tuscarawas Valley an ideal area for families to locate. Originally, Sunday services were conducted in their log cabin homes until a separate wood-frame church was constructed in 1838 on a site close to the current location. Featured will be the balcony pews from 1880, stained-glass windows and the sanctuary.
—Brian and Rachel Ice home, 728 N. Wooster Ave., Dover: The elegant Queen Ann style home on North Wooster Avenue in Dover was constructed by David Swickheimer as a gift to his parents Johannes and Anna Maria Swickheimer. David Swickheimer was one of nine children and grew up in a farmhouse still located outside Dover on Middle Run Road. He went to Colorado to mine for precious metals and struck a mother lode of silver. He reportedly sold the mine for $1.5 million in 1891 and used part of the money to build this house for his parents. The home was once used as a nursing home. It is being restored with some units for short-term and long-term rentals. Featured is the original woodwork, stained-glass windows, and three units will be decorated for the tour.
—Troy and Renee West home, 126 E. 12th St., Dover: This timeless masterpiece is a classic brick Colonial Revival home built in 1924. The home features an arched front entryway on the front porch. There is original crown molding in some rooms, panel solid doors with glass doorknobs, original glass chandeliers and a built-in corner cupboard in the dining room. Family antiques and heirlooms are scattered throughout the home. Kitchen and sunroom additions were added in 1999. A decorated gazebo is located outside of the sunroom.
—Rodney and Lisa Sommers home, 722 Lilac Lane, Dover: The two-story, custom-built Colonial Revival home was built in 2008. Some of the main features are an open two-story foyer and open family room, dining room and kitchen with custom oak Mullet cabinetry, along with a study, living room and laundry room on the first floor. The second floor has three bedrooms, a TV room and two bathrooms. Featured will be more than 30 decorated trees, vintage décor, contemporary designs and an entire Disney-themed area.
—Myron and Linda Shetler home, 912 E. Front St., Dover: The home was built by Jabez Reeves in 1903 and is now 120 years old. It is a plaqued Heritage Home. The Colonial Revival home has five bedrooms and four working fireplaces. The carpet and light in the front parlor are original to the house. Myron Shetler made the hardwood floor in the front hall and the landing from wood taken from the old barn on the property. He made the crown molding in most of the rooms and duplicated all of the outside porch railings to look like the original railings. Featured are two large leaded glass windows and one stained-glass window. The ballroom on the third floor also is open.
—Colleen Boehm home, 533 E. Shaffer Ave., Dover: This remodeled 1950s ranch home features a wrought-iron arch in front of the home, decorated Christmas trees, a collection of snowmen displayed on recessed oak shelves, a collection of Santas of various sizes, a decorated fireplace and a gingerbread-themed kitchen.
—Hummell Valley Farm Stay, 733 Hummel Valley Road SW, New Philadelphia: The three-bedroom, three-bath home feels like a trip to an old country farmhouse but with modern amenities and views of the farm and valley out every window. The home is located on a working beef farm. There also is a gas log fireplace and loft area. View donkeys and goats on your visit to this location.