39th annual Woosterfest ushers in fall in downtown Wooster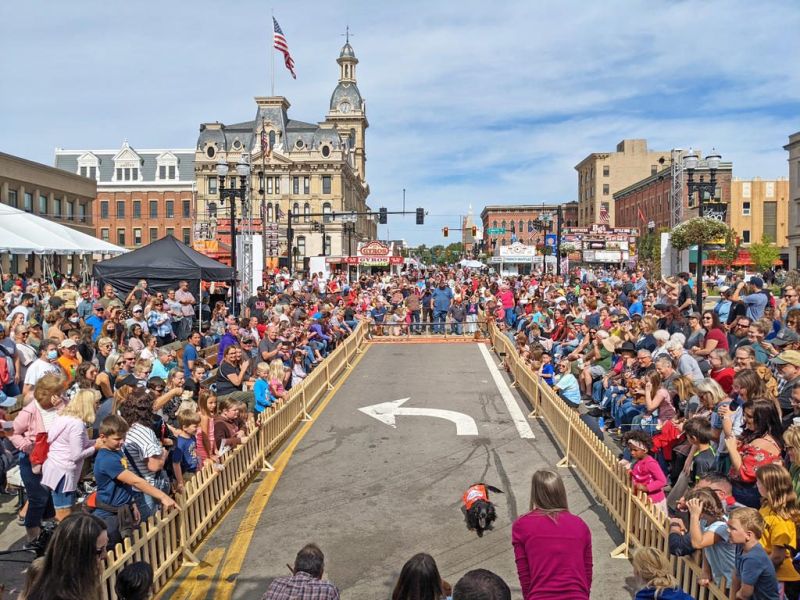 A longstanding local tradition welcoming in the fall season is gearing up to be one of the community's best this year, as the Wooster Area Chamber of Commerce organizes the 39th annual Woosterfest festivities on Friday, Sept. 30 and Saturday, Oct. 1.
A full lineup of activities is planned for visitors of all ages to downtown Wooster on Friday from noon to 11 p.m. and Saturday, 11 a.m. to 11 p.m., when the streets will be closed to give the thousands of expected visitors the chance to eat, drink and be merry during this German-themed, Oktoberfest-style festival geared toward people of all ages.
"We are excited to feature 13 delicious food options this year, ranging from traditional German dishes to classic American barbecue," explained Grace Howell, events and programming coordinator for the Wooster Area Chamber of Commerce, who also sits on the Woosterfest planning committee. "We additionally have a variety of art and craft vendors that will feature everything from home décor, to gemstones, to T-shirts, woodworking, and more. Our live entertainment will cover different eras and genres to cater to all musical tastes."
Entertainment will be as follows: Friday, 3-5 p.m., Dan Pyne; 6-8 p.m., Tyler Reid; and 9-11 p.m., Jukebox Heroes. On Saturday, 3-5 p.m., Dan Pyne; 6-8 p.m., Dustin Kines; and 9-11 p.m., New Wave Nation.
There will also be 13 food vendors onsite ready and waiting to please guests with their mouth-watering dishes, including: Lerch's Donuts, After Hours BBQ, Schmidt's Sausage Truck, Linn Enterprises, The Leaf Restaurant, Flamingo Jack's Food Truck, Old World Foods Inc., Here's The Scoop, BG's Main Event, Frank's Bratwurst, BOB's Italian Sausage - Keating Food Enterprises, BB Birch Beer/Pretzels and G&B Concessions Inc.
There will be no shortage of fun awaiting visitors of all ages to Woosterfest over the course of the two-day funfest. Whether people choose to come downtown Friday, Saturday or both days there will be lots to do if you are age 9 or 90.
"Friday night will feature the competitive and fun Woosterfest Cornhole Tournament, Stein Holding Competition and Pig Mac Eating Competition," Howell said. "Saturday brings the Sixth Annual Wiener Dog Race with more than 70 entered to compete. Saturday night features the wild and fun Sausage Toss, the Beer Stein Race with new obstacles to heighten the competition, and the Cream Puff Stuff."
And if you're a youngster visiting Woosterfest, there will be no shortage of activities in the Kinderplatz area, open on Saturday, Oct. 1 from 11 a.m.-4 p.m., and featuring bounce houses, pumpkin decorating and a craft area for children to enjoy, Howell said.
"Also on Saturday will be the Free Throw Shootout for both kids and adults, and the Cruise-In," Howell continued. "The Biergarten will once again feature a wide variety of craft and domestic beers and the Weingarten will feature delectable local wines. After 39 years, Woosterfest continues to attract thousands from all over Ohio to Wooster to shop, explore, and enjoy the downtown area.
"It's the perfect venue for adults to hang out, watch sports, enjoy the variety of drinks offered, and listen to great music. It's also a great place for families to come and enjoy the start of fall with crafts, games, inflatables, and delicious food. The wide slate of contests, activities, food, and beverages help to make Woosterfest a premiere fall event that people want to come back to year after year."
Pre-registration for many of Woosterfest's contests can be found at woosterfest.com. According to Howell, registrations are still ongoing and open for the Pig Mac Eating Competition, Stein Holding Competition, and the Sausage Toss. Walk-ins are also welcome for these events, as long as there is space available the day of, she said.
"We are excited to bring back the Cream Puff Stuff featuring cream puffs from Schmidt's Sausage Truck this year on Saturday at 8:30 p.m.," Howell said. "Without using their hands, participants will race to see who can stuff the puff the fastest. Sign-ups will be that day at the event. The Wiener Dog Race is our largest contest, with more than 70 participants. It will be streamed to the Woosterfest Facebook page, as well as displayed on the screens in the Biergarten.
"Woosterfest would not be possible without the generous support of our local business community. We are grateful for our members and their contributions, which play a large part in its success each year. Our sponsorship opportunities offer organizations the chance to get involved, while also gaining fabulous exposure for their business."
There is no other place to be in Wayne County than at Woosterfest on Friday, Sept. 30 and Saturday, Oct. 1 at an event perfect for "the young and the young at heart," Howell said.
"It's an opportunity for people to enjoy downtown in a unique setting. We host this event to bring business into the community. People have fun with the activities we put on and enjoy exploring all the shops and restaurants in downtown Wooster throughout the festival."
For further information on Woosterfest, including a complete schedule of events as well as registration for any of the contests offered during either day of the festival, be sure to visit woosterfest.com.