4 generations of a unique woodworking process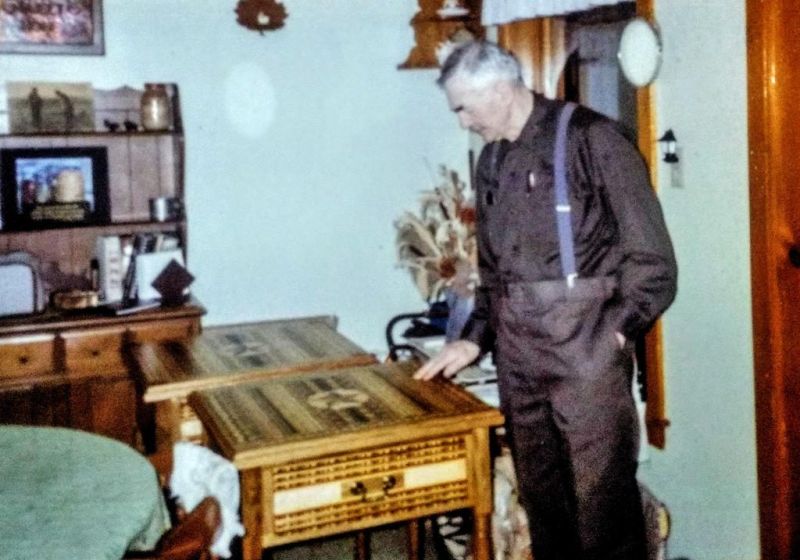 Making furniture is not a new concept to Holmes County and Amish Country. However, for one family, it is family tradition passed on through four generations, and their style of utilizing the art form of marquetry has become the centerpiece of their family passion to build and create as master craftsmen.
Marquetry is inlaid woodwork made from small pieces of variously colored wood or other materials, used chiefly for the decoration of furniture. For the Lyndaker family, it has become a family tradition, passed down and then back up again through the generations.
Keith Lyndaker Schlabach, who currently pastors at Millersburg Mennonite Church, learned about this process from his great-grandfather Christian Lyndaker, who spent his time after retirement creating pieces of furniture and art based on the marquetry concept.
Christian's son, Ednor Lyndaker, carefully studied his father's work and began creating his own patterns of furniture.
It was then that young Keith Lyndaker Schlabach began traveling upstate to visit his grandfather and became a master woodcraftsman in his own right, carrying on this family tradition. Since then he has worked with his father, Milford Lyndaker, the son teaching the father.
It is a family tradition father and son now enjoy doing together.
"We don't consider ourselves craftsmen in the same league as our forefathers, but we continue to do this work out of deep joy and to honor them and their legacy," Lyndaker Schlabach said.
He said everything they do in their inlay work hearkens back to his grandfather, Ednor Lyndaker, noting those days visiting his grandfather in New York were mesmerizing and valuable in learning the trade.
Every piece they make is a one-of-a-kind item, each one being designed with that same marquetry style the family has become known for.
In creating their furniture, they utilize many types of exotic and domestic woods, each with their own color, all coming together to create some fascinating patterns. Part of the joy in refurbishing pieces is to find antiques that have been forgotten and are slowly crumbling away. Lyndaker Schlabach said knowing they are not only building something beautiful, but also rescuing a long-forgotten piece of history is very satisfying.
While many pieces are recycled or refurbished, Lyndaker Inlay also designs and creates new furniture and custom wood pieces.
Whether they are recycling or creating new work, the Lyndaker family continues to enjoy the chance to work together and use their creativity to make new and unique items.
"I am grateful to be doing something of value that provides me with great joy," Lyndaker Schlabach said. "I always feel as though my grandfather is hanging out watching us as we work, and it has been a wonderful connection with my dad since he retired. We have had a terrific time working together."