4-H member organizes Ronald McDonald House fundraiser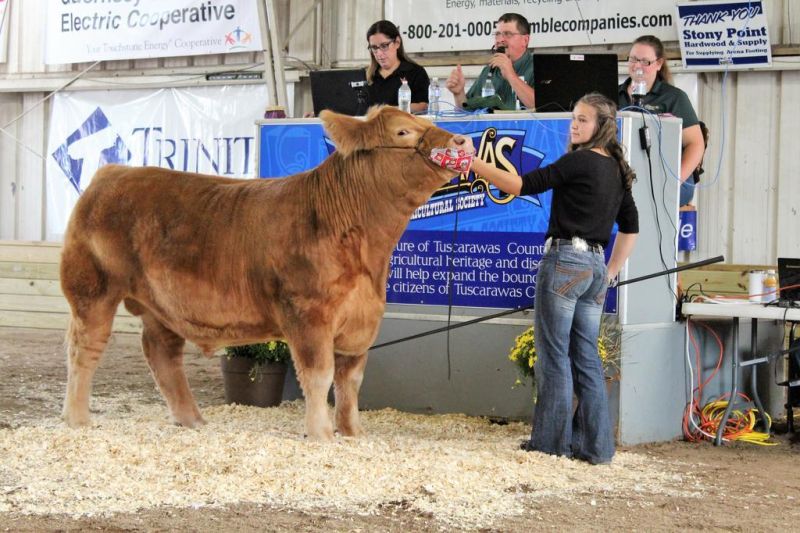 After McKalynne Helmke, 16, of the Crook Run Cloverstitchers 4-H club participated in a celebrity steer show last year that benefited the Ronald McDonald House Charities, she wanted to do more.
Helmke has been a member of 4-H since she was 9 years old. Each year she takes projects in market steer, market hog and a beef breeding heifer project. She also is a junior at New Philadelphia High School.
The 2019 inaugural Dean's Charity Steer Show, in which Helmke participated, was held at the Ohio State Fair and paired Columbus area celebrities with 4-H families and their steers.
Spectators could bid on their favorite team, although no animals changed hands. More than $150,000 was raised. The show was hosted by the Ohio State University's College of Food, Agricultural and Environmental Sciences vice president and dean, Cathann A. Kress, who also served as one of the celebrities.
Ronald McDonald House provides places for families with sick children to stay near the hospitals where their child is receiving critical medical care. They also provide three home-cooked meals a day for the families, private bedrooms and playrooms for children. There are more than 181 Ronald McDonald House programs in the United States.
Helmke has visited the Columbus Ronald McDonald House. "It's incredible what they do and the facilities there. It's an amazing thing. I love it," she said.
Tuscarawas County Fair sale buyers already had an option to donate their animals to the Farmers and Hunters Feeding the Hungry program. Helmke decided to start a program at the fair to give buyers the option to donate their animals to the Ronald McDonald House.
"I had done the celebrity steer show, and then I went to Sarchione Ford to deliver a buyer's letter, and (Joe Sarchione) had brought it up because he had saw one of the articles. I told him I had an idea in mind and asked if Sarchione Ford would help us," Helmke said.
The dealership didn't hesitate to help, and the program was able to donate eight hogs last year to the Ronald McDonald House. Others got involved in the program as well.
"With the help of Sugar Valley Meats and a lot of other families and farms around here and other buyers at the county fair, we had over $1,000 worth of processing donated, and Sugar Valley Meats covered the rest," Helmke said.
The meat was then delivered in late October 2019 to the Ronald McDonald House in Columbus.
Helmke is now employed at Sugar Valley Meats.
"One customer had come in from the Columbus area and said that his daughter was in the Ronald McDonald House. One morning they saw the packaging that had Sugar Valley Meats on it. Now he comes out to Sugar Valley to buy meat. He talked to all of us there and said what an amazing thing it was, so I wanted to continue it," Helmke said.
Helmke has already spoken with other younger 4-H members about continuing the program.
"I've talked to a couple kids and a couple families. I want it continuing so after I'm done with 4-H it's not going to die," Helmke said. "There are going to be more kids doing it, and I hope it's going to grow and become even bigger than what it is."
Helmke was overwhelmed with the support for Ronald McDonald House donations this year.
"This year when I went up to deliver another buyer's letter to Sarchione Ford, Joe Sarchione asked me what my idea was for this. I said we need to get two or three more hogs, and I wanted to try to get a steer donated this year," Helmke said. "He went way above and beyond what I ever expected."
The program was able to secure 14 hogs and one steer to donate to the Ronald McDonald House, and other buyers joined in. Sarchione Ford of Waynesburg bought 12 pigs and Helmke's Grand Champion Bred and Fed steer to donate, Bennington Propane of Newcomerstown donated one hog (they also donated a hog in 2019), Pike Insurance of Wooster donated one hog, and Miceli Glass of Dover donated two hogs.
Helmke was grateful for the added support as she hadn't contacted any buyers other than Sarchione.
Last year the meat was delivered at the end of October, so whenever the donations are ready this year, Helmke will make plans for its delivery.
"We will get a group of families together and deliver the meat. Whenever we delivered it last year, the chef was just speechless with the amount of food that we had brought in," Helmke said.
Helmke doesn't have a delivery date for this year yet but is going to try to work around some of the other steer shows she is involved with throughout the year.
"I just want to thank the buyers and the families and contributors who donated money to cover the processing," Helmke said. "It's not just the people who bought the animals, but there are other people involved who donate for the processing. It's all in the works, and it's all still coming in."