Man of stone: Bob Akins in 75th year at Briar Hill Stone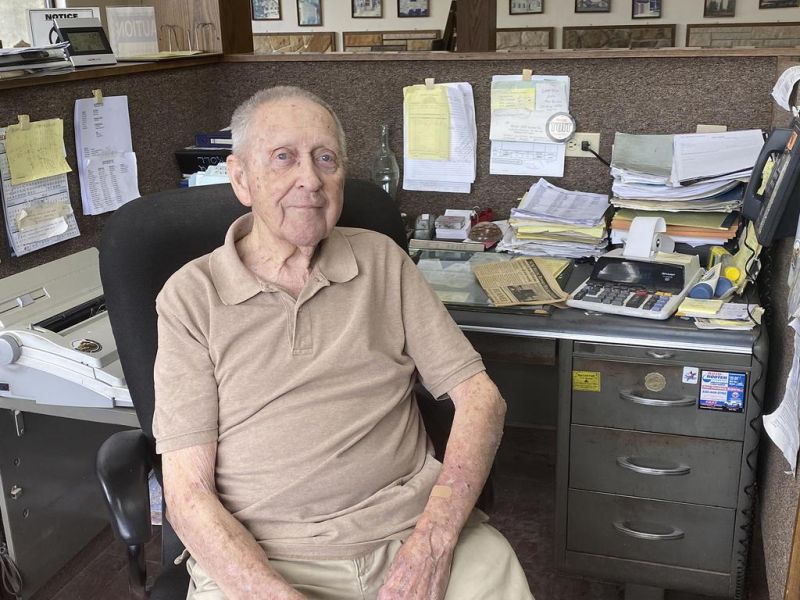 Back in 1947 when a new home cost an average of $6,600, gas cost 15 cents per gallon, a new car rolled in at around $1,300, a loaf of bread was 13 cents and Jackie Robinson was breaking the Major League Baseball color barrier, Bob Akins was making a life-altering decision.
That was the year Akins walked into Briar Hill Stone near Glenmont and asked for a job.
To his delight he was hired. Today, 75 years later, Akins remains firmly entrenched at Briar Hill Stone Company. It is an accomplishment for anyone to live to be 75 years old, but to work for that many years is incredible, and to do so at one place of employment is nearly unheard of.
Yet anyone venturing into Briar Hill Stone's front office will see Akins at his office desk, performing his job of splitface sales and customer service.
For Akins, who celebrated his 94th birthday on Monday, May 2, his job has been an enjoyable part of his life.
"I've enjoyed it here," Akins said. "I've just always thought of myself as another employee."
Perhaps, but for an employee to hang around that long means certain things, like he is doing his job well and he is admired and respected by management and fellow workers.
"He's definitely a dedicated company man," said Rusty Dial, splitface manager who has worked alongside Akins for nearly half of those 75 years. "He obviously enjoys what he is doing, and he has a knack for remembering people. He can sell someone an order for a home, and 20 years later they come back in and he recognizes them and calls them by name and recalls their order. He can remember so much. He's a legend around here."
Akins began his career at Briar Hill Stone at the plant, then moved up the ladder from sales clerk to sales manager. He remembers when the plant shut its stone production down during World War II and turned its concentration toward steel until 1956, where Akins was head of production control.
Then it was back to stone, where Briar Hill quarried stone that helped build many homes and buildings around the county and well beyond its borders including Pomerene Hospital.
Throughout that time, he worked in many different roles with the company, but in 1960 he came into the sales department and became a permanent fixture.
Because of his experience, Akins knows many stories from his three-quarters of a century at Briar Hill Stone. He knows the secrets of the stones, which quarries and where more unique styles of sandstone are located, and his knowledge of the history of the company is immaculate.
He knows about some of the uglier experiences that have taken place years ago, as well as humorous stories about getting attacked by a swarm of bees, a head-to-head meeting with a huge black snake and many other stories, some about him, some about characters he has worked with over the decades.
Akins said he has been through four ownership groups and has outlasted all of them to date. He has seen the company go through ups and downs, conflicts and accomplishments.
"At least ain't none of them fired me yet," he said. "I was on the road a couple of years, going to Southern Ohio every other week."
He said during his traveling sales work, he preferred to meet people face to face, look them in the eye and give them honest input they could trust.
"It was my duty to sell stone, it was my duty to get the money and it was my duty to treat people right," Akins said. "As a salesman I enjoy meeting people and talking to them, and I always felt that no matter who I was dealing with, honesty was always the best policy."
Akins said his family was very poor when he was growing up. Growing up in Blissfield, his dad passed away when Akins was only 9 months old.
"We never had much money," Akins said. "I started out in the coal company for 60 cents an hour."
In February 1947, Akins found work in a local coal mine. While operating a hand-winch that dumped coal into cars, he wound up the winch, but several teeth were missing from the drum. Moments later Akins woke up in an ambulance in Coshocton. He had a split tongue and lip, a broken tooth, blood in his eyes, ears and nose, and a double skull fracture.
That was the end of coal work. His brother-in-law, who worked for Briar Hill Stone, told him to write him a business letter and he would try to get him some work.
"I'd like to see that letter today," Akins said. "A day after Labor Day, I started here in the furnace department taking the time and putting the orders out. I've been here ever since."
In terms of endearment, one need to look no further than his fellow employees, who came into the interview room and sang Akins the Happy Birthday song as a show of gratitude. Such is the way his peers respect him.
"I've enjoyed every bit of it — to be right here near to my home and getting to know all the people," Akins said. "It hasn't always been easy, but it has been well worth it. I guess after 75 years I must have been doing something right."
His work wasn't the only part of his life he cherished long-term. He was married to his wife Janet 65 years, until her passing five years ago. The Akins lived in Killbuck and led a quiet life together.
"I don't know what I would have done with myself after Janet passed away if it weren't for work," Akins said.
With his 75th work anniversary now upon him, Akins has displayed all the qualities any employer wants in its people. He has been loyal, hard-working, knowledgeable, trusted and respected, and those qualities have kept him happy and working for Briar Hill Stone for more years than most people could ever imagine.