A Valentine's Day song from CCHS Varsity Singers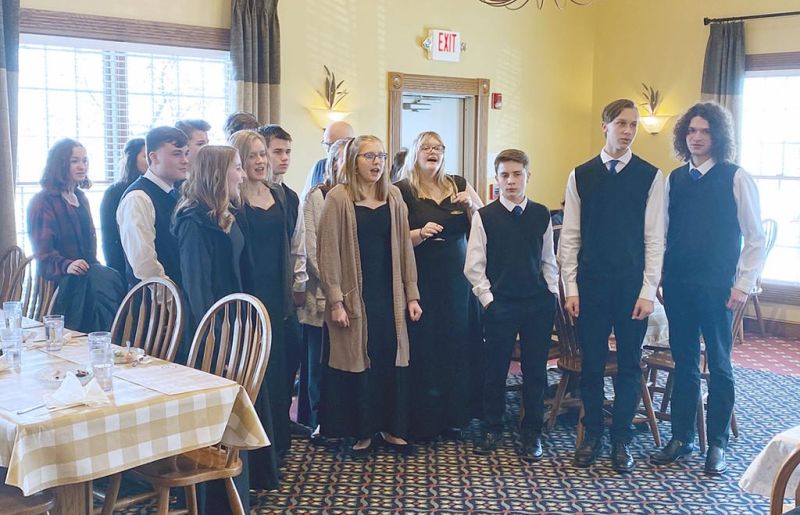 Valentine's Day is a day reserved for love and joy, a day for couples to celebrate their unity and a day to let adoration ring from the heavens.
It's also a day set aside for the Central Christian High School Varsity Singers to share their talents with the world around them, and in the process it serves as a fundraiser.
Music teacher Timothy Shue is in his 31st year of teaching at Central, and the majority of those years have been blessed by this Feb. 14 tradition in which the Varsity Singers load up on a bus and make a grand tour around Holmes, Wayne and even up into Stark County.
"It's been a great day for the kids for a long time," Shue said. "I think this is our 22nd year of doing this. It's become a long-standing tradition, and we've sung at more than 500 places over the years."
He said the number of stops usually ranges each year from around 20-25. This year had them making 19 appearances.
Shue said the trek puts students in front of a variety of people including people's homes, nursing homes, businesses, factories and more.
"We've busted into some interesting places," Shue said. "We've interrupted accounting meetings and everyday business moments. I'd say about half of our stops are usually surprises to the recipient."
Shue said while many view Valentine's Day as a romantic day for couples, it is much more than that. He said they view it as a day to share love and spread joy to many.
"When we stop and sing somewhere like a nursing home, it can really become an emotional thing for the seniors, and that touches the hearts of our kids," Shue said. "It's important for our students to experience the rich ways to connect with people through their music."
For $25 a song, community members ranging from personal homes to businesses, organizations, schools and more can have the Varsity Singers lift the spirits of someone, oftentimes many people.
One particular trip included an impromptu performance at Berlin Farmstead Restaurant. The crew stopped to enjoy a meal, then got up and performed the song, "Your Love Keeps Lifting Me Higher," in front of a nearly packed house, much to the delight of diners, many of whom stopped to watch and listen, some of them recording the event.
Abby Lake, a senior at Central, said this experience is one they all cherish because they get to share with so many people in the community while also sharing their gift of music.
"It's been fun," Lake said. "We've traveled all over the place. It's an all-day experience that we always get excited about."
She said as a fundraiser people can stop in or call the school and request an order form to have the Varsity Singers perform for someone special. A route outlining the tour is created, and they board the bus and set of on an adventure.
The funds created go directly into the choir's school fund.
One stop was at the home of Bruce and Anne Hummel in Berlin. Bruce had stopped at Central and requested a stop for his wife's birthday, which took place the day prior to Valentine's Day.
He had done this before, and Anne had an inkling they were coming, so she decided to make a special treat for each member, giving them all a chocolate-covered strawberry.
"She didn't know for sure, but she thought maybe they were coming," Bruce Hummel said.
The Hummels have had children and grandchildren attend Central, so they support the school any way they can.
"I've been serenaded before, and each time it's special," Anne Hummel said. "This is a very neat way to raise money for the school, and it brightens up the day of people."
On a mid-February day that featured unusually warm weather and bright sun, the Central Varsity Singers were able to make it that much brighter at each stop along the way.