Abner Henry Met Collection now at home in Homestead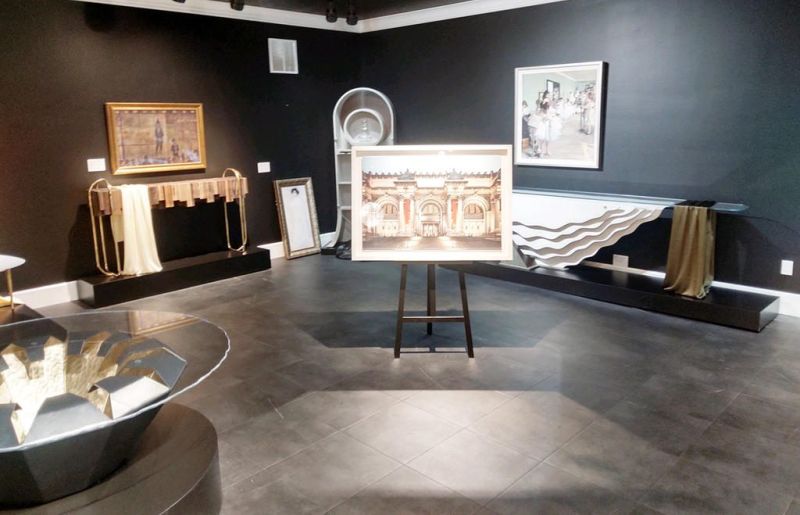 In general, furniture isn't supposed to speak to people.
Yet on the heels of the recent grand tour of the East Coast, including a visit to the Metropolitan Museum of Art, Homestead Furniture steward Ernie Hershberger and his team found plenty of words of wisdom and inspiration, both through their furniture and through art, and the result was a series of seven pieces of furniture with inspiration drawn from classical works of art by the most renowned artists throughout history.
The seven pieces of furniture known as "The Met Collection" by Abner Henry will reside alongside their corresponding paintings from which the inspiration was drawn in Homestead Furniture's gallery, where the entire collection will be available for public viewing.
"We are honored to be able to offer people a chance to come in and view these works," Hershberger said.
After the creation of the seven-piece exhibit went from being showcased at the Met, then Behalt in Berlin and finally at a large furniture showcase at High Point Market in High Point, North Carolina, the ensemble has finally come home to rest.
What makes this collection so special, aside from Homestead being hand-picked by The Met brass following a nationwide search for a furniture company to tackle the project, is The Met leadership team allowed Hershberger and his team to have their faith flow through each piece.
"This process has been inspirational to me, to all of us who worked on it, and while we don't want to force our beliefs on people, we hope that sharing our vision and the spiritual story behind each individual piece will be a blessing to all of the homes they enter," Hershberger said.
Prior to this journey, building furniture was a functional part of life to Hershberger. After this experience it has taken on a more meaningful purpose.
The collection is a team-oriented series of furniture. It was built with precision and dedication to detail, and each piece is crafted to draw out the minute details of its painting counterpart.
But more than that, Hershberger said once they got into the developmental stages of the various pieces of furniture, he realized the furniture was telling a story, and that story was one of the faith that is so prevalent in the Amish and Mennonite community surrounding Homestead Furniture.
When curators at The Met formulated the idea of pairing nearly mythical pieces of art with the form, beauty and function of furniture, they scoured the nation to find the company that they felt would best be able to design and develop the vision they had for the project.
That process began three years ago, and the teaming of The Met with Homestead Furniture has blossomed into a relationship that has drawn art and furniture into one common world.
The effort of the Homestead Furniture crew to draw out the nuances of each piece of art and incorporate it into the furniture was close but not exactly what Hershberger envisioned. It wasn't until one particular piece touched his heart that the final 10% fell into place.
That piece was the Verlang Cocktail Table, which is coupled with the painting "Sunflowers" by Van Gogh.
"I stood there looking at the piece, knowing it was a piece of furniture, and suddenly, things began popping in my brain about what this really is," Hershberger said. "It was this interpretation of this art, and we had five different pieces of glass and none of it looked right. I realized that this was my life and every grinding in the piece is different, just like every day of my life."
He noted how James 2:22 speaks of people wrapping actions into faith.
The furniture was no longer just furniture but rather an extension of the Amish and Mennonite faith and his own personal journey in life.
Suddenly, things came into a more vivid picture pertaining to the furniture and where the team needed to take it to ensure it not only portrayed the art but spoke about faith.
Each piece became a story of who the Amish and Mennonite people are and the faith journey that means going through trials by fire.
"I had never made the connection of why, for 32 years, has no piece of furniture ever spoken to me spiritually like this," Hershberger said. "When we dove into the spirit of each painting and the purpose of each painting, it almost seemed like the spirituality of the painter came to life, and I had to match our spirituality and our culture on this side to make this collection what it needed to be."
The gallery will be open for tours for those who wish to view the pieces, which are on sale online. Each piece of furniture will be sold with its corresponding painting, and Hershberger said they will only sell 700 of each piece, meaning it is a limited collection.
Throughout the next seven weeks, The Bargain Hunter will feature one of the seven pieces of artistic furniture from the collection, delving into the spiritual aspect that helped hone and perfect each piece.
For a closer look online at "The Met Collection" by Abner Henry, visit www.abnerhenry.com/met-collection.