Area churches are a huge part of Share-A-Christmas' success story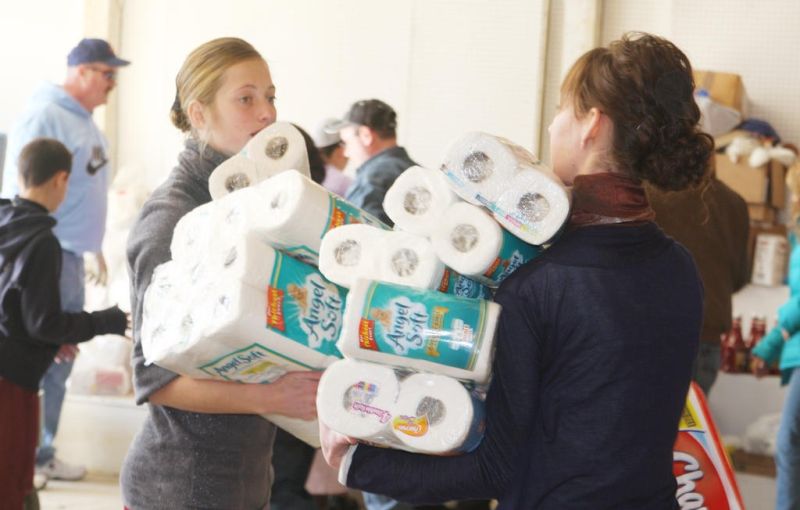 While presents and toys for good girls and boys are a highlight for children of families who receive the blessings of the Holmes County community during Holmes County Share-A-Christmas, there is much more to SAC's season of giving than dolls, bicycles, remote-control cars, games and stuffed animals.
Included in the gift-giving are perishable foods that provide a Christmas meal as well as a large amount of nonperishable foods and sundry items that can be used for weeks and months down the road.
When Share-A-Christmas began decades ago, the idea was to provide as many items as possible for families who were struggling financially. Since then the number of families served has grown tenfold, and SAC has added close to 100 seniors to the list.
As an organization, Share-A-Christmas has dozens of volunteers who tackle the many facets of collecting presents and goods for distribution day.
Many of the chairpeople and volunteers have been around for years, even decades, and the organization runs like a well-oiled machine.
One such group is the church day volunteers, a group headed up by Char Kellogg, who has assumed that chairperson role for many years.
"We have a wonderful community of churches who have stepped up and delivered what we need year after year to provide for area families involved with Share-A-Christmas," Kellogg said. "It is just the generous spirit of the people of Holmes County who want to be a part of something special. Most of our churches are repetitive and come back every year, but sometimes things come up and they invest in helping local families in other ways, in some other project, but the participation level and commitment over the years has been incredible."
Each year dozens of churches and several organizations unite to collect the nonperishable food and sundry items that will serve as the core for the food portion of the Share-A-Christmas gifts, which go out to nearly 300 area families.
Church day is slated for Sunday, Nov. 25 at the Baker Building at Harvest Ridge. On that day dozens of church volunteers will bring with them a mountain of food and other items that will be sorted and boxed.
Because of the sheer number of volunteers from both the churches and SAC, the process on the actual collection day may be huge, but many hands make for quick work.
The collection day sees churches bring their selected food or sundry items to the Baker Building between noon and 1:30 p.m. In that 90-minute span, the area in and around the building is like a chaotic ant hill, but as is the case for ants, they all have a specific purpose and know what they are doing and where they are going.
"It is a bit of a madhouse at the Baker Building on that particular Sunday," Kellogg said. "We have such a dedicated and faithful group of churches and people who always fulfill what they have pledged. When they deliver, they often stay and help fill the boxes, which is really a fun time. It is a unifying time, and even the children come out and help, which is neat. We've had sports teams and Scout groups and many other groups come and help us pack, which makes it a real community effort."
The church committee sent out letters to 73 churches and organizations. Out of those invitations, 38 churches, two businesses and Mennonite Central Committee all responded to the call to support Share-A-Christmas.
"That is about our average each year," Kellogg said. "Plus we also sent out 139 letters to Amish bishops. They send cash or provide cereal that is collected at 11 area grocery stores."
All told the SAC church committee requested a total of 14,100 items, not including the cereal. To date the committee received commitments for 13,125 items. In addition the committee will use cash donations to fulfill the rest of what is needed in food items.
"Technically we consider having 300 of anything as 100-percent filled," Kellogg said.
The list of items collected from area churches is a massive undertaking. That list includes antiseptic wipes, soap, canned fruit, canned chicken, canned vegetables, canned soup, catsup, tissues, Hamburger Helper, laundry detergent, instant potatoes, macaroni and cheese, pancake mix and syrup, peanut butter, pasta, spaghetti sauce, crackers, sugar, paper towels, jelly, toilet paper, and toothpaste.
In addition to what's on the list, they have a church that puts together infant packs each year, and this year Pomerene Hospital nurses are collecting Band-aids.
Recently MCC has stepped in and now delivers in addition to the slate of items distributed.
"MCC donates 600 cans of turkey, which is really awesome," Kellogg said. "They started that about four years ago, and it comes from the meat-canning effort MCC puts forth every winter in Berlin. That has been a wonderful addition."
Kellogg said there are several businesses that also pitch in. Berlin Gift Barn collects paper products through a fundraiser where if a patron brings in a paper product, they get $5 off a purchase. Those paper products are then donated to the church committee's effort. This year Chestnut Ridge School is collecting cans of soup for the project.
While not all of the items the committee seeks come in, there are churches and organizations that earmark funds to cover the cost of purchasing the remaining items to round out the menu.
"It's not unusual for us to have some items come up short. It happens almost every year, but the funds that are provided help us cover the cost of purchasing those needed items," Kellogg said.
Whether by church efforts or through donations to help fill out the final few purchases, the annual push to fulfill the church committee's portion of Share-A-Christmas continues to be a valuable piece of the SAC machine.
If any church or organization would like to participate in the annual Share-A-Christmas church day event, they can call Kellogg at 330-674-0282.