Art auction showcases works of MOCA House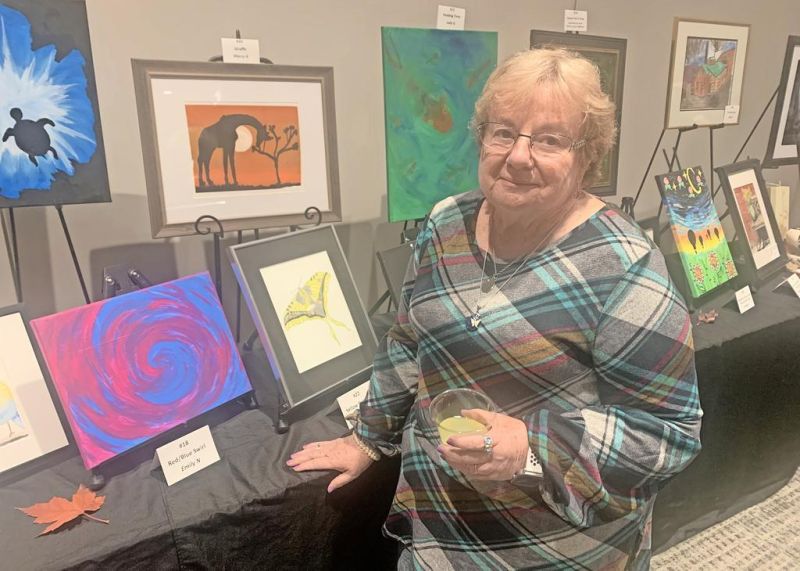 When Emily Nulph moved from her Maryland home to be closer to family in Orrville, she found she had lost her support system of friends and fellow breast cancer survivors.
And while having family around was great, she said, "You need the love and care of people who understand you."
She grew more and more depressed.
Then in what seemed like divine intervention, Nulph and her husband found a MOCA House calendar in her doctor's office, and the calendar included art. MOCA House is a drop-in peer recovery program offered at no cost at NAMI Wayne and Holmes Counties.
Six years later Nulph is a MOCA House regular. There, she said, she found her support system. "We express ourselves," she said, "and we get our feelings out."
Nulph has created a number of canvases, but it was the contemporary "Red/Blue Swirl" that was chosen as one of 30 pieces for NAMI of Wayne & Holmes Counties' Expressions of Hope Art Auction.
Proceeds from the fourth biennial event, which also included a silent auction, benefit MOCA House's recovery program, according to Jen Grim, agency director.
"Around our art table, no one needs any previous art experience or training," original volunteer art instructors Tom Wood and Connie Barnard wrote in the auction catalog. "It is not about the final creation as much as it is about transformation and expression. It is about relationships, creating, sharing, learning and supporting each other."
Nulph would agree. "When you get the brush in your hand," she said, "it's like you escape from your problems and your everyday life. No matter how you put it on the canvas, you get joy inwardly. You escape to another world."
The art slated for auction was created by MOCA House participants, supporters and instructors. Fast bidding kept auctioneer Junior Miller of Kaufman Realty & Auctions busy while attendees also could purchase holiday artwork, MOCA House greeting cards, matted watercolors, photography and canvases, and MOCA House artwork tumblers. In total there were 30 pieces in the silent auction, 30 pieces in the live auction, over 60 artists represented and over 125 in attendance.
MOCA — Motivating, Optimistic, Caring and Accepting — House, which started in 2010 in a College Avenue house, is a drop-in, peer-run program designed to build skills, friendships and confidence.
NAMI now has a permanent home at 2525 Back Orrville Road in Wooster, which is where MOCA House programming happens Monday through Friday.
"Today, I am not ashamed of who I am. I am me, and God created me," Nulph said. "We can contribute to society. It's OK (to have a mental health issue). I didn't ask for it, but it came. I was lost until I got to (MOCA House)."
NAMI of Wayne & Holmes Counties is a partner agency of the Mental Health & Recovery Board of Wayne and Holmes Counties.