Art from 'nothing' comes out of fingers of Spires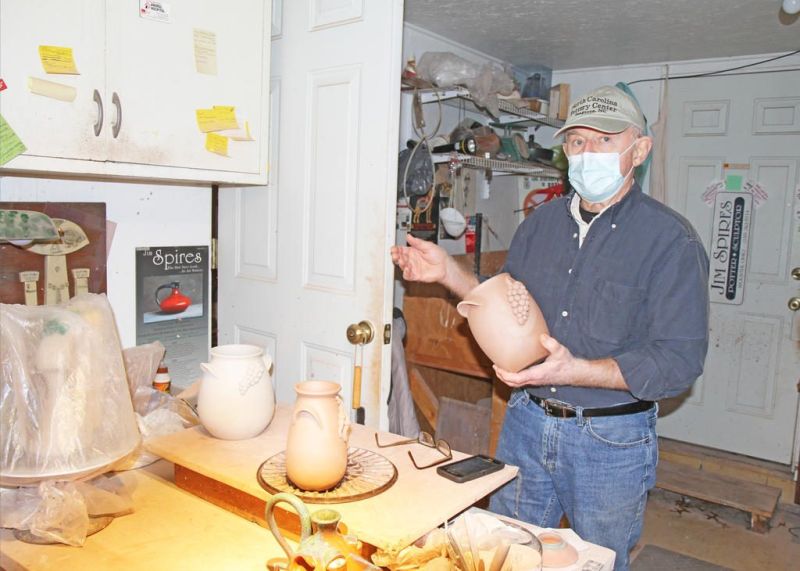 An afternoon with area potter and sculptor Jim Spires as he begins to shape a clay jar or vase can be compared to, well, nothing.
Yet nothing in this instance meaning the expected or intended result may not turn out to be anything he was intending or planning.
That is the magic and mystery of throwing a lump of clay on his potter's wheel, and with well-conditioned fingers, constantly shaping the blob to become yet another of his 10,000 or so crafted pieces of art.
Whether it's rich red clay or grayish Ohio River Clay, clay out of North Carolina, or a white clay for high temperature firing, Spires has been at his craft for over 40 years. His studio on Burbank Road in Wooster is filled with bags of clay, tools to help shape, and cans and bottles of special glazes including his own patented red glaze. And add to that scene, a large photo of sculptor Pablo Picasso peers down. Spires feels connected to the renowned artist, a connection which has included a journey to Picasso's studio in Vallauris, France.
But it's more than just skill. "When I come through the door for the first time in the morning, I start over each time," Spires said. "It's about a discovery waiting to happen."
Some of the reality of what Spires does blends with talent and becomes more obvious when he starts to shape and reshape the moist clay. If he messes up or isn't pleased with it, he just stops, picks it up and throws it back down and starts over. He wastes nothing; every scrap and piece gets reused. "It's done when I'm done," he said.
The Spires bio is as interesting and eclectic as his shelves, and his pottery echoes his experiences. A Dalton High School graduate, he joined the Navy, added a fine arts degree from the University of the Ozarks, taught at Chippewa High School, returned to the Navy submarine service, on to Eastman Kodak as a graphic designer (and one patent) and eventually back to Wayne County in 1992 to do pottery, substitute teach and work as a consultant for Xerox. Since then, the wheel has been going around, along with his brain, in churning out ideas and formulating glazes.
Early works — including a 1973 pot within a pot — are among his keepers. Calling each piece a work of art, Spires begins the form on his wheel, adds his own chatter (ridges) creation, affixes his mark and sends the piece to his kiln for an initial baking called bissue firing. Then comes the spraying of the glazes which distinguishes his work from any other work or pottery. Each piece with each spray and color and overspray becomes a one-of-a-kind creation, particularly if he is working with his mysterious and patented red.
His trips and shows, now shorter and infrequent, have begun to center on folk art, principally in North Carolina near Asheboro, where numerous artists and potters live. The current emphasis is on what is called face jugs, where Spires begins forming a jug and then adds whimsical pieces to form a face of interesting, even comical dimensions — a similar approach style that even Picasso was using. Then with various glazes, colors that can range from turquoise nuances to greens and browns are added to finish yet another piece.
Significant highlights for Spires in the past few years have included two trips to the international art show, 'The Biennale Internazionale Dell'Arte Contemporanea,' also known as the Florence exhibition in Florence, Italy, where two of his works were displayed and sold. Pictures are catalogued in the two books he keeps.
The face jugs, he said, are now part of what Spires is calling his final legacy. "This is the time when I'm starting to slow down and creating pieces with what I have left," Spires said. "My hands are beginning to show the wear and I don't know how much more I can do to keep going."
Still, his projects are busily shaped on his wheel. Locally, he is known for creating piggy banks all year for birthdays. His repertoire also includes requests for specially crafted urns and lately, a small bird that seems to resemble a Cardinal, plus an occasional vase or pot.
As he talks about his legacy, Spires is also quick to point out that when he is sitting at his wheel, his imagination and skill still coalesce to produce what he wants. It's not just the clay piece that comes out, but the additional steps of firing in his kilns, adding glazes, including a new black color. He is an alchemist of sorts as he mixes and his experiences tend to parallel his constant search for the perfect color to finalize each work.
Another firing and a finished piece, almost, is ready for a final look.
"When I open the kiln, that's the fun, the uncertainty," Spires said. "I don't really know what I have with the color chemistry until it's finally over.
"In all of my careers, this is the only activity in my life that gives me such joy that I don't care what goes wrong. I can do it over again."
Spires said he never runs out of ideas each time as the clay spins on the wheel, seemingly in touch with that picture of Picasso as if he is watching every move Spires makes.
Or as Picasso was fond of saying, "The purpose of art is washing the dust of daily life off our souls."