Authentic cuckoo clock to be at Ohio Swiss Festival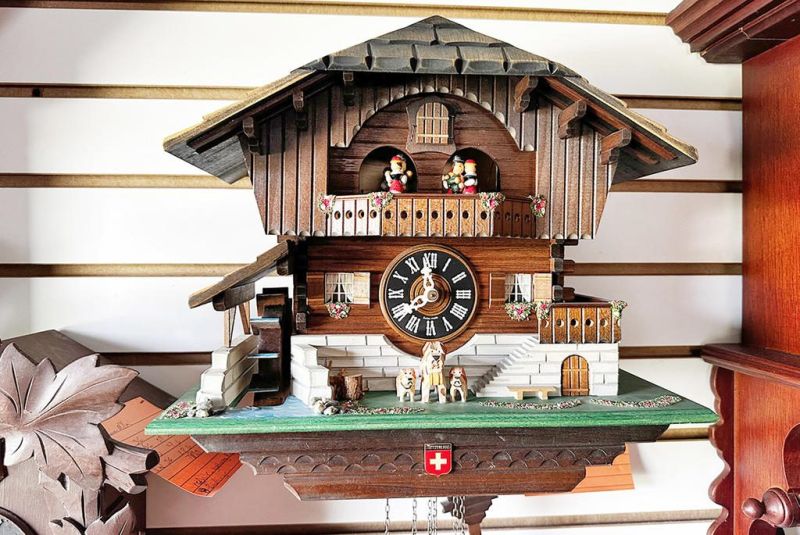 The 70th annual Ohio Swiss Festival will celebrate a big milestone.
Becky Detwiler, curator at Alpine Hills Museum, is setting up a tent near the fire station, where she will have some newly designed memorabilia.
The Ohio Swiss Festival, in conjunction with the museum, will sell a commemorative plate with a 70th anniversary logo designed by local artist Sherry Crilow. In addition, there will be commemorative beer steins and T-shirts with the identical logo.
Detwiler said her first venture into being the driving force behind the commemorative items has been eye-opening.
"People keep handing me things to sell, so I think my tent will be a general store," Detwiler said. "Initially, I was just going to collect some information, but then I became the handler of this project, so I have had the joy of taking this plate project from birth to adulthood."
Usually, Detwiler would be camped out in the museum, which is very busy during Swiss Festival weekend. However, thanks to volunteers, she and others will man the memorabilia tent while other volunteers take over at the museum.
"One of the amazing things about this village is people are so willing to step up and make things happen," Detwiler said. "I have experienced so many people willing to take a role in this as well as seeing them tackle all of the parts of the festival."
Scott Gerber, Ohio Swiss Festival president, said sewing in the fabric of Little Switzerland and the community is imperative to keeping the traditions of the festival alive.
Gerber said there will be 70 commemorative plates, but the first 10 produced will be numbers and those 10 will be auctioned off during the festival as special collector items.
"The 70th year is a big deal, and we wanted to create some memorabilia to present to the public so they can have a piece of what we feel is truly a big part of our community and the Swiss heritage that is represented by Sugarcreek and its people," Gerber said.
While the memorabilia are something she is passionate about, what is even more exciting to Detwiler is the donation of an authentic Swiss cuckoo clock from Lucerne, Switzerland that was purchased by John and Jeanna Edie of Zoarville in 1998. Detwiler will raffle off the clock as part of the Swiss Festival activities, with the proceeds going directly back to the museum.
The clock was purchased a quarter century ago by the Edies for $800 at Bucherer Cassagrande Souvenirs. It has been displayed in the Edie home since then, and the Edie family donated it to the Swiss Village Museum recently in honor of John and Jeanna.
The clock was dropped off by their daughter Shavonne McMillan of Zoarville, and she said the family is pleased it will be cared for by someone who appreciates it as much as the Edie family has over the years.
The cuckoo clock is just over 1 foot wide and features a waterwheel on one side and dancing Swiss people on a carousel on the other.
"It looks very much like a Swiss Chalet right out of Switzerland," Detwiler said. "People have a real fascination with cuckoo clocks, and obviously, we have a pretty impressive one right on our square here that people from all over come to visit. I was excited to have the opportunity to be a part of finding the clock a new home."
After discussing it with the family, Detwiler said she would raffle off the clock to one lucky winner, with raffle tickets being sold right up until the day of the drawing at the Swiss Festival.
"It's a stunning clock, a lovely piece, but I am not going to keep it," Detwiler said. "Some lucky person is going to win that clock."
Once it is repaired, the clock will hang in the front entry way of the museum until it is raffled off, so people can view it. Detwiler said the clock needed repaired and wasn't working, so Marvin Yoder of Good Times Clock Shop is repairing it back to its former glory, and it will be ready to present by the time the Swiss Festival arrives.
Detwiler is having special raffle tickets printed by Schlabach Printers, and there also will be a Kaleidoscope basket of goodies and a decanter raffled off.