B&L Transport 170 brings Xfinity action to Mid-Ohio June 5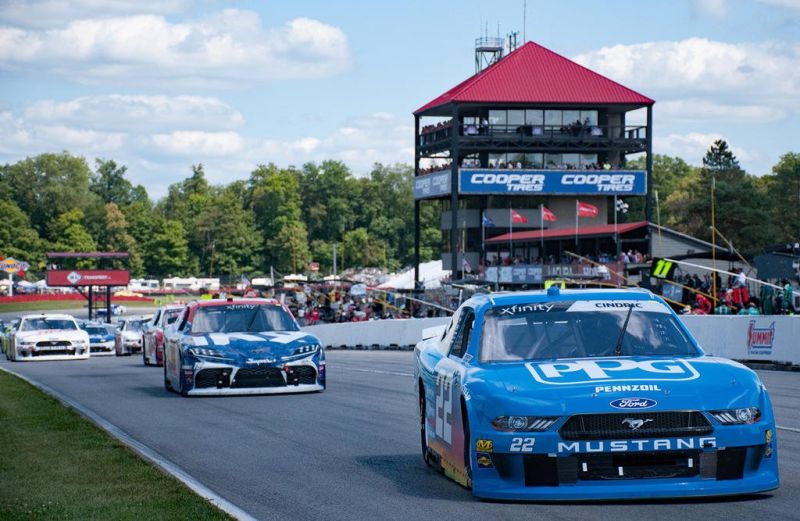 The sounds, speed, action and excitement of the NASCAR Xfinity Series will come to the area with the upcoming B&L Transport 170 on June 5 at Mid-Ohio Sports Car Course in Lexington, just outside of Mansfield.
B&L Transport hosted this same event two years ago for the first time, and while the racing weekend was canceled last year, the local trucking company is jumping back on board in promoting the Xfinity Series' return to Mid-Ohio.
"While we weren't able to host this event last year, the year before everyone had such a great time," B&L President and director of operations Jon Mast said. "It's such a high-speed day of racing that features NASCAR's drivers of tomorrow and some who are already well-known names in the NASCAR world. They are talented, fearless and they put on one heck of a show for fans."
Mast said when the core group of committee members at B&L put their heads together in discussing a return to promoting the Xfinity Series Mid-Ohio race, it was a unanimous decision to do it again.
The two-day event is open to the public with a weekend pass available for $60 and Saturday-only tickets available for purchase for $50.
The Friday, June 4 evening includes driver qualifying laps, mixing that in with some lesser-featured race events.
The Mid-Ohio Sports Car Course is not your typical oval shape but is instead a road racing track that features plenty of twists and turns but still allows drivers to open it up and "gun-it" for maximum speed at stretches. The track is 2.4 miles and features 15 total turns with a back stretch that allows drivers to reach speeds approaching 180 mph.
As Mid-Ohio enters its eighth season of racing as part of the Xfinity Series, the second sponsored by B&L Transport, it has boasted seven different winners over the years including A.J. Almendinger in 2013, Chris Buescher (2014), Regna Smith (2015), Justin Marks (2016), Sam Hornish, Jr. (2017), Justin Allgaier (2018) and Austin Cindric (2019), a huge win for a driver who was born less than an hour away in Columbus.
Cindric currently sits atop the Xfinity Series standings in 2021, boasting 471 points on the strength of three wins and eight top-10 finishes, a large bulge over second-place Harrison Burton's 394 points. Almendinger has won once and stands third while Allgaier owns a pair of wins and sits in fifth.
The race for the checkered flag should be another thriller at Mid-Ohio, and Mast said they are eager to host the event and catch all the high-speed action as the nation's top young drivers battle bumper to bumper, tire to tire for an elusive victory.
"They do an amazing job of making the whole weekend a lot of fun," Mast said. "It's a first-class production all the way, and road course racing is extremely technical and brings a whole new element to the track that is exciting to watch."
With a large array of races over the weekend, Mast said it should be an entertaining couple of days of top drivers showcasing their skills.
While the event is open to everyone, B&L Transport hosted a special event in 2019 for its employees, giving them some keen insight into the inner sanctum of Xfinity Series racing including pace car rides and garage tours. Mast said all their employees couldn't stop talking about the day and how much of a joy it was to attend the event.
"We got so much tremendous feedback from our employees and from our customers and others who attended about how much fun they had that it made it easy for us to make the decision to re-up and sponsor again," Mast said. "For us, it is a chance to show our appreciation to our employees here at B&L, and Mid-Ohio's people makes everyone feel right at home. The seating puts people right on top of the action, and it is a great weekend of speed."