Baylee Martin named Miss Clayland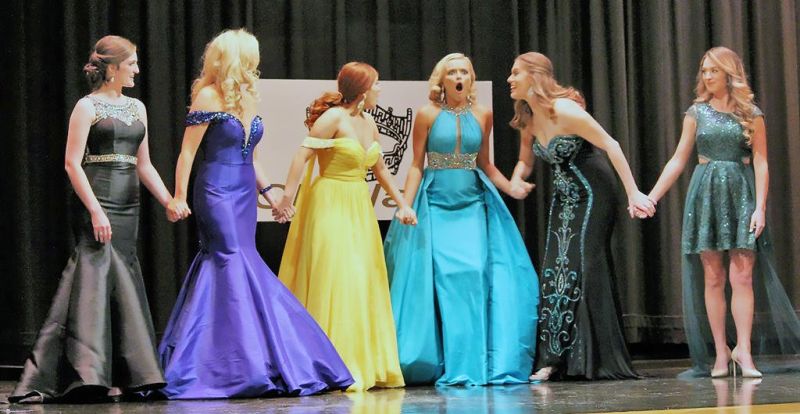 Each of the eight contestants at this year's 64th Miss Clayland Scholarship Program left the audience guessing on the winner until the very end of the event, which was held Saturday, Oct. 12 at Claymont High School in Uhrichsville.
Ultimately Baylee Martin, age 19, took the crown of Miss Clayland 2020. She is a student at Wilmington College.
Martin performed an operatic song, "I Dreamed a Dream," for her talent and plans to use her title to talk to others about the importance of mental-health care. The new Miss Clayland received a scholarship of $3,100 and an additional $500 scholarship from Kent State University Tuscarawas.
In her onstage question, which was submitted by the judges, Martin was asked, "Should you win the Miss Clayland title, what will you do first to continue to promote your message about helping those that are dealing with mental illness?"
"I think it is so important to go and talk to other youth, as well as adults, about my story and what I have gone through since I completed my treatment at the psychiatric hospital," Martin said. "People should know that they are not alone in this battle."
When 2019 Miss Clayland Rachel Gombosch crowned Martin with the Miss Clayland title on Saturday night, the two already had a pageant connection. The two women were previously consecutive title holders in the Miss Portsmouth Scholarship Program, where Gombosch also crowned Martin as her successor.
Autumn Kessler, age 22, a student at Muskingum University, was named first runner-up to Miss Clayland. She also earned the Community Service Award, winning a $250 scholarship in addition to the $275 scholarship for the first runner-up. The Community Service Award was given in memory of former Miss Clayland pageant volunteers, Patty Davis and Bill Pocock. Kessler's platform is "They Are AUsome: Accepting Those with Autism." She performed a dance routine for her talent.
Miss Clayland organizer Martha Campbell interrupted the pageant results to introduce former pageant volunteer Ray King, who was in the audience, before the presentation of the Ray King Talent Award. Caitlin Seifert, age 21, a student at Kent State University, won a $250 scholarship for her baton routine, where she twirled up to three batons at once. She was then immediately named second runner-up, adding another $225 in scholarship money. Seifert's platform is "Unity in the Community — Making Your Community a Better Home by Volunteerism."
Assisting onstage with presenting the awards were three young ladies, Julia Sciaretti, Avae Buss and Sophie Krocker.
Martin was excited to get the opportunity to tell others about her platform. "I want to promote mental-health awareness and suicide prevention," she said. "I was hospitalized for a short while when I was struggling with my mental health and thoughts of suicide. I decided to make my mess my message and turn it into something bigger that I could use to help other people and change the lives of those around me."
Martin admits her platform isn't always one that is comfortable for others to hear. "My reaction is every day the more that I talk about it, I find a more comfortable way to say things," she said. "Whenever I identify something that makes someone uncomfortable, I find a way to say the same exact thing but in a different way so I can relate to more people and I can continue to share my story and impact other people's lives. The first step is just talking."
Martin credited her family for her win at Miss Clayland. "None of this would be possible without my little sister Chloe — She's my best friend — and also my grandma, Connie Yeley. She's my biggest fan," she said.
Martin also credited the support of her parents, Teresa and Buck Martin.
Gombosch said her farewells at the event. "I've gotten to serve this community that supports our program, and it's been wonderful," she said. "I've had many meaningful appearances; one of my favorites was the Polar Express in Dennison. It truly is magical. They take that book and make it a real-life experience. It's been one of the most meaningful years of my life. Whoever is the newly crowned Miss Clayland 2020 has a big year ahead of her."
Tippecanoe resident Rachel Ralston, a graduate of Claymont High School who now attends Hocking College, sang "Don't Rain on My Parade" for the talent competition. Ralston's platform is "The Importance of Animal-Assisted Therapy."
For her onstage question, Ralston was asked her idea of a successful and happy life. "I think you have to go after your goals. If you keep your eye on your goal and attain that goal, that is the definition of success," she said.
Other contestants and their talent were Maria Esterhazy, a student at Notre Dame College, with a dance routine to "Shake It Off;" Emma Rose Lewis, a student at Baldwin Wallace University, with an operatic vocal performance; Mackenzie Perry, a student at Ohio University, with a vocal performance; and Amanda Freel, a student at the University of Cincinnati and Shawnee State University, who performed a ventriloquist routine to "Hound Dog" with her Elvis puppet.
Each nonfinalist was awarded a $100 scholarship.
Gombosch, also third runner-up to Miss Ohio, and Miss Ohio 2006 Melanie Murphy Miller served as co-emcees. Miss Ohio 2019 Caroline Grace Williams was the special guest performer. Madison DeFrank, Miss Ohio Outstanding Teen, also performed and spoke about her platform on "Alzheimer's Awareness – Save the Memories."
The judges were Michele Winship of Columbus; Devin Zeissit, a student at the Ohio State University; Tanya Biggins of Cambridge; Roger Wilkins of Niles; and Alicia Millard of Cleveland, who is a former Uhrichsville resident.
Martin is looking forward to the support of the entire Miss Clayland community at the week-long Miss Ohio pageant at the Renaissance Theater in Mansfield on June 20, 2020.