Built for it: Ted Bogner's 67-year construction career ends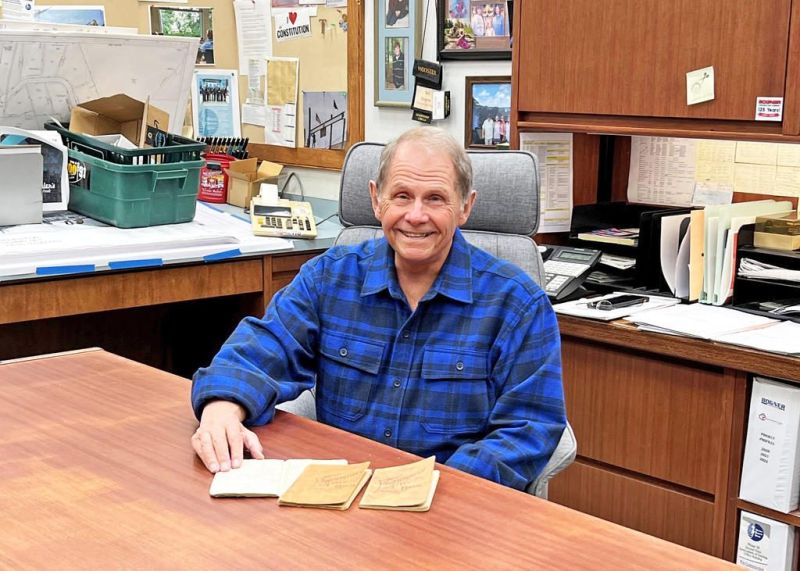 Ted Bogner still remembers his first day of work for Bogner Construction 67 years ago in Wooster. He was 12 years old and had just completed the sixth grade at Bowman Street Elementary.
"My dad said to me after the last day of school at the supper table, 'What are you going to do tomorrow?'" Bogner said. "I said, 'Well, we're gonna go here. We're gonna go there. We're gonna do this.'"
Richard Bogner, Ted's father, who was a second-generation operator of the company founded in 1897, along with his brother Robert "Pete" Bogner, had a different plan for young Ted's summer.
"You'll have your (butt) at the warehouse before 7:30," Bogner recalled his dad ordering. "My first week I worked 40 hours and made $14. I thought I'd died and gone to heaven. I made 35 cents an hour. It's been a great ride. I can't complain."
From washing windows and sweeping floors as a youth to eventually serving as president of a company that routinely did over $40 million per year in construction projects, Bogner has seen and done just about everything.
That ride officially ended when Bogner, now 80, retired after working 67 years for Bogner Construction, located at 305 W. Mulberry St., on Jan. 31.
Bogner is proud to think about his legacy and optimistic about the company's future with a fourth-generation family leadership team: his son Tim and late cousin Bob's sons Brian, Mike and Adam.
"There's been ups and downs like there are in any business, but I can't complain," said Bogner, who stepped down as president in 2018 but had remained on board focusing on marketing. "Everything's been wonderful."
Bogner and his late cousin Bob, who passed away in 2020, took over leadership of Bogner Construction in 1979. With the management change, the firm strengthened its position as one of the region's top construction management and design-build companies.
"Bob has been gone now for almost 2 1/2 years, and I miss him terribly, but that's the way life goes sometimes," Bogner said. "We're leaving it in very capable hands, though. The transition from my father and my uncle was seamless, and the transition from Bob and me to the fourth generation has been seamless."
The fourth-generation Bogners learned the family business growing up under Ted and Bob.
"They gave the four of us more and more responsibilities over the years," said Tim Bogner, who took over the role of president from his father in 2018. "My dad and Bob set us up well, and their fathers set them up well. It's a lot of responsibility, big shoes to fill."
Built on a handshake
Ted Bogner has understandably been thinking a lot about history in recent years. The family's contributions to Wayne County and beyond bring him a great deal of pride.
Theodore I. Bogner, Ted's namesake and grandfather, started what is now Bogner Construction as a carpenter in 1897. After World War II, sons Richard and Robert joined Theodore in business in late 1945 after serving abroad, and the company grew rapidly, encompassing all of Ohio.
"My dad and uncle were actually together in a bar in Italy during World War II, and they made a promise to each other that if they both made it through the war, they would come home and join their father in a construction business," Ted Bogner said. "(The modern) Bogner Construction was actually founded in a bar in Italy."
The company changes from Theodore Bogner's early days around the turn of the century through 2023 are mind boggling. Ted Bogner has detailed many of them, as well as family history dating back to the 1700s, in a timeline that he commissioned a graphic design firm to put together.
Ted Bogner has a framed fortnightly time book detailing the pay log from 1901, which predated federal income tax withholding in 1913. In some spots workers are listed as Italian No. 1, Italian No. 2, et cetera. They averaged about $9 per week.
"Do you know what the first thing they built at a construction site was back then?" Ted Bogner said. "A corral for the horses."
As much as things have changed, some things have stayed the same.
Up until his final years on the job, Ted Bogner was still doing multi-million-dollar projects agreed upon with a handshake.
"We built 13 stores for Buehler's and never had a contract, only a handshake," Ted Bogner said. "We recently finished up the new Western Reserve Group corporate office and headquarters and built the whole thing on a handshake.
"That to me is important. It's been the same way with The College of Wooster up until only a few years ago and many others."
People sometimes asked him if he ever got burned by not having a contract. "No, because I'm very careful who I shake hands with," he said.
Case in point there are nine organizations that Bogner Construction has worked with for over 100 years: Ohio State University, The College of Wooster, Wooster City Schools, Wayne County Board of Commissioners, the City of Wooster, the Wooster Area Chamber of Commerce, Wooster Brush, Artiflex (formerly Gerstenslager's) and PNC Bank (formerly Wayne County National Bank).
"Last year we worked for every one of those companies," Ted Bogner said. "They're all still in business, just maybe not under the same name as they were in my grandfather's time books. I think the most prideful thing for me is the trust that people placed in the company."
Ted Bogner was inducted into the Wooster Chamber of Commerce Hall of Fame in 2019, and Bogner Construction was named the chamber's Business of the Year in 2000. He's been busy in the community by volunteering to work on boards for the chamber, People to People Ministries, United Way, Wayne Center for the Arts and Main Street Wooster.
New adventures
A retirement party was held for Bogner and well-wishes extended, but the current employees know they'll still see a lot of him.
"He'll keep coming in here, telling us what to do," Tim Bogner said.
"I told him make sure you at least take the day off following Jan. 31. We obviously wouldn't be in a position we are in without his knowledge and tutelage," said Brian Bogner, who's the director of costing and estimating. "Unfortunately, my father is not with us, but we know (Ted) is just a phone call away. A family business can be kind of tough. We butt heads sometimes, but the knowledge we have gained from (Bob and Ted) has made us what we are today."
Ted Bogner and his wife Ann plan to travel more. He will keep riding his bicycle on local trails for as long as possible. He will have more time to spend with a big family that includes children Tim, Molly (Chris) Wells and Ted (Molly) Bogner; stepchildren Paul (Kacey) Huettner, Lauren (David) Weber and Tom Huettner; and six granddaughters and one grandson.
Although Ted Bogner might be off the payroll, everyone knows he'll still be a regular in the office. He simply has too much passion, knowledge and pride for Bogner Construction to not continue sharing it.
And too much stuff in his office.
"They're allowing me to keep my office," Ted Bogner said. "That means a lot because I don't know what the heck I would have done with all the stuff that's on the walls."
Aaron Dorksen can be emailed at AaronDorksen24@gmail.com.