Cagers provide another basketball option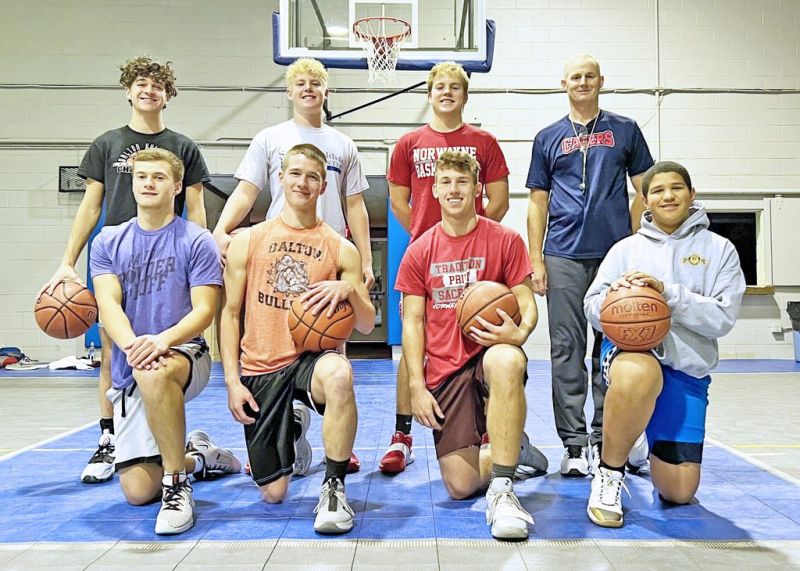 There's no other experience for an athlete quite like playing for their high school's basketball team.
There are fast-paced games, fans sitting practically right next to the court and countless hours bonding together during practices and road trips.
However, only five players can be on the court at a time, and coaches have to make tough decisions.
What if a player doesn't fit in with his coach or teammates or, worse yet, is cut?
Orrville resident Doug Hamsher started the Cagers Basketball Club five years ago to give high school and middle school players a second chance at the game while also fulfilling his desire to coach.
The results are impressive.
The Cagers varsity team has started the season 6-0 playing against non-OHSAA teams with a roster filled with players who are well-known throughout the area.
Dalton's Jack Steiner, Ethan Stutz and Owen Beatty and Norwayne's Eli Stanley, Jed Hanzie and Jay Hanzie have quickly formed a winning chemistry. Beatty and Jed Hanzie are seniors while the rest are juniors.
Freshman K'Vonte Bullard from Orrville also has fit right in.
"I basically have 'Hoosiers,'" Hamsher said. "These players defend; they hustle and play unselfishly.
"We were up by 35 points, and Owen Beatty dove onto the floor for a loose ball. They are just a really good group of kids who always play hard. The boys from Dalton and Norwayne are all good enough to start or receive considerable playing time at most of the schools in the Wayne County Athletic League."
It doesn't do anyone any good to get into the reasons why the players opted not to play for their respective schools, but they're all glad to have wound up on the Cagers.
Steiner started for Dalton's WCAL champion basketball team last season but opted not to rejoin the Bulldogs.
"I love playing, and I was really happy when this opportunity came up," said Steiner, a 5-foot-10 guard. "Here I am."
Although Hamsher had a full middle school roster in place thanks to help from the Orrville Boys & Girls Club, he was worried he might not have a varsity team this season until a couple of phone calls he'll always remember.
"I had the Cagers team for four years, but COVID really killed me last year," said Hamsher, 49, a former three-sport Orrville standout who played football and basketball at Grove City. "I decided to bring it back this year, but I had no high school kids the Tuesday before the first scheduled game. I walked around the gym and prayed, walked around and prayed more: 'Lord, you've gotta come through for me.'"
Hamsher called Mark Stanley and asked if Eli would be interested in playing. After getting a "yes," the Stanleys recommended the Hanzie brothers.
Soon, connections were made with the Dalton trio, and the Cagers were off and running.
The competition level is all over the board, with some games 50-point blowouts and others nail-biters like the close win over Reimer Road. Other opponents include Kingsway Christian, where Hamsher was once the athletic director and basketball coach, and Medina Christian.
Stanley and Stutz were quarterbacks on playoff football teams this past fall, with seemingly the whole communities following them.
It's a lot different playing out of the spotlight for the Cagers, with only a handful of fans in attendance and no media coverage other than small write-ups Hamsher puts together for a small weekly newspaper.
"There's not that big of a crowd like with football, but we both have pretty good athletes," Stanley said. "It's been a lot of fun to be on this team."
Each game is a unique experience for the Cagers as they take on unfamiliar teams, often in gyms they haven't been to before. They practice at the Calvary Assembly of God Church in Orrville and play home games at Orrville Christian Church and Orrville Middle School.
"It's something new every night," Steiner said. "It's all good, though. We just love playing basketball together, and that's what matters, no matter what the competition is."
Although they don't have the depth of WCAL schools, the Cagers believe they could give some of the teams a good game.
"I think we definitely could win some games," Steiner said.
Hamsher isn't calling this his best team yet, as there's a lot of season left to go and he's had some big, strong teams in the past. He's hoping they're accepted into the National Christian School Athletic Association Tournament at Mount Vernon in March.
"This team is really good," he said. "They're super athletic. Five of them are coaches' kids. I'm excited to see what they do the rest of the way."
More than basketball
The Cagers are not an intramural team, not even close.
In addition to extensive playing experience at Orrville and Grove City, Hamsher also spent many years as an assistant coach for small colleges such as Bryan (Tennessee), Champion Christian (Arkansas), Mount Union and Grove City.
"It's as close to high school varsity basketball as I can get it practicing two days a week," Hamsher said. "We play regular teams that run 1-3-1 traps, presses and zones, and we have to be ready for that type of stuff."
The reduced schedule helps the players have more free time for school work or other sports.
"We love playing competitive basketball a couple times a week with our buddies, but also having time to focus on getting ready for baseball," said Jed Hanzie, a 6-2 forward who's committed to play baseball for Mount Vernon Nazarene. "This team helps us keep the competitive spirit. It's really the best of both worlds."
Hamsher, who got married in 2019 and owns a painting company, does more than just coach basketball. He's just as focused on teaching faith and good character.
Prior to a practice last Monday, he gathered the team and went over the lesson of the week. He asked them to give examples of courage. He then gave them an assignment: find someone at their school who's sitting alone at lunch or doesn't have many friends and talk with them.
"You'll be amazed at how good it will make that person feel and how good you'll feel," Hamsher said.
The Cagers feel plenty good about playing for Hamsher.
"I didn't really know much about him, other than he was a college athlete and a college coach," Jed Hanzie said. "It's fun playing for him. He's a really good coach and is committed to us."
With five of his players potentially able to come back next year, Hamsher revealed his true character when asked about the Cagers' future.
"I actually told Jack Steiner, 'Go back to the Dalton basketball program next year if you think it's the right fit,'" Hamsher said. "I'm not trying to steal other people's players. I want our players to have that high school experience in front of a packed house, but I'll be happy to have them again if they want to play for the Cagers."
Asked about Hamsher's comments, Steiner said, "(Coach Hamsher) is super selfless. He really wants the best for us, no matter what."
Thinking of others first is a lesson more important than anything Hamsher will show the Cagers on the basketball court and one that will likely stick with them for many years to come.
Aaron Dorksen can be emailed at aarondorksen24@gmail.com. Follow him on Twitter at @AaronDorksen.