Central 8th-graders learn life lesson through MCC relief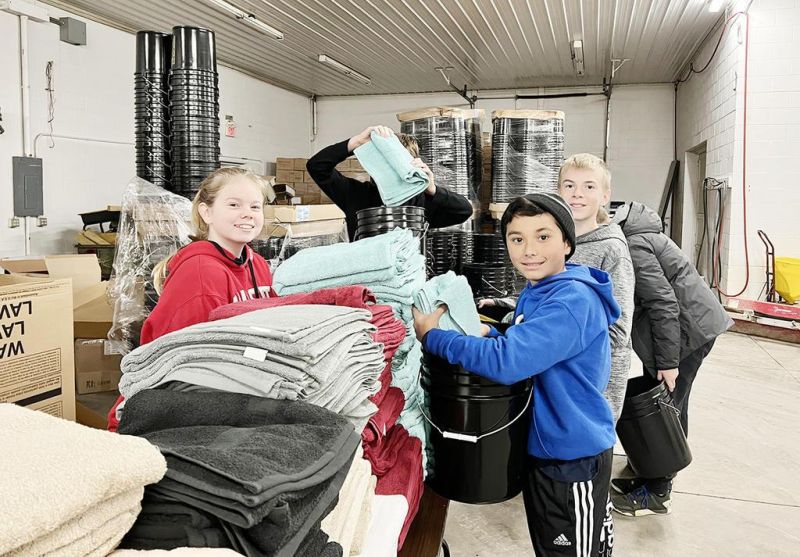 Each year Central Christian School students are required to commit to Community Service Day, an event that sees each student create a service for financial support that helps the school keep its sliding pay rate to meet the needs of all families.
While these projects are normally for individuals, this year saw a combined effort from the CCS eighth-grade class, where 29 students came together in the Gerber Building on the school's campus to help assemble 750 relief kits that were sent to Ukraine through Mennonite Central Committee Great Lakes.
The kits included items like towels, soap, toothbrushes, nail clippers, combs and other necessary hygiene items that can be difficult for families in Ukraine to secure as war wages on with Russia.
The students, several Central administration members, adult volunteers and two representatives from MCC united to make short work of the kits. It took a concerted effort to make the assembly line-like day roll along smoothly.
The event was coordinated through Sarah Doerksen, a Central Christian graduate who now works for MCC.
"This was something Sarah had talked to me about last summer," said Nathan Holton, Central Christian School superintendent. "We had discussed getting a class together because we knew the war in Ukraine was taking a toll on families."
He said while the high school students did their own projects, they decided to group the eighth-graders together to partner with Great Lakes MCC to fulfill the kit duties. In addition, the students got to learn more about what MCC does.
While it was a vital effort in providing relief kits to needy families in Ukraine, it also was an opportunity for the students to gain insight into service and leadership. The event made an impact on the students as they prepared each kit in a bucket.
Part of the experience was hearing a testimonial from Johanna, a woman from Germany who had received one of MCC's relief kits. She shared about the joy it brought her, and several eighth-graders shared how the event impacted them.
"It was really cool that we got to work together to help people," Brinna Miller said. "We got to listen to (Johanna's) story about how she received one of the packages and what it meant to her. That will stay with me."
For many students, finding a way to impact the lives of others helped instill in them a greater desire to serve others.
"Being able to put these together with such purpose hit deeper," Summer Shue said. "We knew where these were going and the cause they were supporting, and it made sense."
She said it helped them better understand the value of taking initiative when fulfilling a task or commitment.
Ezra Coleman said knowing the purpose behind the project helped create a sense of purpose. He said it went above simply packing items into buckets.
"This was to help people who are in need who are struggling to help themselves," Coleman said. "I think it helped us realize that we can take time out of our busy but privileged lives to help people who aren't as privileged."
Coleman said something else he realized is the support the school and its individuals receive from the community.
Carson Combs also was touched by Johanna's story, noting it was inspiring to hear her share firsthand how she was affected by one of the kits.
"She received one of those kits, and it made a big impact on her life, and we were packing 750 kits, and each one of those 750 kits was going to be sent out into the world, and 750 families are going to get to experience that same exact feeling she did. That's pretty awesome," Combs said.
Holton said while the kits impacted the students and those who will receive them, the idea behind these types of events extends beyond one simple act.
He said the expectation is the eighth-graders will now go out and share it with their friends, and more importantly, they will take the lessons they gleaned from this project and others and share them with younger students, helping to instill the desire to serve in their hearts.
"We have kindergarten through eighth grade here, so mentoring takes on a special role for our older students," Holton said. "These service-related ideas help generate leadership qualities and the desire to serve."
He said Central has seen how much a supportive community of believers can mean to a school and to the young people who call Central Christian their home away from home.
The impact of the service project was a home run, hitting close to home in meaningful ways while spanning to the other side of the globe, where the kindness and compassion of many will bring a spark of hope and joy to those in Ukraine who receive the blessing.