Christkindle Market brings joy to the Twin Cities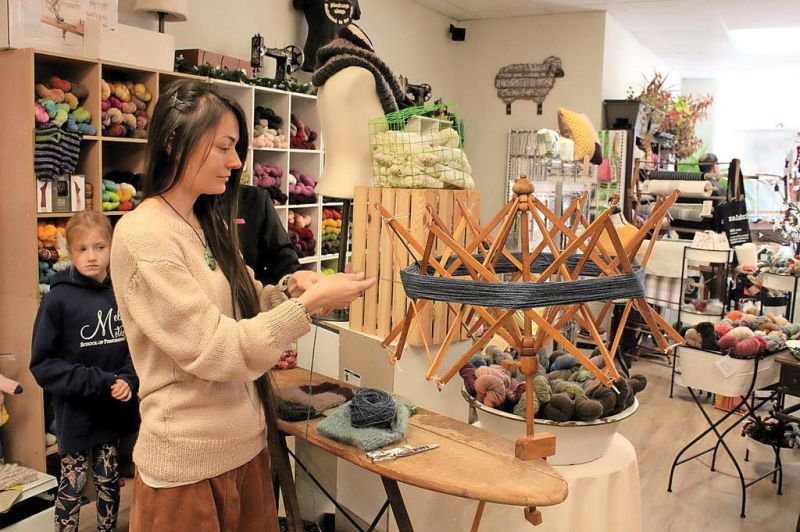 The organizers of the first Christkindlmarket in Uhrichsville are already planning to bring the family-oriented event back again next year.
A cold but sunny day on Nov. 18 kept the lines long for hot chocolate, hot apple cider and specialty coffee vendors. Children roasted marshmallows over fires and made s'mores while adults warmed up and visited around the flames.
"I think this is wonderful," Kathy Norman said. "The committee that put this together has a lot of fore-thinking, and they have beautiful weather. I'm from the Dennison/Uhrichsville area, and this is just great. It's a touch of Christmas, and right now we need a touch of Christmas."
The organizers of the Uhrichsville Farmers Market — Whitney Manson, Jessika Zontini and Laura Gray — planned the Christkindlmarket event.
The event was helpful for the downtown Uhrichsville businesses.
"It's nice to see the town doing stuff. I'm excited for things to come," said Mary Lou Dunlap, the owner of two Uhrichsville businesses — the Salt of the Earth store and Allure Hair Studio. Salt of the Earth is on Third Street and carries a variety of new products, crafts, antiques and other items. "It's been a constant flow; we've done very well today."
Vendors were doing well too. For 9-year-old Isabelle O'Neill of New Philadelphia, she found she likes to greet customers and sell in person rather than her usual online sales. The Belle Box Shop sells oversized T-shirts, sweatshirts, blankets, crew socks, hair clips and hair bows.
O'Neill wanted to start a business.
"So we started it as part of her homeschool curriculum this year. She's just learning how to handle money and run a business," said her mother Ashley Stein, who also runs her own business as a wedding photographer and has helped O'Neill with her business.
O'Neill thanks all her customers for supporting her business.
Owner of Mimi's Fudge, Shannon Karcher, a former area resident who now lives at Lake Mohawk, found sales of the sweet treat brisk. Mimi is the name given to her by her grandchildren.
The small business sold out of all its fudge in just a short time.
"We sold out of peanut butter within the first hour," Karcher said. "This event has been fabulous; I really hope they continue to have this each season. It's great for the kids and for families, and it's been a lot of fun for sure."
After participating in the Christkindlmarket this year, Karcher said she would be interested in coming back to the Uhrichsville event next year.
At the shed that doubled as an office for the six-hour event, souvenir Christkindlmarket mugs were sold out. Many Christkindlmarket tree ornaments were sold too.
"It's a beautiful day, and it is just amazing," organizer Whitney Manson said. "From what I've been told by many people — and I'm going to use it now — it's been a smashing success. So we sold out of mugs; those have been a hit. We still have ornaments."
Manson hadn't had time to sort out her feelings on the event yet, but her initial reaction was positive.
"It's just been such a great day. We're very happy, and we're happy for the entire community," Manson said.
Jessika Zontini of the Pindrop confirmed Manson's view.
"There's a lot of activity outside, and the artisans say that they're doing very well. We're really happy and thankful for everybody that came out," Zontini said, adding they are planning to hold the event again next year.
The Christkindlmarket ended at 6 p.m. with a Christmas tree lighting held at a community tree by First Federal Community Bank and a special invocation to remember the Tusky Valley community.