Clark Community Center gains ground as real community hub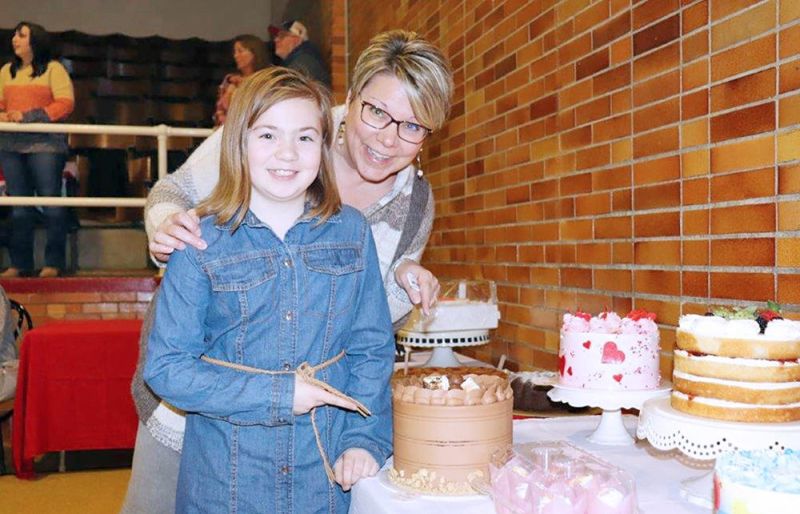 Even though the current state of the world due to the coronavirus pandemic may have put its efforts on hold momentarily, the members of the Clark Community Center, Inc. continue to set their sights on creating something special in the town of Clark's former school building.
The Community Pancake Breakfast and Homemade Maple Syrup Contest slated to take place Saturday, March 14 at the Clark Community Center was scrubbed to due circumstances created by the virus COVID-19, but that won't deter those involved with the new community center from continuing the pursuit of creating a community center that will serve many people in many ways.
The CCC board continues to work diligently on getting out the word about where they see the center going in the near future and down the road.
"We are getting a lot of questions about who we are and what we are doing, and we would like to spread the word to the whole community of Holmes County," said Cheryl Seabright, the board president of the Clark Community Center, Inc. "We have a great opportunity to create a place where people can come together and make the vision of Dale Lahm a huge success."
When the former Clark Elementary school building was purchased last year after the West Holmes School District decided to permanently close it, it was purchased by Lahm and turned into the Clark Community Center, with a design toward providing a safe gathering place for the surrounding community through creative educational opportunities, social interactions and supporting the needs of the community.
Since then, the board members of CCC, Inc. have been working hard to create all types of social opportunities.
"Every month Clark Community Center, Inc is trying to create events for the whole family to come and have fun and get to know others in and around the area," Seabright said. "Every other month we hold community meetings to keep the public updated on things and continue to get their input for additional ideas of things that we could offer."
In hopes of honoring the past history of the Clark community through service to future generations, the Clark Community Center plans to eventually open a community lending library, offer educational classes to all ages such as hunter education, basic how- to classes and GED classes, provide tutoring to community members, offer after school programs and regular community social gatherings and events, present a safe and secure place for community members to hold personal gatherings such as reunions, graduation party, birthday party and or wedding, offer a safe and secure place for civic meetings such as 4-H, Girl Scouts, Boy Scouts, become capable to be a community emergency shelter in the event of a disaster and offer a historic museum of the Clark area.
The board has been working closely to have its library become a public drop spot for the Holmes County District Public Library. Seabright said they are currently accepting donations of books, CDs, DVDs and other library material to stock their library, with a hope on having the center also serve as a stop for the Bookmobile.
"Those are just some of the things that we are planning to do," Seabright said. "Of course, there are many more possibilities. We have also received the designation of a 501c3 non-profit organization according to the IRS. This means that all donations are tax deductible and that is what we have been waiting for since last year."
Receiving that nonprofit designation was one of the big news items that was supposed to take place at the gathering that was postponed.
The other purpose behind the event was to publicly thank the myriad of people who have helped get the community center up and running.
Seabright said the list includes but does not end with Kerry Taylor at Millersburg Electric, who donated the new LED gymnasium lights, Critchfield Law Office, Tom Abraham and Kevin Vaughn who have done a great deal of work in updating the sewage system, Jim Weigand who has done a lot of electrical work as a donation, Kathy Schlabach who has been the public relations person for the events at the center and the countless volunteers who have helped serve the center in so many ways.
She added that while those people have been key, it has been a complete community and countywide effort.
"Whatever we have needed, people have been there to step in and give of their time and talents and financially to make things happen," Seabright said. "The entire process has been very interesting. We have basically started from ground level in creating a board and developing some bylaws."
The board members were hand-picked from the first meeting the center presented. The goal was to find a group that was passionate and dedicated to seeing the center grow and become a vibrant community option.
The board includes Seabright, Michael Schlegel, secretary, Kayla Faunce, Travis Sheldon, Jess McConville, treasurer, Rick Schafer, vice president and Chad Yoder serves as a representative from Critchfield Law Office.
While the pancake and French toast offering was scratched, the board wasn't about to let the ingredients go to waste. They got together collectively and put the ingredients to good use, making bag lunches for students in the Clark area.
They made lunch bags filled with peanut butter and jelly or cheese sandwiches, hardboiled eggs, carrots and celery and a juice box.
"Because we have a pastry chef sitting on our board in Jess, she can do all kinds of fun things for us," Seabright said. "The food isn't just for kids either, it is for seniors and anyone who is in need of a meal."
The next big event, should the virus ease and people can get back out in gatherings, is the April 18 CCC Auction, which Seabright said is up in the air right now. They have already held monthly fundraisers like euchre tournaments, cake walks and other gatherings.
The building also is now home to Shine Bright Dance Studio, owned by Rachel Reynolds. Seabright said the dance studio has been a wonderful addition. She said there are still opportunities for other small businesses and the board has been doing event rentals of both the gymnasium and the classrooms.
"Right now, it's all about taking baby steps," Seabright said, "but we are excited and have a passionate group who want to see this center grow into something special."
For further information, visit the Clark Community Center Facebook page.