Clark walking path named in Brenly's honor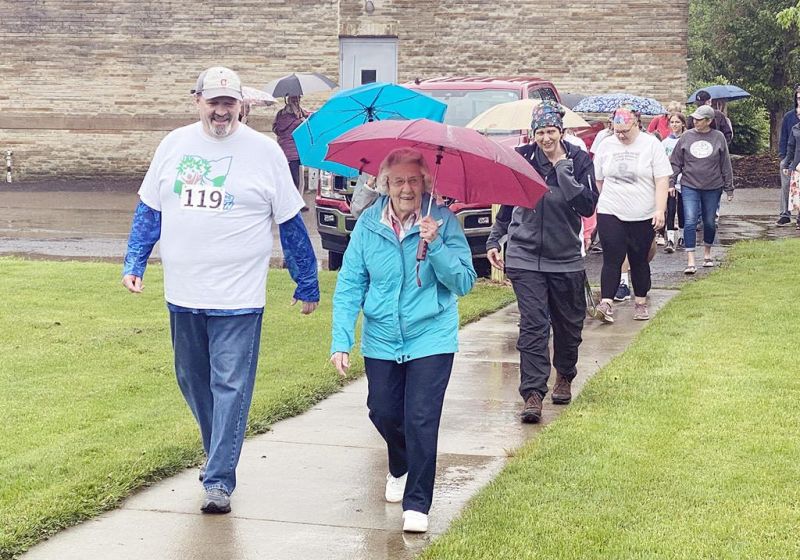 Anyone passing through the town of Clark on any given morning will probably be able to see a vibrant, young woman walking along the Clark Community Center walking path.
That woman would be Ruth Ann Brenly, who at 96 years of age continues to walk 2 miles on the track each day.
As a way of honoring not only her commitment to using the track, but also her commitment to continuing to be a mainstay in the community of Clark, Brenly was honored to have the walking path named after her on Saturday, May 13 prior to the Dirt Dash 5k.
That Brenly was being honored wasn't the big story of the day because everyone agreed this honor was well deserved. The big shock was the entire community seemed to know about the honor, except Brenly.
"Am I surprised? I can't believe this," Brenly said. "I see all of these people every day, and nobody spilled the beans. I don't know how they managed to keep it a secret like they did, but it's a wonderful honor."
Brenly, who walks 10 laps around the Clark walking path to make up her 2 miles, said she carries 10 small stones with her as she walks, dropping one after each lap so she can count the laps as they fall to the wayside.
When not walking her miles on the newly named Ruth Ann Brenly Walking Path, she does her walking at Kinetics in Millersburg.
She was surrounded Saturday by friends from throughout the community, as well as having special visitors from Michigan, that being her daughter and son-in-law Pat and David Kalis. They made the trip and played it off as nothing special.
"Mom has always been very active, and when Dad died, she promised him she would continue her fitness," Pat Kalis said of her mother.
Clark Community Center board member Cheryl Seabright called Brenly to the center of the gymnasium floor, where the ceremony was taking place due to inclement weather.
Brenly went forward, not having a clue about what was in store.
"Everyone's here for you," Seabright told Brenly.
"Me?" Brenly said. "I can't believe this."
Seabright then turned her attention to the crowd.
"This young lady walks around the path outside every day, so we wanted to honor her as a board by renaming it the Ruth Ann Brenly Walking Path," Seabright said, eliciting a lengthy round of applause.
Brenly is the unofficial mother hen for just about everyone in the Clark area, and her presence is both an encouragement and an inspiration for people to get healthy and remain active.
However, what was truly inspiring was the way many people approached Brenly, not only to congratulate her, but also to chat about their various memories Brenly has built up over a lifespan that is nearing the century mark.
"I'm having so much fun just reminiscing," Brenly said. "This is what I enjoy so much about this community."
Following the presentation, people got loaded waffles, courtesy of Love You a Brunch.
While Brenly never wants to be the center of attention, on this day she was front and center, but more importantly, the plaque that now presents her name and the track she walks will help others remember the joy the ageless walker brings to so many who are graced with her presence each day.