Claymont Health and Rehab holds Christmas in July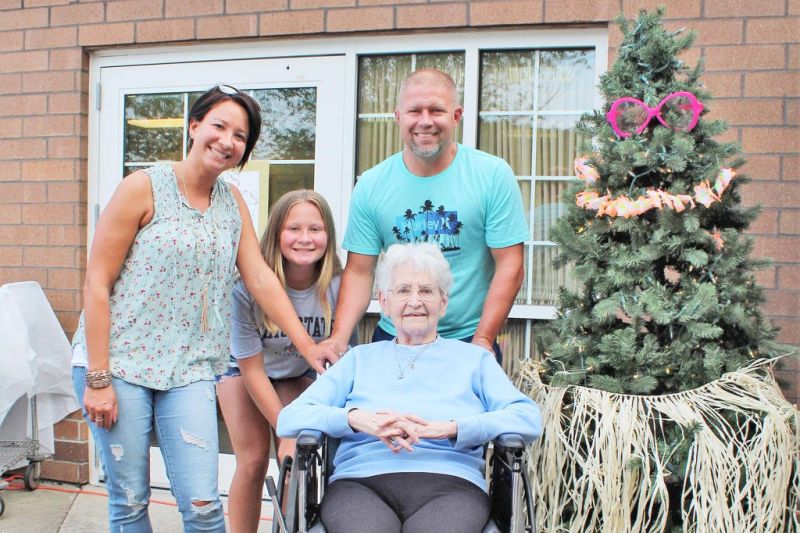 Bubbles replaced snowflakes as families and residents gathered for a Christmas in July event held recently at Claymont Health and Rehabilitation in Uhrichsville. Many activities were available including beach ball bowling, crafts, face painting, Pin the Nose on Rudolph and a water-balloon fight.
Jessica Swaldo of Tuscarawas enjoyed visiting with her grandmother, Genevieve Peterman, a resident at the care center. Her husband, Nick, and their daughter, Bryley, also were in attendance.
"We're thankful for this event. With the last year and not being able to spend time with her, we appreciate that they've done this for the families. We like meeting the friends that she has here too," Jessica Swaldo said.
Diane Jolliff of Uhrichsville, who is completing rehab at the facility, enjoyed a visit from her daughter's family.
"I thought it was really fun for the kids, and it gets the families together," Jolliff said. "I wasn't sure the older ones would like it, but they enjoyed it too. Those water balloons, that's what did it."
Two months of planning went into hosting the event. It has been more than a year since the facility has been able to host a party including families.
"This building is pretty well known for doing a lot of events through the year, and because of all the restrictions, we really haven't been able to get the families out," said Jessica Beamer, admissions and marketing director at Claymont Health and Rehabilitation.
The facility had never had a Christmas in July celebration before, but it was a good reason for everyone to get out and have some fun.
"The residents definitely needed this to see the kids having fun and see their families enjoying all the fun and the games," Beamer said.
Refreshments were served and included frozen hot chocolate, green Grinch juice, Christmas cookies and hot dogs.
The community partners that helped sponsor the event were Community Hospice, Interim Health Care, Homestead Hospice and Crossroads Hospice.
Creativity was the key to providing activities to the residents during the worst times of the pandemic.
"We definitely had to change up our game plan of things we were able to do. We came up with some new ideas of things to do," Beamer said. "Bingo is a huge thing, so we started doing hallway bingo when we couldn't gather. For Valentine's Day, when we couldn't have our big Valentine's Day dinner, we brought everyone's tray to their doorways and had a candlelight dinner in the hallways so they could eat together. We had a fancy dessert, a pretty place setting with rose petals and all that just to try to make it special."
The facility is still following all the CDC guidelines to keep its residents safe while offering activities to enrich the lives of the residents.
"We're just trying to move forward," Beamer said. "We are trying to get back to as normal as we can. Now that we have beautiful weather it definitely makes it easier to feel normal again."
Beamer was pleased with the turnout for Christmas in July.
"We've got a ton of community members and families really supporting us by coming out and having fun with all the residents, and the residents are just sitting back and watching all the kids play," Beamer said. "It's a great day. I'm grateful for all the support that we've had."
The facility's activities department accepts donations of puzzles, games, coloring books and even cash donations. Any performer or singer who would like to donate their time for a program can contact the activities director, Debbie Hunt.
"The residents enjoy that greatly," Beamer said of the live entertainment programs they've provided in the past.
Claymont Health and Rehabilitation is located at 5166 Spanson Drive SE in Uhrichsville.