Collaboration with area artist has made impact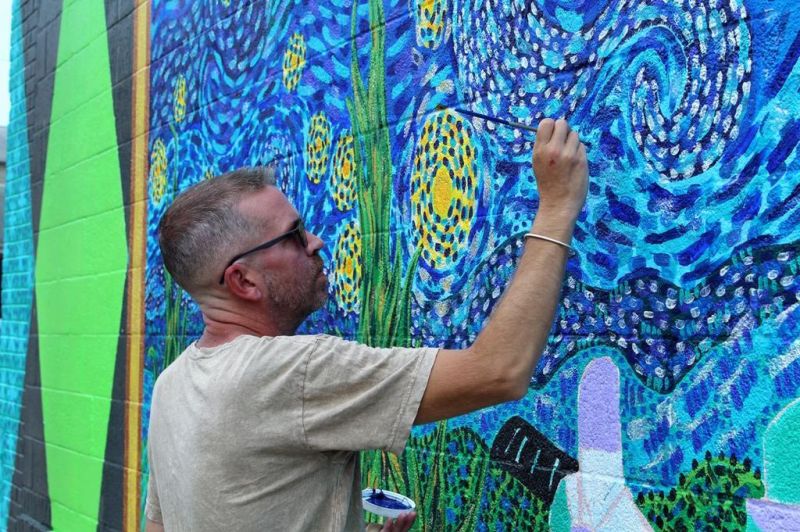 The arts movement in New Philadelphia is gaining steam, and at the forefront are artists who also happen to have developmental disabilities and much talent. The artists from Starlight Enterprises Inc., a nonprofit organization that provides opportunities to transform the lives of individuals with disabilities, met local artist Jon Stucky a few years ago, and a unique connection was formed.
Stucky was supposed to visit Starlight, but when that was postponed, the Starlight artists ended up visiting Stucky's studio.
"As soon as everyone saw that art studio, the response was unbelievable. They identified with each other through art; they relate to each other. It's a cool thing," said Tracy Aubihl, community connection manager at Starlight.
Since then Starlight's artists have been involved in most of Stucky's local mural and art projects. The group helped complete murals on Ashwood Lane near the Ezekiel Project, painted a Buddy Bench, put together mosaic designs for decorative trash cans in downtown New Philadelphia and painted murals for the fine arts building at the Tuscarawas County Fairgrounds.
Their newest project with Stucky is at Alley Cats Marketplace in downtown New Philadelphia.
At first Debbie Aubihl Knisely, owner of Alley Cats, wasn't planning to do another mural, but then she decided to balance things out. "When I was outside looking, I kept seeing a painting there on that building. I kept thinking I have got to have some color on that left side, so I talked to Jon Stucky," she said.
Stucky's new design repeated the diamond shapes from the cat of many colors mural he previously did on the east side of the Alley Cats Marketplace. Then he got some inspiration from a famous painting by Dutch artist Vincent van Gogh.
"I thought about the Museum of Modern Art in New York. 'Starry Night' is in New York, and it is always surrounded by people wanting to get selfies," Stucky said.
Van Gogh painted "The Starry Night" in 1889 while he was being treated for depression at the Saint-Paul asylum in Saint-Rémy in Southern France.
Stucky sketched out a design that was sure to grab attention. "This one didn't take a long time because I wanted to repeat the diamonds all the way across," he said. "The main thing is do it to scale and then project it on the wall. So you work really small, and as long as it's to scale, you can blow it up. We just project it on the buildings and trace it out. It seems a lot more intimidating than it actually is."
The Alley Cats Marketplace version of "The Starry Night" will have a local touch.
"It's got a church and a village in the actual painting, so this area that is color blocked in, that's going to be the Courthouse, Welcome to our City sign and the Broadway Brewhouse. The top of the Ferris wheel at Tuscora Park will be in there too," Stucky said.
The next mural project Stucky has planned is at the nearby Mini-Shop drive-thru and Mustard's restaurant on South Broadway. Starlight artists will be involved.
"I am going to have Starlight help me any time I can. I love to work with them. And they love to do it, and they're great at it," Stucky said. "I have them do stars, and I tell them to do whatever stars you want."
People with disabilities are important members of the community.
"They do a great job. Sometimes, they are disenfranchised, and one of the things is they need to integrate into society and be just like us," Stucky said. "They are amazing artists. I've got a painting by Rodney (Fuller, a Starlight artist) that's hanging in my living room that people think is mine. It was inspired by my paintings and Lady Gaga, which is really a funny combination, but I love that painting. I've got several pieces that they've done in my house."
Stucky was disappointed the Starlight art show at the Tuscarawas County Center for the Arts, usually held in March, was canceled this year due to the pandemic. "I love to go to that show and buy stuff," he said.
Aubihl Knisely is pleased the Starlight artists are involved in the project. She is a member of the Starlight Enterprises Inc. Board of Directors and has a niece who has a disability. "I know they have a great art program, and that does wonders for people with disabilities. I've always supported Starlight. They really enjoy it when they are here," she said.
The mural is already drawing much praise.
"It's beautiful, absolutely beautiful," Aubihl Knisely said. "As he is putting the layers on, he's using a lot of metallics. All the artisans that come in here really appreciate it when they see that color on the building."
Aubihl Knisely said customers have told her the colorful artwork on her building makes them want to stop in. "We've had people actually stop by and have photo shoots with the cat of many colors mural, so I'm hoping to see that with the new mural too," she said.
While the projects the Starlight artists are completing with Stucky add to the community, it's interesting to see the effect their collaboration with Stucky has had on the artists.
"It's widened their scope; they see art differently through participating in projects with Jon," Tracy Aubihl said.
The artists were inspired to bring murals into their center in New Philadelphia where Starlight's life coaches provide a multitude of services and outings.
In a multi-purpose room, they began to paint their own murals with themes they could discuss during the day. Some of the themes are ones their individuals enjoy, like a farm scene.
"It was a creative outlet for people to work as a team, plan their work, brighten up the environment and showcase their abilities as well," said Cassie Elvin, CEO of Starlight. "It has been a team effort in the journey of the mural, and it also provides an opportunity to create stories, a calm environment and a great space for individual conversations or journaling."
The Starlight artists have developed new skills through working with Stucky.
"Jon has guided the artists through different colors, strokes, painting and outlining techniques that improve their skills and carry over to other paintings they may be working on at the mall store," Elvin said. "The other benefit is the friendships they have created with each other. They get an opportunity to show their abilities."
Art by the Starlight artists is available at a number of locations including Alley Cats Marketplace, Starlight Art & Gift Store at New Towne Mall, Cleveland Clinic Union Hospital and Starlight Carroll County, which is located at 705 Canton Road NW in Carrollton.
In the art world Stucky and Alley Cats Marketplace have made strides this year. Alley Cats has added a number of new artisans this year including Art by Owen, which features wood, weaving and nature's gifts; Faye's Soaps and More; Just Around the Corner Kid's Shop; Playful Fox; Paper Nesting by Stephanie Crone; Whisky Lights, which uses bottles and turns them into lights; and pieces by artist and illustrator Kathi Tustin.
Alley Cats is continuing to provide workshops for the community including Paper Nesting on Aug. 8, Fall Gnome for the Home on Aug. 15, Photography on Aug. 22 and a Paint and Sip on Aug. 29.
The store also offers free open studio to all artists every Thursday beginning at 10 a.m. "It's a good time for artists to bounce ideas off of each other and share their creativity," Aubihl Knisely said. "With 70 artisans they are always changing their products, and everything is one of a kind, making it always a new experience at Alley Cats."
Stucky recently signed a contract with Brookfield Properties, which is building a new upscale shopping mall called Iconic Collections in Miami, Florida that will feature some of his work. Stucky has work in galleries in London, Tel Aviv and Tokyo. Brookfield saw his work at the London gallery.
"Most of my sales are overseas. I don't sell as much in the U.S., so having this thing in Miami is my first big contract I've gotten in the United States," Stucky said. "All their properties have art collections and installations on their lawns. They have music festivals, and open store fronts are turned into galleries. They are really into supporting the arts, so everything they do has some sort of arts connection."
Surprisingly, Stucky said the number-one country he sells to is Bahrain. To get around the high costs of shipping overseas, Stucky takes his work off the frame and rolls it to fit inside a shipping tube. Once the customer receives the painting, they take it to a frame shop to be restretched.
All area artists are hoping they can go forward with the popular Art on the Alley event currently scheduled for Oct. 18. Organizers are working with the health department to coordinate the event.