Community support puts donations in the hands of neighbors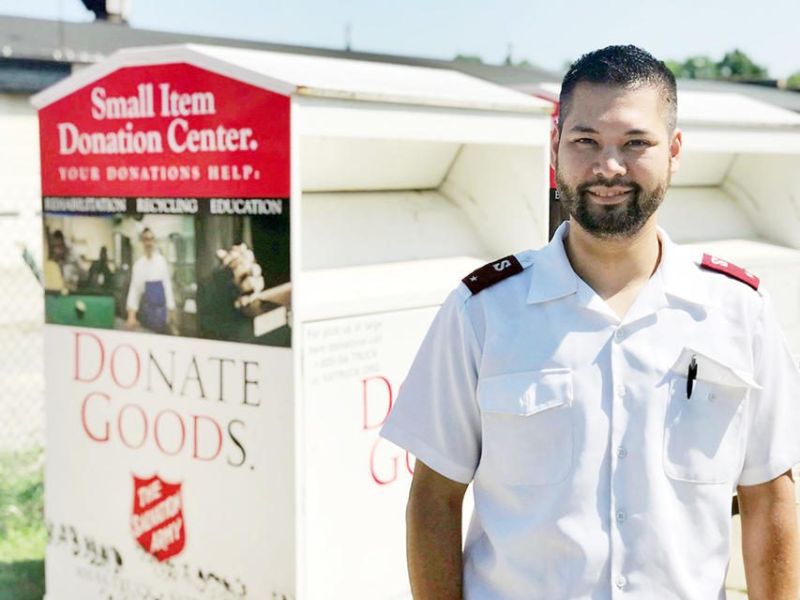 The Salvation Army Garrison serving the Dover and New Philadelphia area receives donations in numerous ways. Monetary donations are welcome year round, not just at Christmastime when the familiar red kettles appear.
Donations of clothing and smaller household items can be dropped off during regular hours at the Salvation Army building, and the same can be dropped into the donation bins on the property after hours. Salvation Army Lt. Andrew Allen said all donations are welcome, and all money and donations go directly to serve the community.
Still, Allen said there are some things that cannot be accepted. "There are some things which are left at the outdoor donation bin after hours which we have to simply dispose of, and at our cost. It's money which would be better spent helping those in need," he said.
Allen said the garrison recently had to spend money for the removal of a load of farm animal manure dumped next to the donation bin. It's an extreme example, but there are some things the Salvation Army can't accept, due to greatly limited storage capacity.
"Thinks like couches or chairs or other furniture," Allen said, "are just too big, and we can't use them. The same is true of mattresses and appliances. We very much appreciate that people want to help and would like these items to be used to help others. But we just have nowhere to store them. What happens is that they're exposed to the weather and elements, and then have to be discarded, again at our expense."
However, those who have furniture or other larger items they would like to donate to the Salvation Army may still do so, and in a much more convenient way. Allen said there's a number to call for pick-up. "Call 1-800-SA-TRUCK or 1-800-728-7825 to arrange for a Salvation Army truck to pick up the larger items you have to donate," he said.
Concerning clothing, Allen said, "Many people may not know we have a clothing room available weekly. You can come and get clean, good-condition clothing, household items, handbags, shoes and things like that."
And such items are available because of donations from the community, he explained. "Donations of clothing and small household items made during our regular hours go directly to the community, where local people in need have first choice," he said. "The same is true of monetary donations. All money raised for the local Salvation Army stays here to help the local area and its people."
Donated items that don't find a new home are added to things that have been placed in the after-hours donation bin. From there donations go to a distribution center in Akron. "And then the items go to the Salvation Army Family Thrift Stores in Northeast Ohio," Allen said. "Funds raised from the thrift stores are used to support our free adult rehabilitation centers, where people struggling with issues related to addiction can come and stay for free and get help in preparing to return to life in the community."
Whatever the manner in which donations are collected — in person, via outdoor bin or truck pick-up — Allen said, "It all goes to the bottom line of why the Salvation Army is here: to help the people of our community."
And those donations are critical and welcome. "We don't ever want to discourage people from bringing us donations or helping financially," Allen said. "Good, usable items are always welcome, and local families always have a need for them. We are very grateful for the support we receive from our neighbors."
The Salvation Army of Dover and New Philadelphia is at 809 Emmett Ave. NW in New Philadelphia. Call 330-364-3811 for more information.