Counties explore a hiking trail from Mohican to Holmes County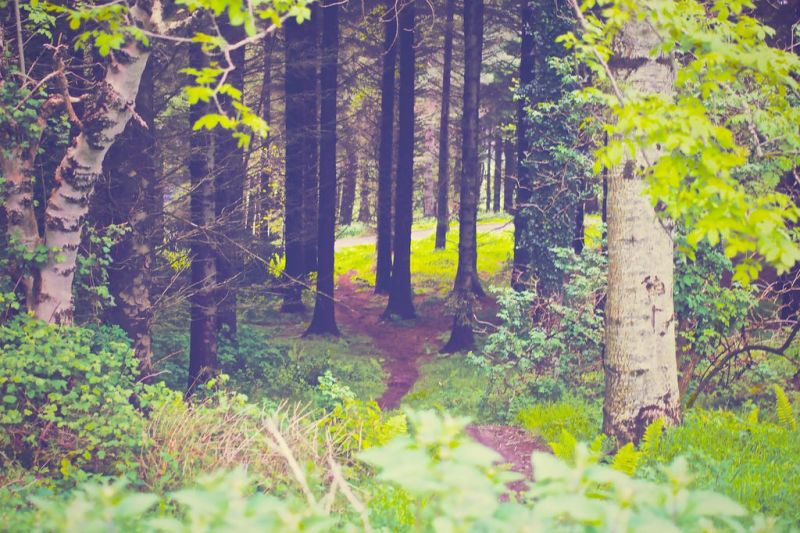 The Holmes County Rails-to-Trails project has been a success for Holmes County. The same is true of the Mohican Valley Trail, which meanders through Ashland, Holmes and Knox counties.
On Wednesday, Aug. 28 in the midst of a three-tour stop in all three counties, representatives from the Cleveland engineering firm, OHM Advisors, were retained by the county engineers from Ashland, Holmes and Knox counties to discuss a proposed trail linking the Mohican Valley Trail to the Holmes County Trail and other important areas. The trail would follow Wally Road, and one of its main purposes would be to provide better safety for walkers, bikers and travelers.
The informational meeting on Wednesday at Harvest Ridge in Millersburg was led by project manager Tom Hils of OHM Advisors, and community members and other officials from throughout the tri-county area discussed the proposed Wally Road multi-modal corridor that has been dubbed the Mohican Greenway Corridor Plan. Also present from OHM was senior landscape architect Jeremy Hinte, who laid out several options for the corridor.
While the possibilities of a new corridor are far down the road, the impetus of whether or not the trail is feasible and if it is something that would create value in the three counties is why the exploratory meetings are taking place.
"Hearing what the public has to say is absolutely critical throughout the entire process," Hils said. "The county engineers and the steering community members are a very small percentage of the parties who have an interest in this project. The general public and the residents and all of the business owners and even visitors should have an equal say into what this project becomes."
Hils said by gathering as much information and input as possible, it paints the broadest picture as to the best way they should attempt to proceed with the corridor.
Because his company has done so many of these types of projects, he said it is exciting to try to capture as much information as possible as the venture moves forward. He said having three different counties involved makes it more challenging and at the same time more exciting.
"The initial collaboration out of the gate has been phenomenal," Hils said. "Many of the projects I work on rarely ever have that level of cooperation and collaboration. It's usually a process to get all of the parties together and to get them to agree on anything. We have seen a great deal of commitment and working together from all sides, and there is a certain level of excitement as we educate people about the mutual benefits and what problems could exist that people might have concerns about."
Hils said OHM is looking at the overall corridor to improve the area in a number of ways, safety being the most important. He said if the project should gain traction and take place down the road, it would result in a combination of bike and pedestrian infrastructure. However, that is far down the road.
"We have to go through many levels or stages, and we are right now in the concept-level stage," Hils said.
Holmes County Commissioners Rob Ault and Joe Miller offered their opinions and questions concerning the corridor, and both are in favor of creating the project.
Holmes County Park District director Jen Halverson also was in attendance. As a member of the Holmes County Rails-to-Trails, she added input and said Holmes County's experience with its trail could be invaluable as the process plugs along.
"I think there is definitely an opportunity for us to look at the history and look at the success of our own trail and draw on that success and bring that to the table," Halverson said. "Every project is going to have its unique challenges, but we are excited to share that knowledge that we gained in our experience. These meetings are a great step because gathering as much input as possible about what communities think about a project is critical."
Holmes County engineer Chris Young and Ashland County engineer Ed Meixner also added insight into the process and its feasibility.
"It's still very early, just conceptual at this point," Young said. "We don't know at this point where it will go, but we've got to look at it to see if it's actually worth doing and if there are grants available for it. To me it is a matter of safety. I've seen numerous close calls with pedestrians and vehicles along that route. This project is actually quite similar to some ones we have done in Holmes County, like the one we did on County Road 77. It is an exciting opportunity."
For more information visit the website at www.mohicangreenway.com.