Dalton's Main Street is wide open for business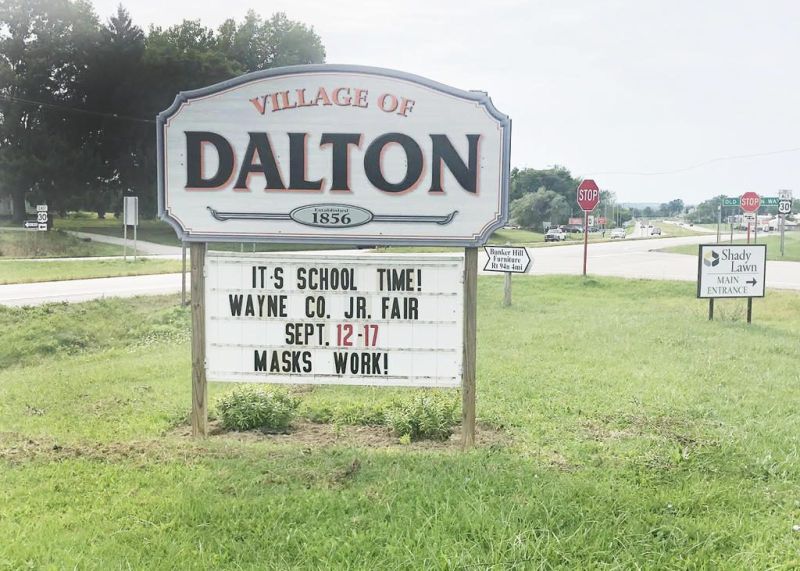 Editor's note: This is the fifth and final installment in a series on business in Wayne County's villages and smaller towns.
The village of Dalton's Main Street sustains that traditional look communities often crave, and several local business owners were able to articulate why they chose Dalton for their business and to gauge business activity in the Main Street area.
Walking down the Main Street in the village, there are tree-lined sidewalks, framed by quaint brick buildings. The village has a post office, library, several churches, and a mix of retail shops and hairdressers.
"There's so much potential for the downtown to grow. I think through the whole COVID process, people have realized that we need to support our local businesses more, and people have been more appreciative," said Kara Clay, owner of Village Hair Design.
Clay has been located in Dalton's downtown for 18 years and recently invested in renovating her shop.
"We moved a year and a half ago — still on Main Street but across the street," Clay said. "People love the new look. I've heard people say, 'Oh my word, I can't believe how big it is and how nice it is' when they walk in."
Clay stressed how much she appreciates the support her business receives from the community, as well as the camaraderie shared with other business owners. "We all join together and help each other out. Like for the Dalton Holiday Festival, we all would get together at one of the businesses and decide when to have it and what we'll do," she said.
Dalton Hardware also has grown and has thrived on the village's Main Street. Deb Nussbaum has owned the store since 1991, and the previous owner had it for over 60 years. The diversity of inventory seems to be her secret to success, as well as the personalized customer service.
Nussbaum reiterated Clay's appreciation of the support given by the Dalton community.
"I like taking a walk and knowing other people who are out and about," Nussbaum said. "I live close enough I can walk to work and walk home. It's nice to know people you see, and I know a lot of my customers by name."
Chet Slabaugh, owner of neighboring business Slabaugh Auto Care, is a regular at Nussbaum's store, calling it his "favorite thing on the Main Street."
"They have a little of everything," Slabaugh said. "They even have things you can't find at competing hardware stores."
Slabaugh has been the owner of Slabaugh Auto Care on and off since 2013. He repurchased the business in June of this year. "It's right on the corner of Main Street, so if you come up from 30, you see it. It's the best location in town," he said.
Slabaugh Auto Care has grown over time, adding on four new bays to the shop this year, and it is back at five employees now. Slabaugh credits his loyal customer base for the success, and given the customer support he's received, he was surprised other nearby businesses have not been able to keep the doors open.
"We had a Penny's Pantry for five to six years. They sold some groceries, deli and hot food, but that shut down about three years ago. I don't know. Things just haven't survived," Slabaugh said.
Patti Rohrer, owner of Village Peddler, which also is on Dalton's Main Street, made similar remarks about other businesses struggling.
"I've seen a lot come and go. It's sad. For a minute we had a bakery, and I was so hopeful. You do need to allow for enough time to let the business grow," Rohrer said. "I've been here since 1997. The reason for having my business here is the community. I love the morals, values and integrity of this village."
Rohrer's shop also supports other local vendors. "We offer hand-made, seasonal home décor. We have about a dozen different local vendors," she said.
Mayor Dennis Finley said the village is coming up on the 125th anniversary of Dalton Village Hall, which is a centerpiece of the Main Street.
"The entire downtown was devastated by a fire, and back in 1885, the village hall was one of the first to be rebuilt. My ultimate goal would be to create a small event to celebrate that anniversary," Finley said. "Since June we've still been able to keep city hall open 40 hours a week, and it's allowed us to get input from the community. Most definitely that stimulates foot traffic to our Main Street."
Dalton's Main Street is walkable, has a solid base of loyal customers, and there are shovel-ready store fronts, ready for investment.
"The potential is there," Finley said. "We just need to find the right fit and the right type of businesses. In the past few months, we've started working with the Orrville Area Chamber of Commerce. The chamber has some unique ideas such as finding better ways to connect to our bike path and entice more cyclists to shop at our Main Street."