Dedicated linemen receive happy Father's Day from the heart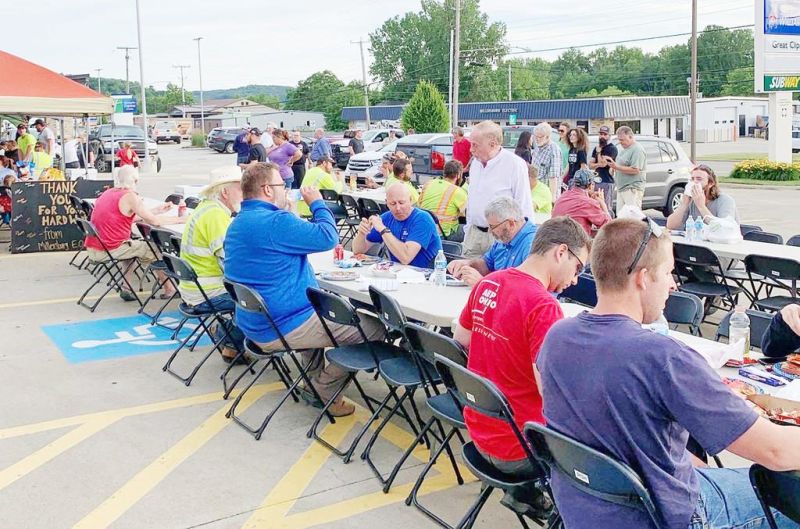 Father's Day is a time for families to celebrate the many loving fathers who strive to raise their children and provide a loving home for their families.
On Sunday, June 18, the many line workers for American Electric Power and Holmes-Wayne Electric Cooperative weren't at home to celebrate with their families, so the people of Holmes County brought the family to them.
Person-by-person, text-by-text and all over social media the word went out: Millersburg was going to have a Father's Day bash to let these linemen know they are appreciated, and they would be honored during a Father's Day that they couldn't be with their own families.
"We had these linemen staying at Holiday Inn, and as we got to talking to them, they talked about how much they missed their families, so I asked our owner if we could grill for them, and that got everything rolling," said Subway manager Pam Johnson.
Millersburg Electric donated the use of their large grill. Doughty Valley Meats donated the hamburger, but rather than the 40 requested patties, they donated 140.
Then things really got going as Johnson reached out to a trio of friends, including Mandy Brown at Park National Bank, Kathy Graber-Myers at Fox's Pizza and Tab Lint at Pomerene Hospital.
Their social media efforts grew like wildfire. Soon, a whole community was pitching in.
Hundreds of volunteers and many area businesses and organizations came together in the Subway parking lot in Millersburg to provide an evening meal, snacks, drinks and many other items to let those workers devoting themselves to the lives of others that they were appreciated and loved on a Father's Day spent away from their own families.
Tables and tents were set up in the parking lot, where a mountain of food was presented to the linemen. Hall and others sent word to the four corners of the county that all linemen crews were invited to partake in a free meal.
Johnson said after hearing about the deal, the foreman of a crew from Asplundh called her to interrogate the validity of the offer.
"He called me and asked if it was for real," Johnson said. "I told him yes. He asked me why we would do that, and I said just to say thanks to everyone working so hard. We appreciate you. Even when he came, he again asked if it was for real."
Johnson added all of the workers exhibited incredible gratitude for an event they never expected.
"Everyone worked together, and they didn't care whose business was whose, it was all about coming together and serving others," Johnson said.
"They are here because they care about us, and we wanted to help them and show them that their effort was appreciated," said volunteer Molli Money, who said teaching her young daughter Mila how to serve others was a blessing in addition to helping the linemen. "A lot of the guys got pretty emotional. They were grateful and they were all very moved and thankful that our community would pull together like this during such a trying time."
The donated food came from all over. The Millersburg Eagles donated a check, much of which went to purchasing baked beans from Rodhe's, something Johnson said was the hit of the night. Harvey's Market gave Johnson carte blanche to pick out any fruit they needed. Kaufman Realty donated hundreds of bottles of water. Business like Subway, East of Chicago, Rodhe's IGA and Fox's Pizza, along with others, donated food. Individuals brought in baked goods. There was pizza, hamburgers and hot dogs, salad, pasta, cookies, and desserts on the menu.
In addition, there was a table full of towels, bug spray and sunscreen.
Local churches, Rainbow of Hope Ministries — which donated the tables — area banks, Miller's Creamery ice cream, local bakeries and more pitched in.
Just as important were the young children like Mila Money, who was handing out boxes of chocolate with a Father's Day note written on it. She and many others greeted each team member warmly and wished them a happy Father's Day.
Volunteer Carmen Camacho said just being around the workers and volunteers was uplifting, seeing all that compassion and willingness to serve others.
"They were blown away by it all," Camacho said of the workers.
Camacho talked about one lineman from Massillon who received a special box of chocolate and the note from Mila Money.
"He said when that little girl came over and gave him candy, it literally gave him goosebumps," Camacho said. "He said he was a big candy eater, but this particular box of chocolate was going to have to go up on the shelf because it was so sweet. Many of the people said they have never experienced a community coming together to do something like that for them. It was just so inspiring to see all our community rally together to help the people who were helping us through this disaster."
Holmes County commissioner Dave Hall has been hopping all over the county, keeping people updated on the recovery progress the community and the linemen were making. He said seeing this type of event take place was heartwarming, yet not unexpected from the people of Holmes County.
"I want to thank everyone who decided on their own to feed, give snacks or fresh fruit to all the restoration teams all week long," said Hall. "These volunteers helping feed these teams have worked countless hours. Thank you to Millersburg Subway and other individuals who donated and volunteered their services. Thank you to the children who gave these restoration dads candy treats for Father's Day. That brought tears to my eyes."
Hall himself paid for hundreds of meals at Subway, putting his money where his mouth is.
Those who were there as volunteers witnessed the joy, sincerity and blessing of the event.
"I spoke to quite a few that said this is the sweetest community ever," Graber-Myers said on a post on Facebook. "They aren't used to getting treated special. I will sleep better and all I can say is I'm proud to live in a giving community. May God richly bless all of you. It was an incredible evening."
Crew leader Henry Knaup from Zanesville said he has never witnessed anything like this in terms of a community showing so much gratitude toward all the linemen.
"There's a need and we respond as quickly and efficiently as possible," said Knaup. "But we've been treated with respect and kindness. Everyone here has been phenomenal. Everyone is incredibly understanding."
Johnson said it was a total community effort, one that brought people together during tough times. She said reaching out to those without electricity and feeding them was just as important.
The linemen were richly touched by the effort, and perhaps Money summed it up best when she said, "This has been such a blessing, not just for the workers but for us as a community, to come together and serve others. It was a joy to be a part of it all."